For the first time YouGov polling shows a majority of the public opposing HS2 - including at least half of voters from every major party
HS2 came under fresh criticism this morning in a new report published by the Public Accounts Committee. The report stated that the Department for Transport had "not yet presented a convincing case" for HS2, questioning the methodology of the costing thus far and the extent to which the high speed rail link will benefit areas outside of London. The Treasury had revised their estimates of the cost up from £33bn to £43bn in July, rising to £50bn when the costs of trains are taken into account.
A new YouGov poll for the Sunday Times appears to show public opposition to the project rising, too.
A majority (55%) of the British public now oppose HS2, up 9 points from our last poll on the project in July this year. Support has dropped 5 points over the same period and now stands at 29%.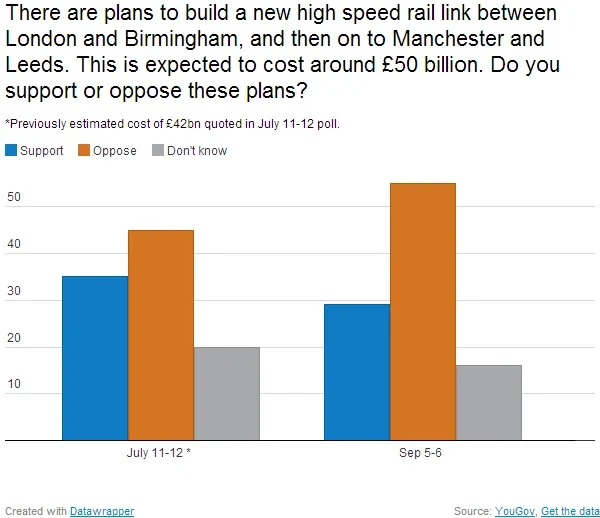 The latest figures corroborate a trend of declining support for HS2 suggested by previous YouGov polling, with overall opposition rising from 37% in January 2012.
The revised estimates of the cost may well have had an effect on the views of our panellists. Polling on HS2 from January 2012 to July 3-4 2013 quoted an estimated cost of £32bn and then quoted an estimated cost of £42bn on July 11-12, reflecting the new estimates. However, our most recent poll quoted an estimated cost of £50bn.
Both Nick Clegg and George Osborne came out in staunch support of the project last week with Osborne insisting he was "passionate" about the venture. Meanwhile Ed Balls appeared to open the door to Labour scrapping the project if they win the next election, insisting that there will be "no blank cheque" for the proposal.
However, despite the chorus of support last week from coalition leaders, opposition continues to grow. In two months Lib Dem opposition to the project has spiked up by 25 points, from 28% to 53%, and Conservative opposition has risen from 34% in our July 11-12 poll to 50% today. Opposition amongst Labour voters (now at 60%) has continued its rise, up 8 points since July. 71% of UKIP voters also oppose the plans for HS2.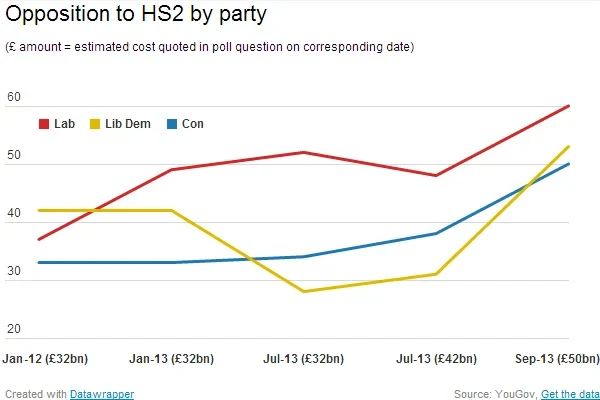 Overall, opposition to the project is up significantly among voters from each party compared to January 2012 – when it was opposed by only 33% of Conservative voters, 37% of Labour voters and 42% of Lib Dem voters – but the sharpest increase appears to have come in recent months, at least for Conservatives and Lib Dems.
The controversial proposed high speed rail link aims to link London, Birmingham, Leeds and Manchester with trains travelling at up to 250mph. It was the Labour government which, in January 2009, first began to examine the case for a new British high speed rail line.
Image: Getty
See the July 2013 poll results
See the January 2013 poll results
See the January 2012 poll results