Four in five British football fans believe that FIFA made the wrong decision in awarding the 2022 tournament to Qatar
This week from FA Chairman, Greg Dyke, stated that he does not expect England to win the 2014 World Cup in Brazil. Instead, he has set out his aims for the national team, expecting them to reach the semi-finals of Euro 2020 and win the World Cup in Qatar in 2022.
Previously, Dyke's comments about the 2022 World Cup were limited to his support for it to be held in the winter, claiming that to stage a World Cup in a Middle Eastern country in summer would be "impossible". This put him in direct opposition to Premier League chief, Richard Scudamore, who is on record saying that to schedule the 2022 tournament in Qatar over the winter would cause chaos for football leagues throughout the world.
New YouGov research reveals that British football fans would rather that the 2022 World Cup take place in the summer, rather than the winter. More than half (55%) think the competition should be hosted in June and July, whereas 36% support Greg Dyke's proposition of a winter World Cup.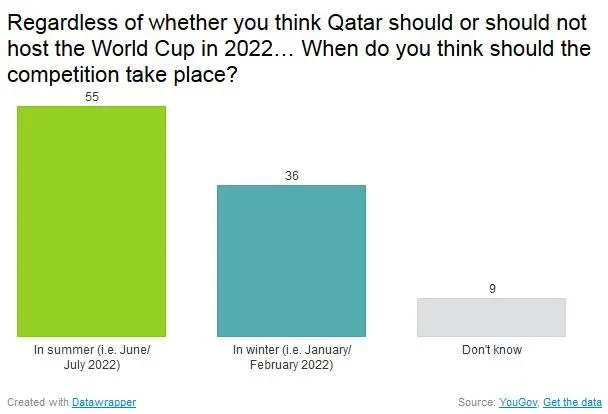 Opposition to Qatar
The reason so many back a traditional summer tournament is seemingly because British football fans are against the idea of hosting a World Cup in Qatar in the first place. Four in five fans (79%) think FIFA made the wrong decision in choosing the country to host the tournament, while only 9% say they made the right decision.
Given the choice, fans would rather the decision over the 2022 World Cup was re-taken, with over three quarters (78%) wanting a second vote while around one in ten want it played in Qatar (11%).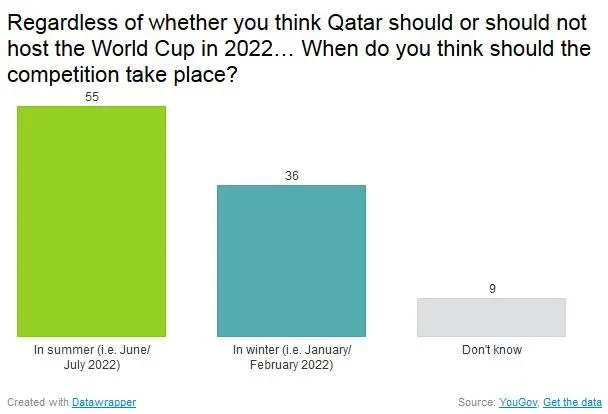 Safety Concerns
With temperatures in Qatar averaging at 41 degrees Celsius in June and July, YouGov's research reveals the safety concerns of British football fans about a summer World Cup in the Middle East. Nearly nine in ten (87%) believe it would be unsafe for players to play in such high temperatures, with more than half (55%) thinking it would be very unsafe.
Likewise, more than a quarter (77%) believe it would also be unsafe for fans to attend matches in such temperatures.
It would not be the first time that a World Cup would be hosted in an area where temperatures can soar. In the 1994 World Cup in the United States saw temperatures reach as high as 45 degrees Celsius, while both World Cups in Mexico, in 1970 and 1986, saw temperatures consistently over 30 degrees, with matches also being played at high altitudes.
Image: Getty