While some of the reforms Ed Miliband has proposed in recent weeks win majority support, his leadership ratings remain low
Ed Miliband has faced some of the most challenging days of his leadership in recent days, engaging in a highly public dispute over the Labour party's links with with Britain's largest union and Labour's largest donor, Unite, among others. A YouGov survey for the Sunday Times reveals that many of the reforms Mr Miliband has put forth – such as changes to how trade union members pay fees to the Labour party and new limits on second jobs taken by MPs – may win with voters, including those who already support Labour – but Mr Miliband himself remains relatively unpopular.
Proposals to make it so that members of trade unions have to make a deliberate choice to pay a fee to Labour, rather than the current policy of automatically paying the fee unless they opt out, win the support of 62% of British voters overall and an even greater proportion (66%) of Labour voters. Additionally, voters support a ban on MPs holding second jobs by 56%-25%. Mr Miliband has not called for a total ban on MPs having second jobs, but has called for new restrictions, something David Cameron has appeared to reject.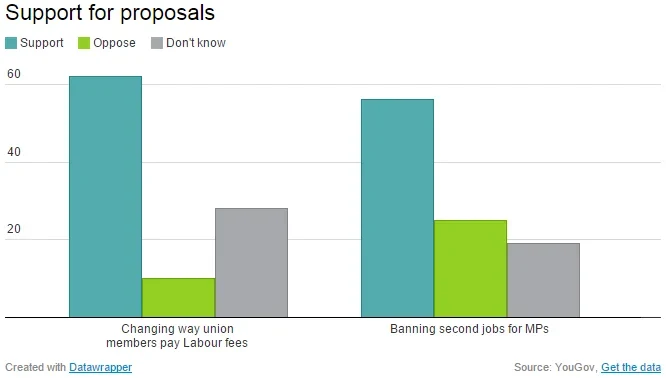 Voters also tend to show support for Mr Miliband's efforts to reduce Labour's links with the unions in principle. Forty-four percent of Britons think Mr Miliband is right to weaken ties between his party and unions, including majorities of every party but Labour. A smaller proportion of Labour supporters, 36%, think Mr Miliband is right to do this; however, that compares to only 21% who think he is wrong to do it and more (26%) who do not think he is trying to reduce Labour's links with the unions in the first place.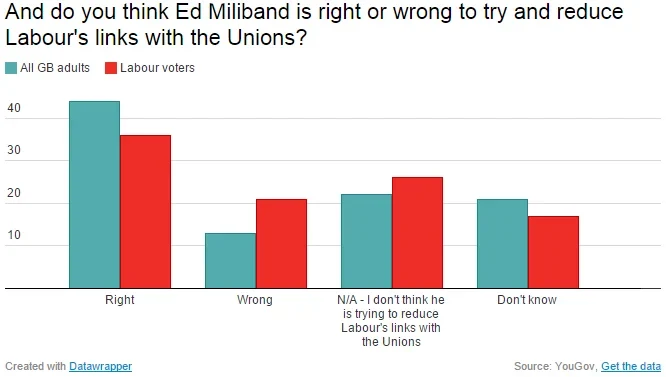 Approval of Ed Miliband's leadership
However, the support shown for some of Mr Miliband's proposals has yet to visibly impact public perception of his leadership abilities.
Since the controversy over Labour's links with the unions began, with Ed Miliband calling for a criminal investigation into Unite's involvement in selecting the Labour candidate for the Falkirk constituency, Mr Miliband's approval rating has hardly budged, and, at -35% most recently, is now tied with his lowest ratings since April 2012. Meanwhile, although Conservative party leader and Prime Minister David Cameron's ratings are also in negative territory (currently at -26%), Mr Cameron has consistently been rated better than the leader of the opposition party so far this year.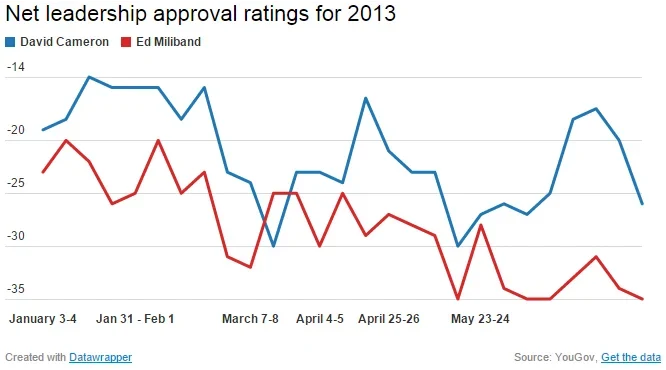 Additionally, only 12% of voters call Mr Miliband a "strong leader" in the most recent survey, conducted from 11-12 July, showing virtually no change from the 10% who called him a strong leader in the previous week's poll.
However, there may also be a silver lining to Mr Miliband's ratings: at 21%-7%, three times as many voters say the proposals make them think more positively of Ed Miliband than say the proposals make them feel more negatively of him. The ratio is about the same for Labour voters, and the third (33%) who said "more positively" makes that response the most popular one – slightly more popular than the 30% who say the proposals make no difference, because these Labour voters "had a positive opinion of Ed Miliband anyway".
See the full Party Leaders Tracker results