YouGov CEO, Stephan Shakespeare, analyses the impact that Co-op Bank's bail-in announcement had on its social media activity and the brand itself
Co-operative Bank's bail-in – announced on Monday after it struck a deal with regulators to plug its £1.5bn capital hole – comes at a tumultuous time for the bank, following its failed attempt to buy 632 Lloyds branches and its downgrade by ratings agency Moody's.
I have looked at the impact of these events on social media, and the corollary effect on the brand's Buzz score, which is a net score of whether consumers have heard something positive or negative about the brand.
Using YouGov's social media analysis tool we can see that news of the bail-in had a significant impact on Twitter. A staggering 39.1% of the Twitter population heard a mention of the Co-op on 17 June, compared to just 3.2% on 15 June. Interestingly, news of the bail-in reached almost the same number of Twitter users as on the day the Lloyds deal collapsed (40.1%), and it reached far more users than on the day that Moody's downgraded the bank's debt to junk status (26.2%).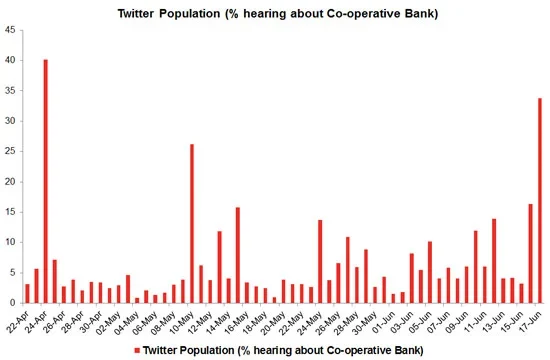 But what does this increase in social media activity mean for how consumers in the real world view the brand?
In the aftermath of the collapse of the Lloyds deal, we can see that the Co-op's Buzz score fell from 12.6 on 27 April, to -4 on 30 April. Similarly, following the Moody's downgrade the bank's Buzz score fell again, this time from -5.3 on 10 May, to -27.1 on 13 May.
While the substantial rise in the Co-op's social media activity this week would indicate that its Buzz score will be hit in the coming days, the question is whether the impact will be negative or positive.
The fall from -16 on Monday to -19 yesterday suggests the former is more likely but we will be watching closely.