On 20 May discount airline Ryanair announced record profits, despite a substantial increase in the cost of jet fuel.
Six days later, the BBC published a report taking the airline down a peg on a number of its much ballyhooed selling points, particularly its claim to the Europe's most punctual airline.
Then, on 30 May, came more less-than-fantastic news for Ryanair, when the UK Competition Commission said it may have to cut its stake in Aer Lingus.
So which of these stories had the biggest impact on social media? Let's have a look at YouGov's social media analysis tool, SoMA, to find out.
20 May – Ryanair announces record profits
While increasing after tax profits by 13% in a turbulent economy and amidst rising fuel prices no doubt impressed financial analysts and the airline industry, the news did not cause much of a stir on social media.
According to SoMA, only 2% of UK Twitter users heard about Ryanair that day.
26 May – BBC report questions Ryanair's claim to be most punctual
The BBC News study said that contrary to the automated message played to passengers at the conclusion of each flight ("Last year over 90% of Ryanair flights landed on time, beating every other European airline") the reality is much less impressive.
The report found that when other factors are considered, Ryanair's punctuality rate is really closer to 83%, meaning 11 other airlines beat its punctuality record. The BBC also took aim at its (already dubious) boast of being "the world's favourite airline", as well as pointing out that because its passengers tend to check-in far less baggage than other airlines, it is rather less impressive that it misplaces so few bags.
Unfortunately for Ryanair, this had a far greater impact on social media than its commendable profits announcement. The brand's Twitter reach rose to 10% (up 6% from the day before). Top words mentioned alongside Ryanair on Twitter included: "punctual", "really", "claims" and "bbc".
30 May – Competition Commission says Ryanair may have to cut stake in Aer Lingus
The commission said it was concerned Ryanair's 29.8% stake could reduce competition on routes between the UK and Ireland, but the airline shot back that this was "unfounded" and said any move to force it to cut its stake would be "in breach of EU law".
We'll leave Ryanair and the CC to sort out the details, but in the meantime let's see how this was received on social media.
According to SoMA, it was this most recent Ryanair news item that caused the biggest Twitter stir. On this day 13% of the UK Twitter population received messages about Ryanair in their newsfeeds, and top words mentioned alongside the brand were: "lingus", "aer", "stake", "sell" and "reduce". Furthermore, 96% of Tweets about Ryanair were classed as negative.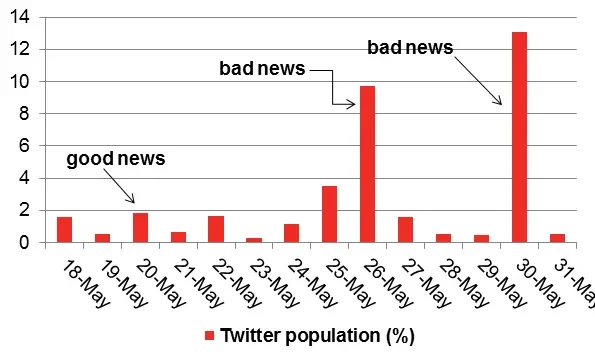 Ryanair is certainly not the only brand to have its positive news greeted with a yawn, while bad news is gobbled up and often amplified on social media. We have also seen many instances before of how coverage in traditional media (in this case BBC News) can drive the social media conversation, and often not in a direction that brand managers would like. While some stories are ignored, others make a big splash, and SoMA allows marketeers to know whether a news story is a red herring, or something that people are talking about.