As David Miliband leaves politics behind to head for a life in New York, more Britons than ever believe that the Labour Party picked the wrong brother to lead Labour
A year after Ed Miliband narrowly defeated his brother David to become leader of the Labour Party, in September 2011, YouGov conducted a poll asking if the party should have picked David Miliband instead. At that point, 36% of the country felt that the party would have been better off with David, compared to only 6% who felt the party would have been worse off.
In the intervening two years, David Miliband has kept out of the spotlight, giving his brother room to prove the country wrong.
In a blow to the Labour Party leader, YouGov today reveals that the percentage of the country who thinks Labour made the wrong choice has actually grown since 2011. Today, fully 42% of the country believe that they should have chosen David Miliband; defenders of Ed who think he is succeeding more than his brother would have remain at a marginal 6%.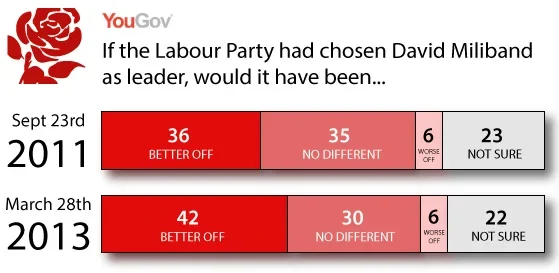 There is some comfort for the Labour Party leader in today's finding: when looking only at Labour voters, the "buyer's remorse" has actually softened slightly. When asked in 2011, 45% of Labour voters felt the wrong choice had been made, against 36% who felt a David Miliband leadership would have either been worse or made no difference; today, only 39% of Labour voters still wish for a David Miliband leadership, against 43% who feel it would be worse or no different.