Record-breaking feats help Red Bull brand take flight
In the last two months, energy drinks brand Red Bull has raced into the headlines on more than one occassion. It has benefitted both from Felix Baumgartner's stunning jump from the edge of space, and a winning Formula 1 team.
But amid these record-breaking feats, what impact has this exposure had on the brand in the eyes of the public?
All eyes on Felix
The Red Bull Stratos Live Jump on 14 October was the most watched live event ever on video streaming site YouTube, with an audience of 8m.
YouGov's measure of brand exposure on the newsfeeds of social media audiences indicates that, on the Sunday when the jump finally took place, Red Bull was mentioned at least once on the newsfeeds of 40 per cent of the UK Twitter population.
And the highlights of Baumgartner's death-defying fall have been watched by more than 30m people on Red Bull's official YouTube channel in the space of just over a month. That's not to mention the viewers who followed the event through more traditional media such as TV news bulletins.
Red Bull's facebook friends
Mentions of the brand also rocketed on private Facebook newsfeeds, where Red Bull was most frequently heard together with the words Stratos, Felix and that familiar strap-line: "wings".
Such heights of exposure were reached again when Red Bull Formula 1 driver Sebastian Vettel roared to pole position at the Indian Grand Prix in late October.
Vettel's success pushed Red Bull on to the newsfeeds of 29 per cent of the UK Twitter population.
But subsequent Formula 1 team success reached Twitter audiences of just over half that size.
The Red Bull brand managed to reach 16 per cent of British Twitter feeds during the team's third consecutive constructors' title victory last week.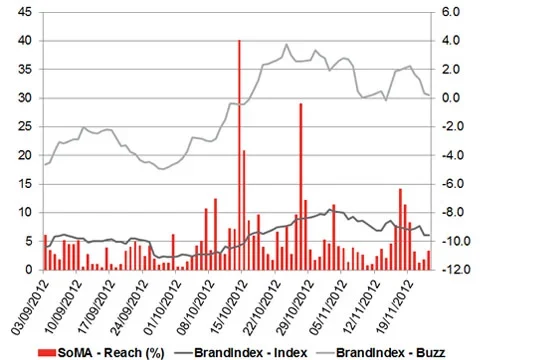 Using BrandIndex, which measures brand perception daily using nationally representative samples, we can measure the impact of this increased exposure.
During October, following the Stratos jump and Indian F1 success, the Buzz measure for Red Bull increased by eight points.
Significantly, the Index score for the brand – a composite of six key image measures including corporate reputation – also increased steadily.
Despite Vettel's successes and a Championship win, both Buzz and Index fell several points during November indicating that the Red Bull effect was quick to wear off.
But overall, such exposure seems to have delivered lasting success when it comes to improving Red Bull's perception in the eye of the consumer.
This story originally appeared in City AM