PP and Vox would take exactly half of seats in Spain's lower house based on our median estimates
Earlier in July, YouGov released the first ever public MRP poll of a Spanish election. Today, we release our 'final call' of the snap election called by incumbent prime minister Pedro Sánchez after his party's drubbing in the country's local elections in May.
Our forecast today is very similar to our initial projections. Based on a sample of 10,807 Spanish voters collected from 6-17 July, we estimate that a potential right-wing coalition of the centre-right PP and far-right Vox could just be in range to scrape together enough seats for a parliamentary majority, but could well equally fall just short. Our current median projected seat figures give PP 133 seats, which added to Vox's 42 constitute exactly half of all those available at the election on Sunday.
Given the closeness of the race at this time, and the fact that the vote itself is still six days away, a hung parliament in which no current coalition has a majority of seats, and that the potential PP/Vox coalition drops below the 176 line, remains a very realistic outcome.
Equally, there is still time for the PP-Vox combined lead over their rivals to grow and establish a parliamentary majority.
For their part, the median estimate for our model currently projects incumbent centre-left PSOE to take 113 seats, with the left-wing Sumar on 34. The two largest parties have seen their seat shares grow fractionally since our earlier MRP, while the two smaller parties have seen theirs decrease slightly.
In terms of national figures, our model suggests that PP are set to win 32% of the vote, with PSOE at 28%. Far-right Vox are currently projected to gather 14% of the national ballot, as are the left-wing Sumar.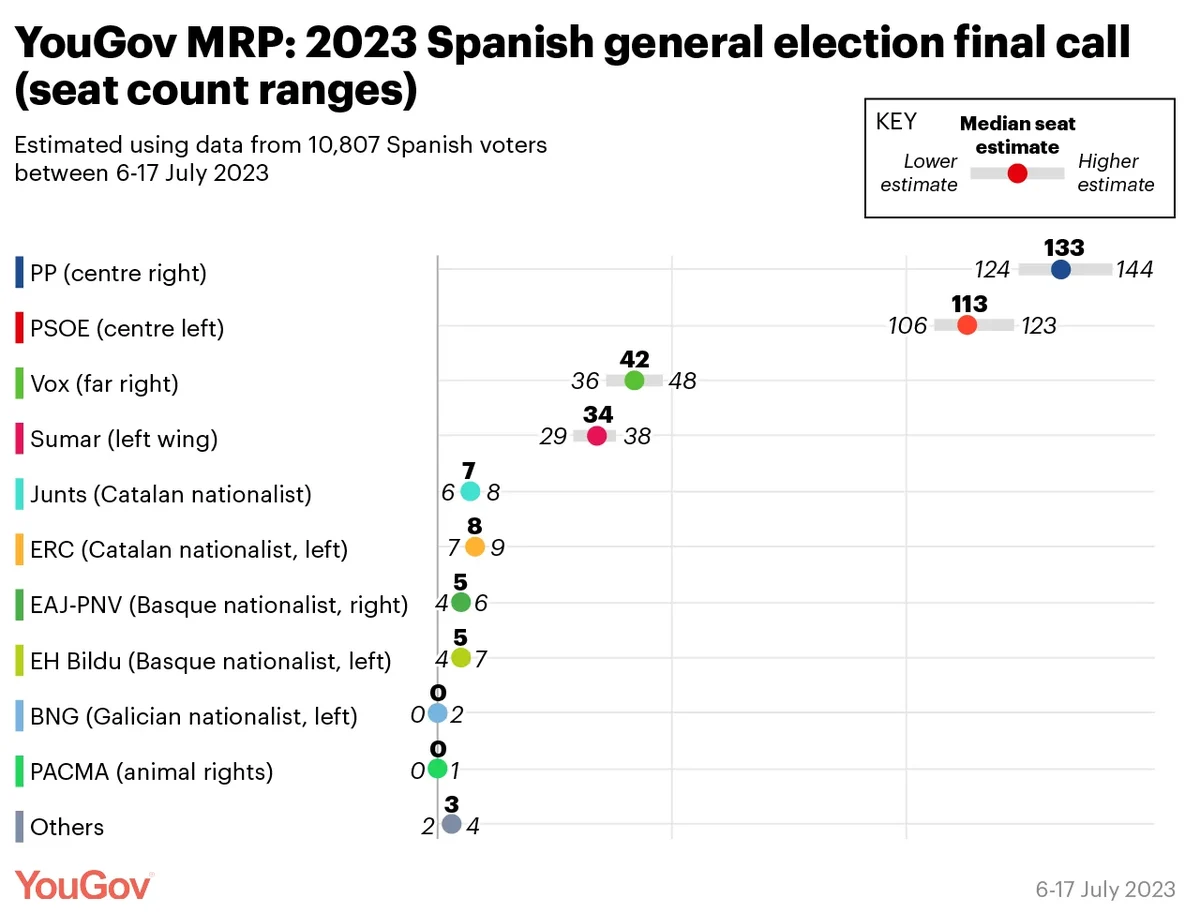 As with our previous model, so much can – and will – hinge on crucial battles for third, fourth, and fifth seat allocations across many of Spain's 52 constituencies. The Spanish electoral system is the same as that previously used by the UK for European Parliament elections, which distributes seats to parties proportionally based on their performance within large multi-seat constituencies (with no reference to national performance).
In the 26 constituencies with between three and five seats, this creates immensely hot competition between all four of Spain's main nationwide political parties for their shares of the spoils. The difference between getting 14% in a constituency versus 15% could be the difference between winning one seat or winning none.
One such example is Albacete, where we currently project PP and PSOE to win the first two seats. However, after this, each of Vox, PP, and PSOE are within touching distance of each other to pick up the third and fourth representative slots. Sumar could well be left with nothing to show for potentially tens of thousands of votes.
Interesting stories are emerging regarding support for nationalist parties in two autonomous communities within Spain – namely, Catalonia and the Basque Country. Here we project that for the very first time EH Bildu have a strong chance of outperforming their right-wing nationalist counterparts EAJ-PNV.
Similarly, we expect an extremely close race between ERC and Junts to be the largest nationalist party in Catalonia in terms of seats once all the votes have been counted next weekend.
Photo: Getty