YouGov is the first pollster to use MRP to cover a general election in Spain
Following our successful use of Multilevel Regression and Post-stratification (MRP) methodology at the 2017 and 2019 UK general elections, YouGov is now using the cutting-edge technique to cover the Spanish general election on 23 July. This is the first time any pollster has used MRP to make a public projection of a general election in Spain.  
Using data from over 10,000 Spanish voters, our model estimates current voting intention of 31% for the centre-right opposition People's Party (PP), compared to 28% for the ruling centre-left Spanish Socialist Workers' Party (PSOE). Far right Vox and left wing Sumar currently sit on 14% each.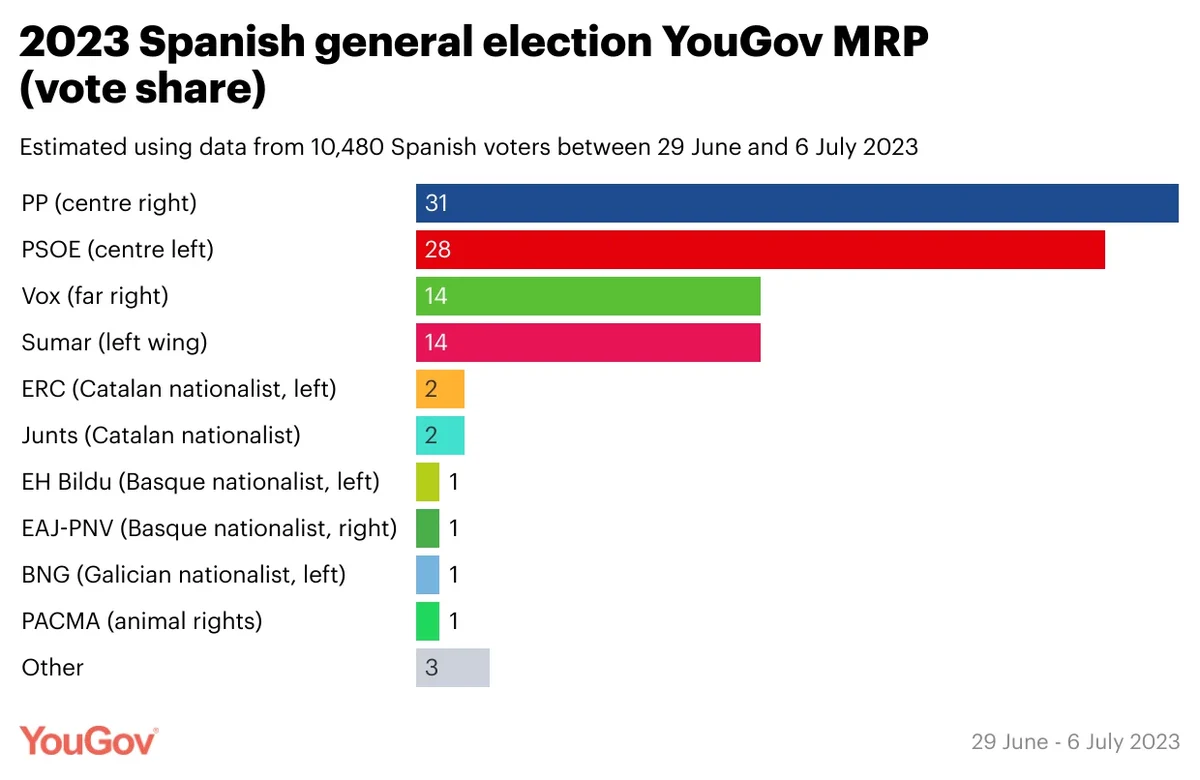 In terms of seats, our model shows that a right-wing coalition government of PP and Vox could be formed by the barest of margins possible, highlighting just how close this election is. Our median estimate for PP has the party taking the largest number of seats, at 131, while Vox's 45 would see pair take 176 seats overall – the minimum number required for a majority in Spain's lower house (the Chamber of Deputies).
PSOE are currently most likely to take 108 seats according to our model, which would represent a 12-seat loss since the last election in 2019.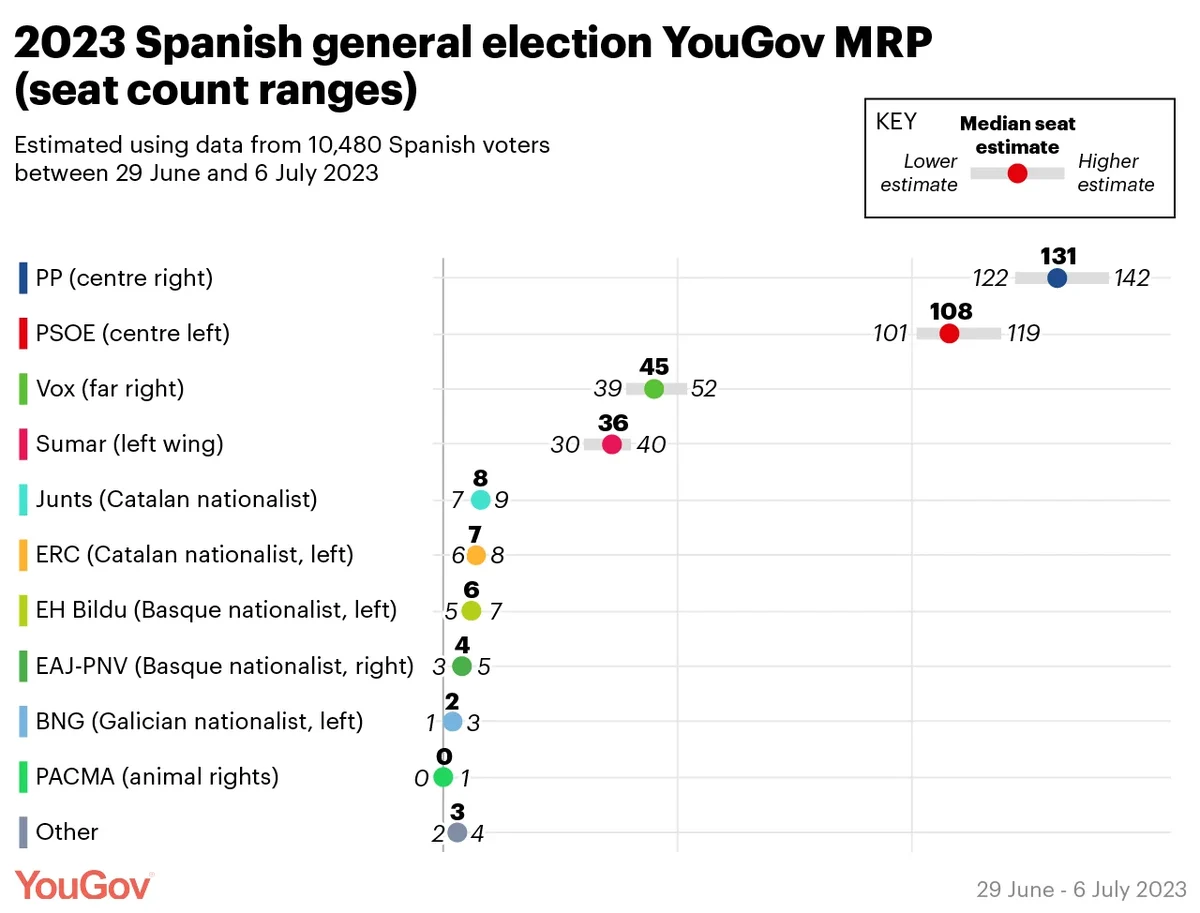 In Madrid, our median estimate is that PP are currently on 37% of the vote (+12 points on November 2019), while PSOE are on 28% (+1). Sumar trail behind with 17% (+4 on the figure Podemos achieved in 2019), with Vox at 16% (-2), and others on 3%. (Ciudadanos, who are not standing at this year's election received 9% of the vote in Madrid in 2019).
These results, if replicated in Madrid on election day, would give PP around 14 seats in the capital, PSOE 11, and Sumar and Vox six apiece.  
The strengths of MRP in terms of its ability to capture local variation and information mean we are able to also make models of the seat share even in small constituencies where typically sample sizes are far too small to produce any sort of reliable estimates. One such example is Huesca, where we are currently projecting one seat each for PP, PSOE, and Vox. 
However, the battle for the third seat in Huesca is extremely intense, with just a few percentage points separating each of Vox, PSOE, and Sumar for that vital third spot. With two weeks still to go until the election itself, any of the three could realistically win the third Deputy in Huesca based on our current figures.
YouGov intends to publish a further MRP on 17 July – laws in Spain prohibit pollsters from publishing voting intention results any closer to election day.
Photo: Getty