Support for strike action correlates strongly with workers' perceived contribution to society and whether they are underpaid, but not with disruption caused
With frequent strike action taking place in recent months, and more still scheduled for coming weeks, YouGov have been regularly tracking public support for the walkouts. Through this research we've found differing levels of support depending on industry.
For example, our latest results on the topic find the public support nurses striking by 65% to 31% while they oppose rail workers striking by 52% to 40%. More broadly, of the 14 striking professions we asked about, four are generally supported, nine are generally opposed, and one was tied.
What measures correlate with support for strikes?
To dig deeper into these differing levels of support we looked at three additional measures for each industry: perceived contribution to society, whether they are seen to be over or underpaid, and how disruptive recent strike action has been to themselves personally*.
We find that there is a very strong relationship between support for strikes and whether a profession is seen as making a contribution to the country. At the top of both lists are nurses (65% support for striking, 92% contribute to society) and ambulance workers (61% support, 91% contribute to society). On the other end of the scale, driving examiners, baggage handlers and TfL workers all score poorly on both support for striking and contribution to society.
When it comes to pay, we see the same trend: the more likely you are to think workers are underpaid, the more likely you are to support them striking. In fact, nurses, ambulance workers, firefighters and teachers are ranked top in that order for support, contribution, and pay.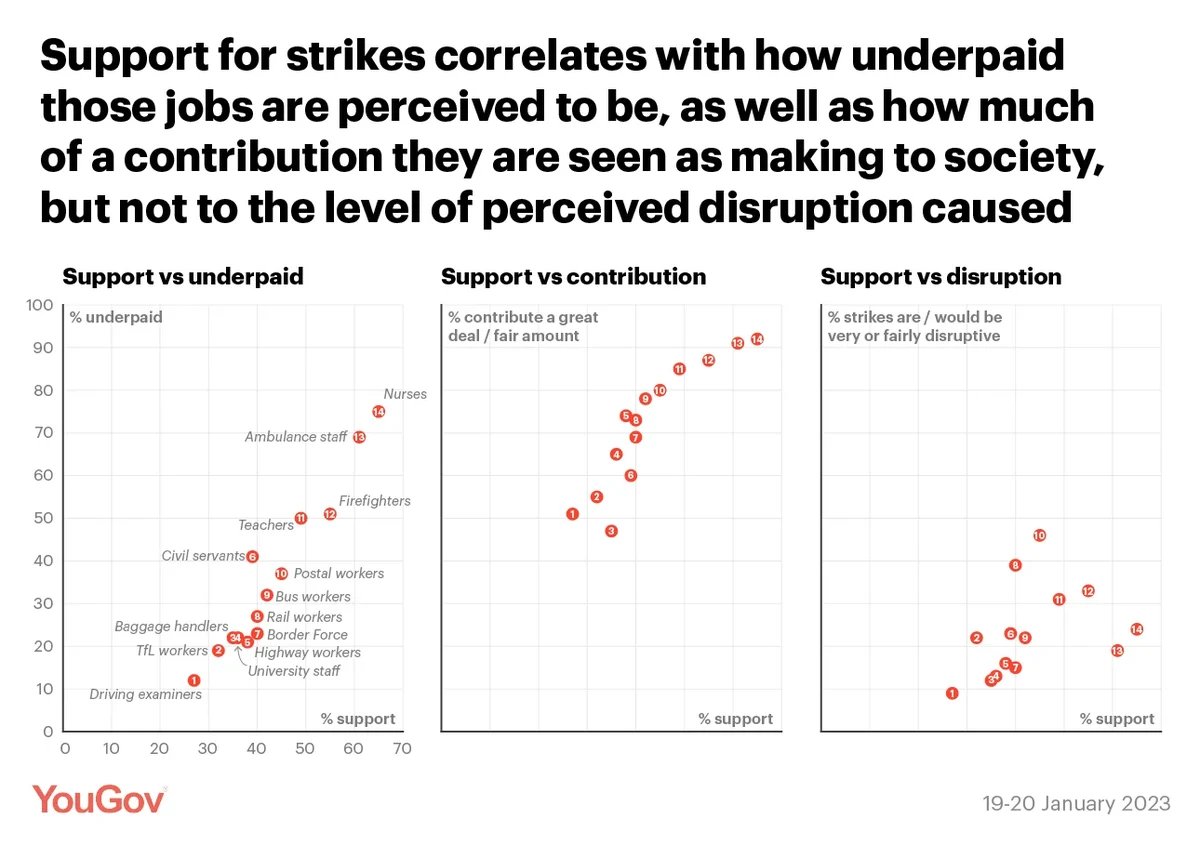 There are two notable anomalies in these findings. The first is that civil servants are more likely to be perceived as underpaid than other striking professions that have similar levels of support.
The second is that baggage handlers score much lower in terms of perceived contribution to society than would be expected for the number of people supporting them striking.
This could mean that in these examples the other measure (pay or contribution) that correlates closer to support is having a stronger impact.
For some professions, the most common response is 'don't know' when asked about pay. For example, 43% of people are unsure whether highway workers are under or overpaid so while only 21% see them as underpaid, far fewer (8%) see them as overpaid. However, we still get the exact same relationship when excluding those who are unsure, confirming the trend.
Disruption not a driver of support for strikes
A lot of coverage of strikes has focussed on the disruption caused, with the government announcing a bill to ensure a minimum level of service for a number of industries striking. However, there is little correlation between support for striking and the disruption it has personally caused people.
The postal worker strikes are seen to have cause the most disruption (45%) out of all the measures we tested, though are the fifth most supported (45%). Similarly, the rail strikes (40% support) are supported by the same proportion as the bus driver strikes (42% support), despite almost twice as many people saying rail strikes had been disruptive to themselves personally than bus strikes (39% to 22%). Likewise, driving examiner strikes are both the least supported (27%) of those tested while also the action that fewest people saw as disruptive (9%).
* for those professions that have threatened to strike, but had not yet done so by the time fieldwork had been conducted – teachers, firefighters and civil servants – we asked respondents how disruptive they thought they would be to their lives
Photo: Getty