Government approval and perceptions of economic handling are only marginally improved since the new prime minister took office
Upon taking over as prime minister, public opinion on Rishi Sunak is markedly improved compared to his predecessor. Where Liz Truss had trailed her rival Keir Starmer on our 'best prime minister' question by 29 points, Sunak has only a four point deficit.
Likewise, while only 10% of Britons had a favourable opinion of Liz Truss in our final poll of her tenure, that figure was almost four times as high (39%) for Rishi Sunak the first time we asked after he became prime minister.
Less than a week into his tenure, those Britons with a view are split on how well Sunak is doing as prime minister: 29% think he is doing well while 27% think he is doing badly. Far more are unsure currently (45%). For the single tracker wave YouGov managed to run during Liz Truss's tenure (fieldwork 1-3 October) she scored 11% well and 71% badly.
However, Sunak's greater popularity has yet to rub off on the government, which sees only marginal improvements in the latest YouGov tracker results.
The latest government approval figures (fieldwork conducted on 29-31 October) show government approval standing at just 11%, only slightly higher than the 6% it had been the week before, and the 7% it had been the week before that (which was conducted prior to Liz Truss announcing her resignation). Currently 72% of Britons disapprove of the government.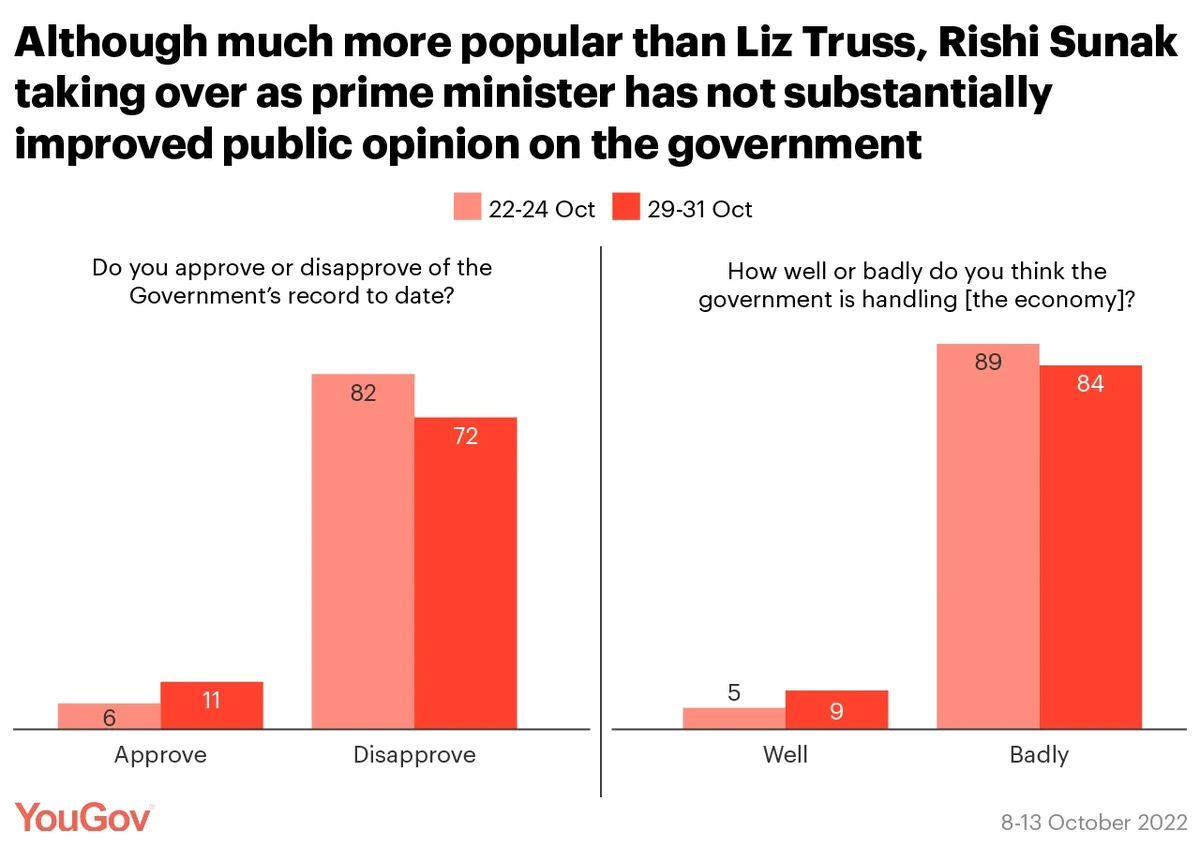 Similarly on the key issue of the economy, while Britons tend to trust Rishi Sunak to make the right decisions on the economy, this has yet to translate into a belief that the government is handling the economy well. Just 11% think they are, up from 5% the week before. Currently 82% of Britons still think the government is handling the economy badly, down from 89% the week before.
It may yet be that as Sunak gets a grip on his new job that he drags his government's numbers up. Or, alternatively, he may simply be experiencing a personal honeymoon period, and his numbers are destined to sink down to the government's level. All eyes will be on the Autumn Statement, which may well prove to be a sink or swim moment for the new prime minister. He can only hope that his first financial proposals to the country are will be substantially better received than those of his predecessor.