The new prime minister's personal favourability ratings have increased by 12 points since last week
With YouGov's latest MRP highlighting the significant challenges Rishi Sunak faces in convincing the public he is the right person to lead the country, new data today suggests that the public are already more impressed with what they have seen from Sunak this week than previously.
According to our latest favourability ratings, Sunak has moved from a net favourability score of -21 on 14-16 October to -9 now. Two in five Britons (39%) have a favourable view of the new prime minister, while 48% have an unfavourable one.
Sunak does, however, continue to trail Keir Starmer, whose net favourability score sits at +3.
While his party's rating has also risen by six points, from -53 to -47, the Conservatives still remain a long way behind the Labour party in this regard, who currently sit at +2.
However, the fact that Sunak's personal ratings far eclipse his parties should be positive news for the Conservatives at this mid-term stage.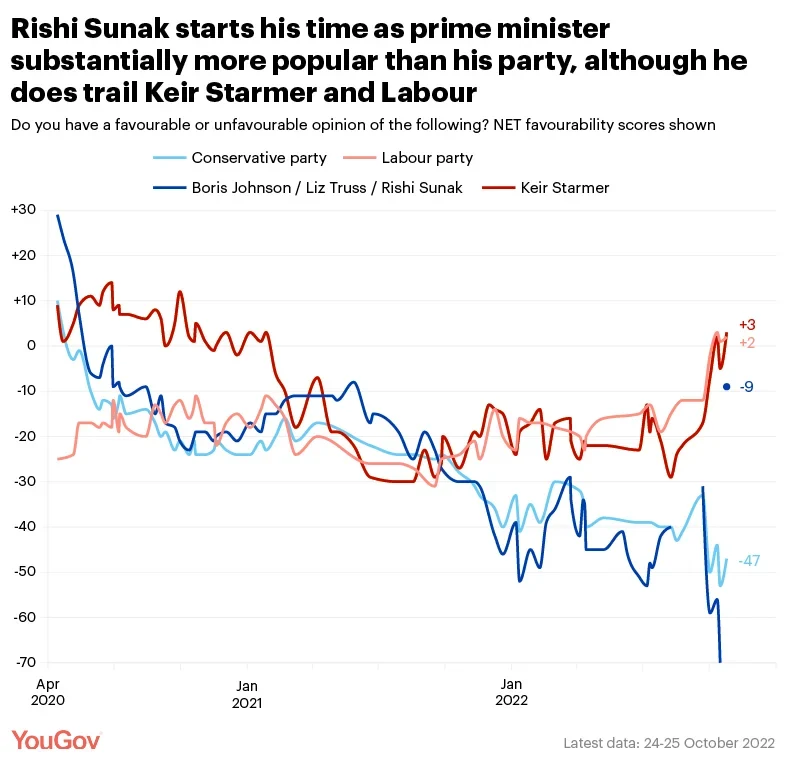 The previous two prime ministers, Boris Johnson and Liz Truss, were a significant drag on their party's ratings, with the Conservative brand viewed significantly more favourably than their own this year.
If Sunak's personal brand rubs off on that of his party, then we should expect both the party favourability ratings, as well as their polling figures, to improve.
Photo: Getty