Starmer's 'best PM' lead expands to 17pts, but how much credit goes to the Labour leader?
With chaos engulfing the government as Boris Johnson resigns but tries to cling on for a few months longer, Labour have said they will call a vote of no confidence in the government.
Should they succeed in bringing Johnson down, a general election could follow. But is Keir Starmer up to the job of succeeding Boris Johnson?
He is certainly the preferred candidate out of himself and Johnson. The latest YouGov/Times voting intention survey shows that on our 'best prime minister' question Starmer holds a commanding 17pt lead, on 37% to Johnson's 20% (a respective four point increase and seven point decrease compared to the previous survey).
But does this represent a vote of confidence in Starmer? To test this, we resurrected a question we had previously asked in 2017 about Theresa May when she was facing Jeremy Corbyn: are people's 'best prime minister' choices informed more by their preferred premier's strengths, or by their opponent's weaknesses.
The results show that, among those who say that Starmer would make the better prime minister than Johnson, fully 70% say that this is more because of Johnson's weaknesses than Starmer's strengths. Only a quarter (27%) said that their decision was more down to Starmer's strengths.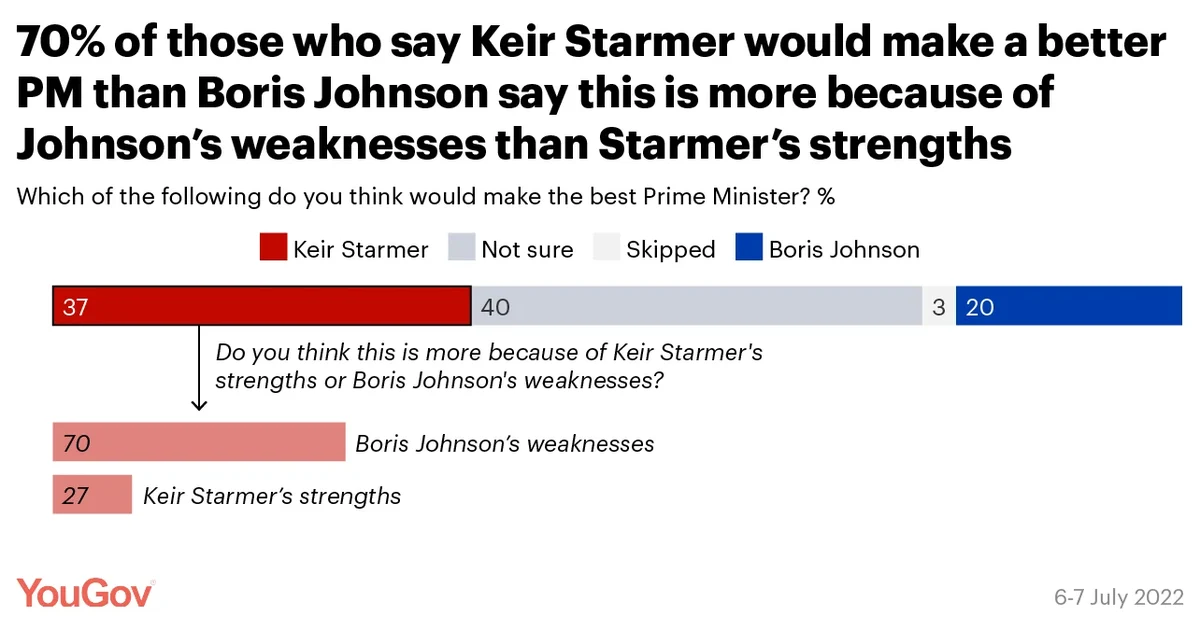 Six in ten Labour voters who say that Starmer would make the best prime minister also say that this is more because of the Tory's travails than the Labour leader's appeal.
This could of course reflect that Johnson's deficiencies are so glaring that they far outweigh Starmer's own benefits. It may prove that a key contributor is simply the salience of the current scandal, and Johnson's centrality to it. But looking to YouGov's tracker data shows that Starmer's reputation as Labour leader isn't exactly strong.
At the end of June a majority of Britons (58%) said that Starmer does not look like a prime minister in waiting. Just 22% can envisage him in front of Number 10's famous black door.
Labour voters themselves are split on this, with those who backed the party in 2019 divided 41% to 39% on the matter.
When it comes to Starmer's skillset, polling from early June found Britons are divided on whether he is competent (36%) or not (32%). They tend not to see him as a strong leader (44% vs 22% who do).
Keir Starmer does lead Boris Johnson on both of these attributes, although this is a somewhat of a moot point now that the latter is standing down.
None of this is to say that Labour's electoral prospects are poor: they currently have a hefty 11pt lead in the voting intention polls. But Starmer's relatively lacklustre numbers mean it is harder for Labour to capitalise on Tory infighting than it might otherwise be, and does leave their lead hostage to a potentially appealing Conservative leader emerging from the current chaos.