Two in five Britons now think the chancellor to be incompetent, twice that who said the same in January 2021
As the British public struggles with a cost-of-living crisis, a poorly received spring budget and questions surrounding his wife's tax status could not have come at a worse time for the man behind the government's purse. While once fiercely popular, new YouGov polling shows a dramatic shift in the tone of the public's perceptions of Rishi Sunak.
Half of the population now consider him to be "untrustworthy" (58%) – a figure up 30pts compared to January 2021 (28%). While only 19% of the public currently consider Sunak trustworthy, Conservative voters are split 38% to 40% on whether the Chancellor is trustworthy or not.
Indeed, while this change is far from positive, Sunak does again retain a lead over Boris Johnson, who is seen as untrustworthy by far more people (74%) than Sunak, with 12% saying he is trustworthy.
Britons are divided on Sunak's competence - two fifths (40%) now see him as incompetent, versus 38% who think he is competent. This latest survey represents a 23pt rise in those viewing Sunak as incompetent compared to late January 2021 (17%).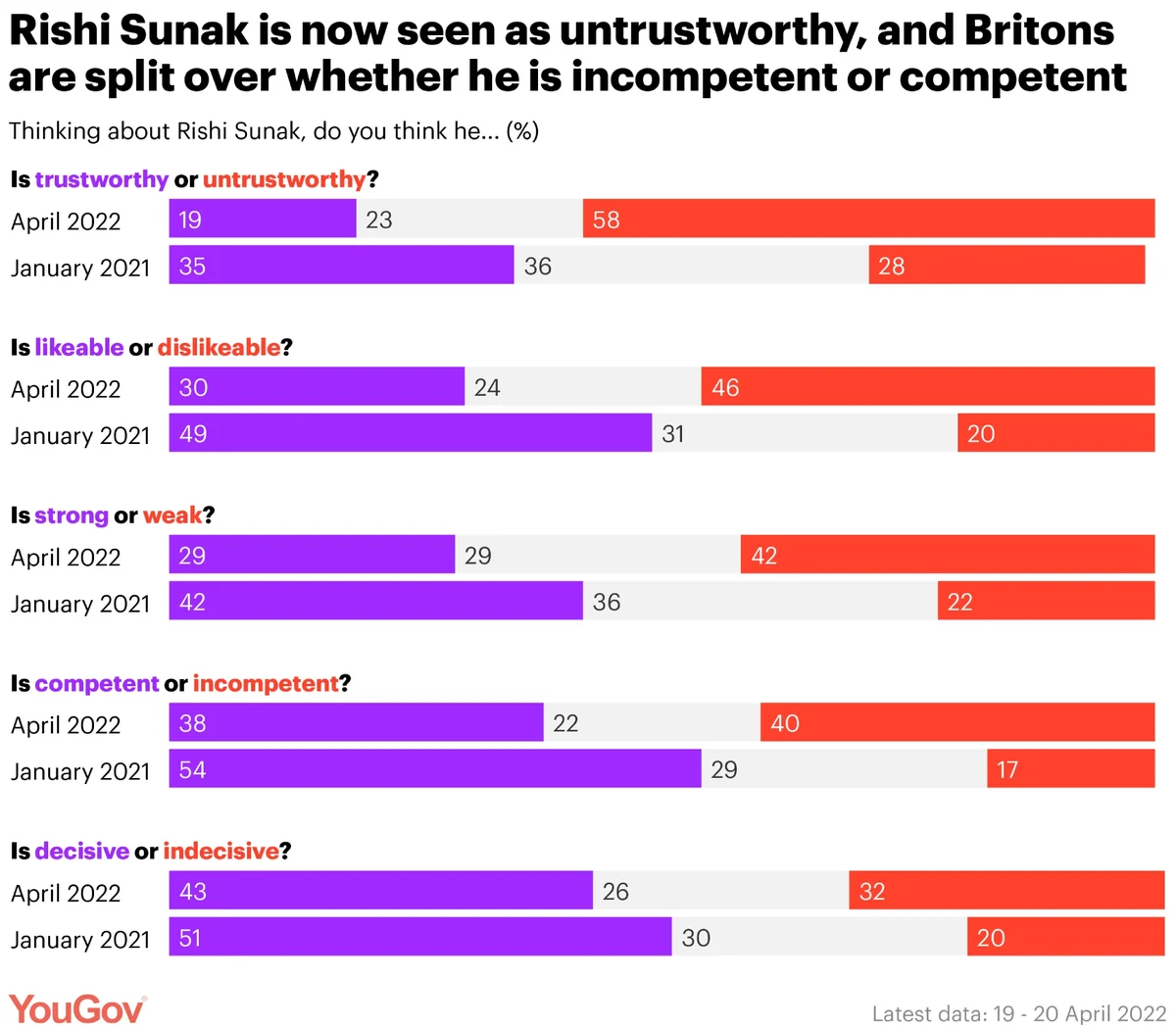 Among 2019 Conservative voters, 25% now see the chancellor as incompetent (up from 6% in January 2021), while six in ten (60%, down from 74%) think otherwise.
As with trustworthiness, Johnson, with the prime minister seen as incompetent by more of the public (66%), and nearly two in five Conservative voters (39%). However, these latest figures mean Sunak is viewed as incompetent by more people than Keir Starmer (32%).
By 46% to 30%, Sunak is now also seen as being dislikeable, with those taking the negative view rising 26pts compared to the previous survey (20%). A similar proportion also think Sunak is weak (42%, up from 22% in the previous survey), compared to 29% who view him as strong.
Finally, Sunak is still generally perceived as being decisive by 43% to 32%. However, those seeing him as able to make quick decisions has fallen 8pts from 51% since January 2021, while the number of those thinking he is indecisive has risen 12pts from 20%.
These changes come amidst plummeting favourability figures for the Chancellor. Previously ranking among the most popular politicians, Sunak now sees figures more akin to the likes of Boris Johnson and Priti Patel.
See full results here