Over a month has passed since the Russian invasion of Ukraine, and the number of Ukrainian civilians seeking refuge in other countries continues to grow. Currently, around 4.3 million people have left Ukraine. However, an additional 6.5 million are believed to have left their homes but remain in the country, and a further 12 million are stranded or unable to leave areas impacted by the war.
Most refugees who have able to escape have sought shelter in neighbouring countries such as Poland, but hundreds of thousands have also made their way to other European countries. In YouGov surveys conducted from 9-21 March, we asked the public in Britain, France, Germany, Spain and Italy what they think about how their country should aid Ukrainian refugees.
Do countries have a moral obligation to offer asylum to Ukrainian refugees?
In all countries surveyed, most people felt their country had a moral responsibility to offer a safe haven to those fleeing from the war, with Spaniards most likely to say so (79%) and Germans least likely to (60%). Here in Britain, 67% of people considered the UK to have an obligation to help, up 17pts from a previous survey in late February (the only country in which such a noticeable change took place).
Spaniards were also the most supportive of their country introducing a scheme to resettle Ukrainian refugees fleeing the war in their country (79%), with Germans again the least likely (60%). Support in Britain stood at 76%, up from 63% – again, the only country in which a big increase in opinion took place.
How many Ukrainian refugees should European countries should welcome?
Germany has welcomed the most Ukrainian refugees of the countries surveyed at over 200,000. Italy follow, albeit fairly far behind, at around 85,000. France has taken in 45,000 and Spain 25,000, while Britain has admitted only 12,000.
In Britain, France and Germany, people are most likely to say their country should admit either a few tens of thousands or a few hundreds of thousands. Britons are most definitive about this, with 22% and 21% giving each answer respectively. In Italy and Spain people are more likely to say either a few thousands or a few tens of thousands, with Spaniards being most likely to say the lower figure (although they are also more likely to be unsure of how many refugees to admit than another other nation).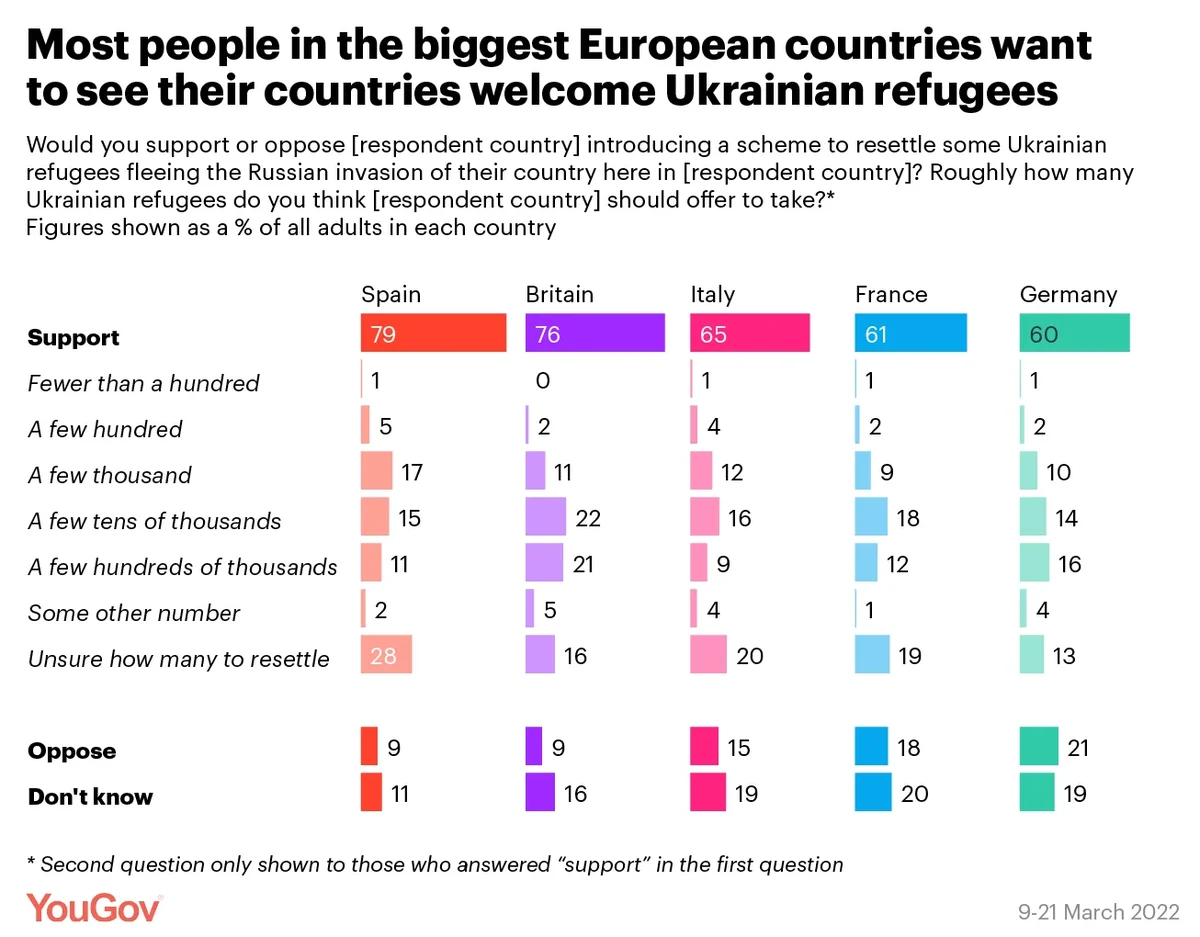 Opposition to taking any refugees is highest in Germany, at 21%, with Spain and Britain the least opposed at 9% each.
Most people in the countries surveyed expect an overwhelming influx of refugees
While generally thinking their countries should offer refuge to thousands of Ukrainians, Europeans also thought it was likely that there would be an influx of refugees that their national systems could not cope with.
A majority in each country saw this as probable, with this belief highest among Italians (82%) ­– including 39% who believed it was "very likely" their system could be overwhelmed. Two thirds (65%) of people in Germany – the country surveyed with by far the largest number of Ukrainian refugees – saw an overwhelmed system as a distinct likelihood, while Britons were the least likely to think so, at 56%.