The YouGov France 'final call' of the first round of the French presidential election gives Macron a slender lead, with Le Pen to join him in a second round to be held in little over a fortnight
With French voters set to head to the polls on Sunday, the YouGov/Datapraxis 'final call' of the first round of voting gives incumbent president Emmanuel Macron (26%) a slight lead over his nearest challenger, leader of the far-right 'Rassemblement National' Marine Le Pen (23%).
While both candidates are slightly down on our previous poll released earlier this week, they are nonetheless still significantly ahead of the rest of the field. Jean-Luc Mélenchon, leader of the left-wing 'France Insoumise' remains in a distant third, on 16% of the vote (from 15% previously).
Elsewhere, far-right challenger Éric Zemmour has seen his vote share rise by four points, to 13%.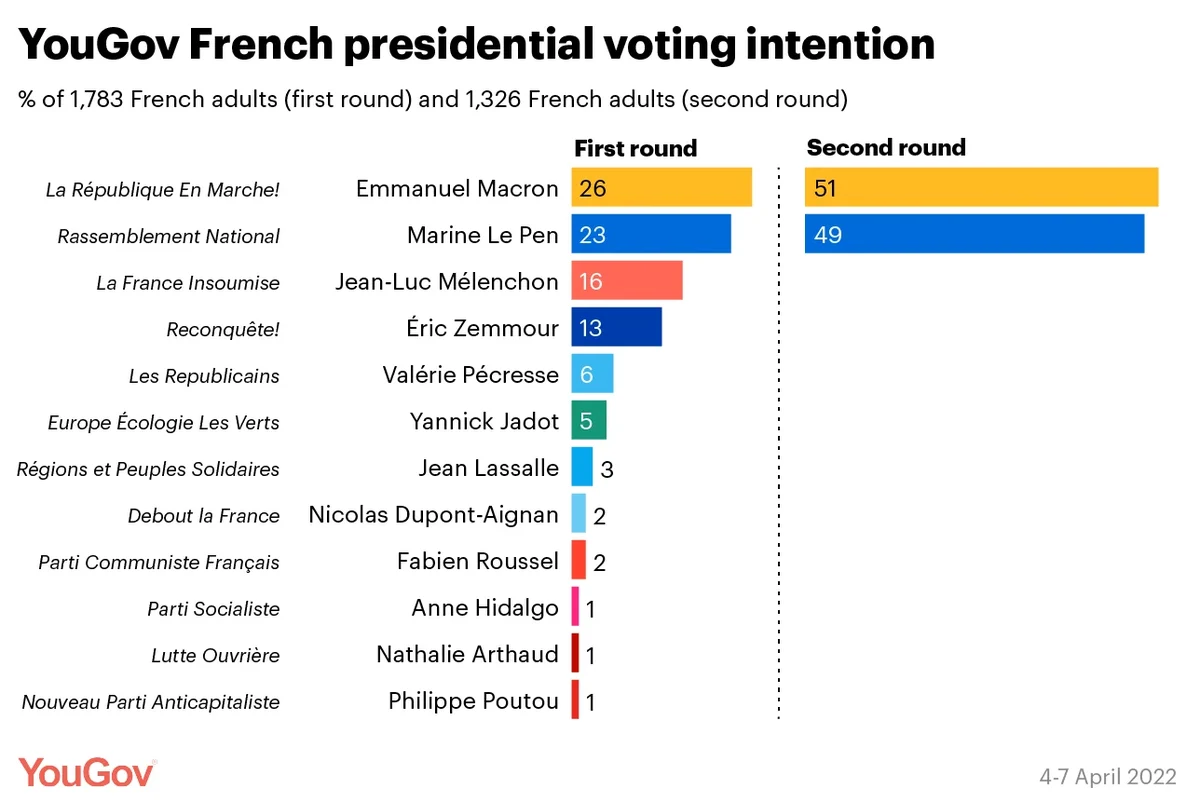 With French polling across the industry finishing today a full two days ahead of the vote itself, there is still plenty of time for 'late swing' to change the picture of results. It is not totally out of the question, for instance, that one of the other candidates now in double-digits could make a late surge into the second round and replace one of Macron or Le Pen.
Looking ahead to the second round, our latest figures suggest a dead heat between Macron and Le Pen. While the former had an eight-point lead last week, this has been cut to just two-points today, with Macron on 51% to Le Pen's 49%.
One area where Macron's voter coalition appears to be struggling is with left-wing voters. Those who intend to vote for Mélenchon, for example, currently only break 54-46 in Macron's favour.
Conversely, Le Pen currently enjoys the support of 95% of those currently intending to vote for Zemmour in the first round.
Elsewhere, supporters of the centre-right candidate Valerie Pécresse are currently split 64-36 in Macron's favour.
An exciting fortnight of campaigning looks set to follow Sunday's first round vote, and YouGov and DataPraxis will be publishing two further polls ahead of the second round.