While Ukrainian refugees struggle to gain entry to the United Kingdom, a consistent three-quarters of the British public want the government to do more to help those fleeing the Russian invasion.
Since Vladimir Putin's forces invaded Ukraine almost two weeks ago, YouGov have tracked British public opinion on receiving Ukrainians fleeing the conflict and seeking asylum here.
When we first posed the question on 24-25 February, in the immediate aftermath of the invasion, we found that 63% of the public supported introducing a scheme to resettle some Ukrainian refugees fleeing the Russian invasion.
That figure quickly rose to around three-quarters (76%) of the public as soon as 2 March. Our latest data released today shows that figure remains effectively unchanged (75%).
What has shifted slightly is the number of refugees Britons are willing to accept. Today's results show that a figure equivalent to more than four in ten Britons (42%)* believe the UK should take in at least "a few tens of thousands" of Ukrainian refugees, including one in five (19%) who say the figure should be "a few hundreds of thousands". Those figures have risen from 36% and 15%, respectively, in our previous poll.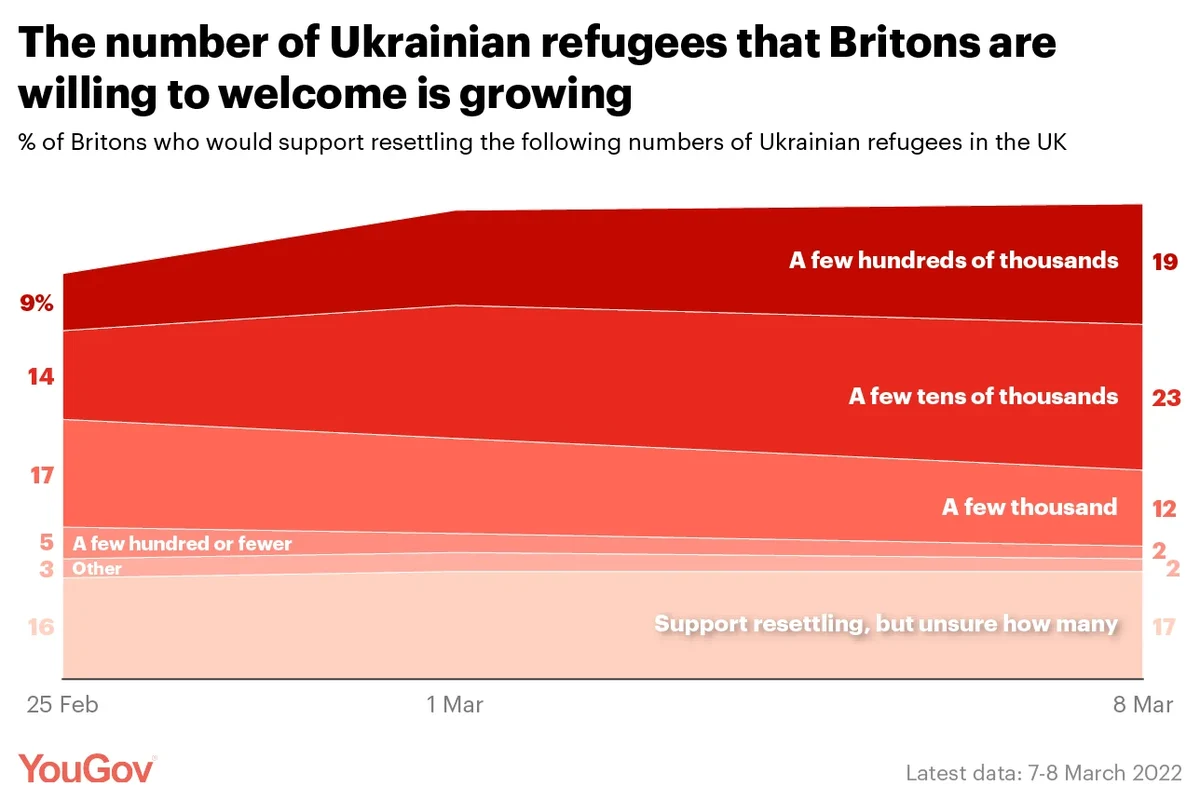 To date, however, only around 300 Ukrainians refugees have been admitted into the UK, according to Home Office data. This is a figure that will satisfy the mere 2% of the public who believe that 'a few hundred' is the right amount of Ukrainian refugees who should be allowed entry into the UK.
The public's desire for a fresh scheme is at odds with current government policy, which still insists that Ukrainian refugees apply for visas through official consulates and embassies, and has so far only relaxed rules for refugees with family already in the UK. Under current rules, the UK is unlikely to see anywhere near the numbers of refugees they are happy to take any time soon.
YouGov data published in the Times this week suggested that, for now, the public are more likely to think that the government have done well in responding to Russia's invasion of Ukraine than badly (41% vs 33%), and defence minister Ben Wallace has promised that the government 'will do more' to help Ukrainian refugees. But judgement on the handling of the crisis could change quite quickly if the government continues not to match public preferences on the topic of refugees.
* Only those who said that they would support setting up a resettlement scheme for Ukrainian refugees were asked how many refugees should be resettled. For simplicity of understanding, the results above have been recalculated to show them as a percentage of the entire population
See full results here