Our social media and brand health tools measure impact of oil campaign on fuel giant perception
When Greenpeace shut down 74 Shell petrol stations in London and Edinburgh, it did more than garner mainstream media coverage – it helped fuel (pun intended!) interest in the environmental group's multi-faceted online campaign against the oil giant.
The protest, which took place on Monday, July 16th, was just one the many coordinated elements of Greenpeace's Save the Arctic campaign, which is trying to stop Shell and other companies from drilling for oil in the Arctic by having the region recognised as a world park.
On the day of the protest, news about Shell reached the newsfeeds of 12% of UK Twitter users, compared to virtually no social media activity about the oil giant the previous day
Meanwhile, Twitter mentions of the brand rocketed up by 1872%, and as Greenpeace undoubtedly hoped, over three quarters of the mentions heard by the Twitter population about the brand were negative
Top words for that day included: 'greenpeace', 'stations', 'petrol', 'arctic', 'social', 'media', 'tellshell', and 'campaign'
That 'Tell Shell' was one of the top terms is particularly interesting, especially alongside other favourites 'social', 'media', and 'campaign'. This is significant in that it refers to one specific part of Greenpeace's social media campaign sabotaging Shell's online presence – a spoof webpage that looked rather convincingly like the one for Shell's own 'Tell Shell' campaign, which had initially been set up to solicit customer feedback via social media.
A review of Twitter conversations about Shell gathered on SoMA, revealed that while the petrol station protest is what got the social media conversation about Shell rolling, it was the online elements of the Save the Arctic campaign that kept it going.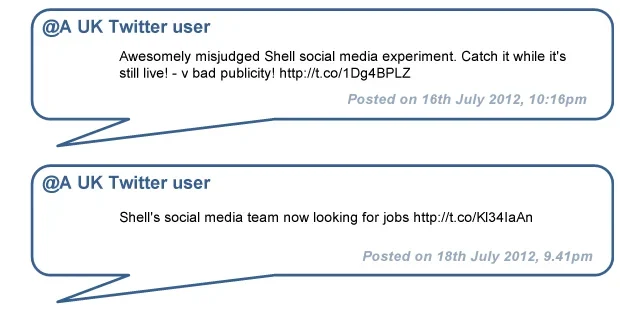 In the days following the protest, interest among the Twitter population in Greenpeace's social media campaign against Shell appears to have been sustained, with both reach and mentions of the brand considerably higher than normal.
BrandIndex, our daily brand perception measuring tool, showed that the protest and wider campaign definitely had an impact on Shell's brand ‒ in the real world as opposed to just social media ‒ as well.
Shell's Buzz score, which measures whether panellists have heard anything positive or negative about a brand, plunged nearly 15 points between the day of the protest and July 20th. Shell's Index score, a composite of six key image measures that tracks overall brand health, decreased by 12.26 points over the same period.
Both measures have begun to recover, but neither has reached the level they were at before the protest kicked off interest in the Save the Arctic campaign.