YouGov Germany data suggests some degree of optimism towards the incoming administration, though voters expect them to struggle on some key issues
Immediately after polls closed and the results started coming in on 26 September, YouGov began collecting data on a 'snap poll', asking Germans their preference of coalition and Chancellor.
With Angela Merkel standing down, this election - the first since 1949 without the incumbent Chancellor contesting - has now produced a momentous outcome: a three party coalition for the first time in the country's history between the Social Democratic Party (SPD), the Free Democratic Party (FDP), and the Greens.
Back in September, 43% of voters believed that the leader of the Social Democratic Party (SPD), Olaf Scholz, should lead the next government. Only 13% backed the beleaguered Christian Democratic/Christian Social Union Chancellor (CDU/CSU) candidate, Adam Laschet.
Meanwhile, 20% of voters believed that the so-called 'traffic light' coalition between the SPD, the Greens, and the FDP would be the right option for Germany's new government. This was followed closely by the option of another 'grand coalition' between the SPD and the CDU/CSU (16%).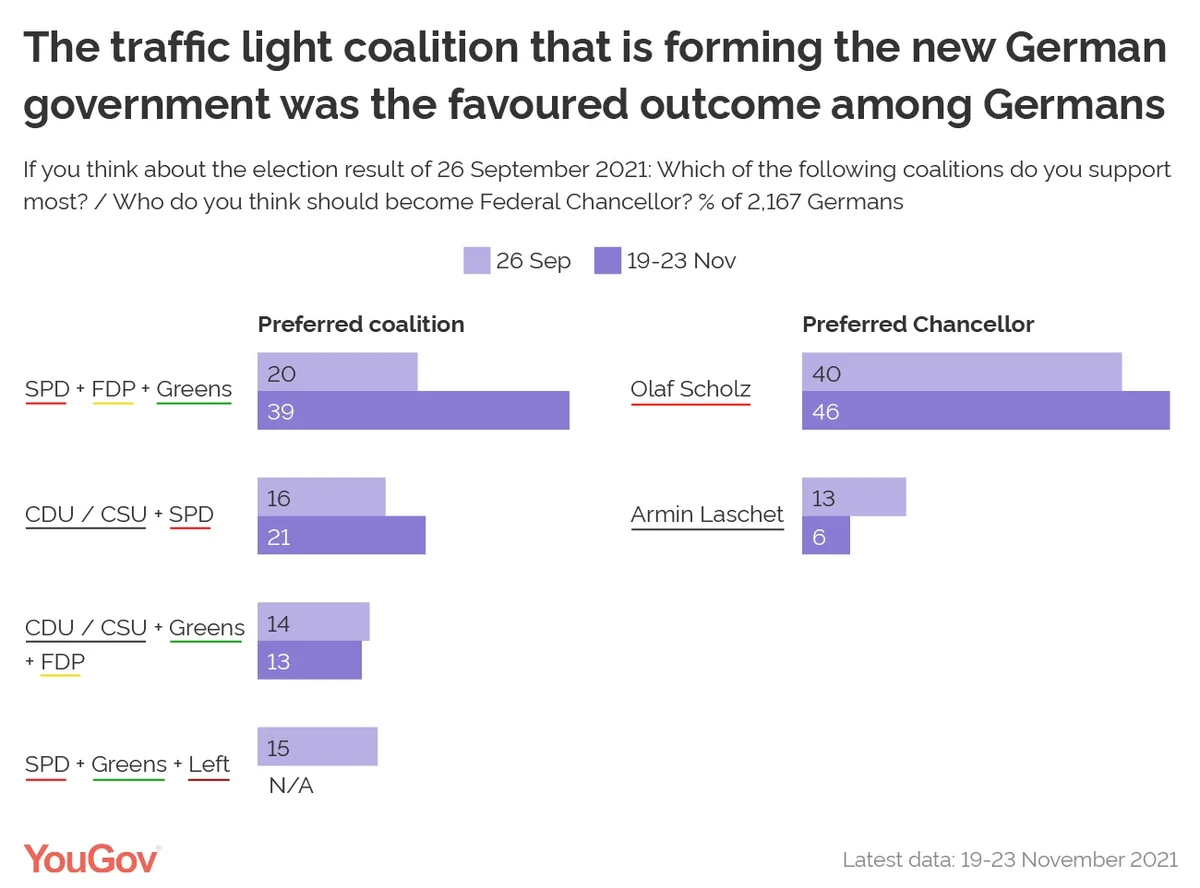 Now, as the SPD, Greens, and FDP announce the conclusion of their talks and the publication of their programme for government, 46% of Germans think that Scholz should be Chancellor, and 39% back the 'traffic light' coalition to take over as the next government.
What's more, 37% of Germans want FDP leader Christian Lindner to be given the position of Finance Minister, as is widely expected. Just 17% supported the idea of Green co-Leader Robert Habeck taking up the role.
The coalition will move into power with a significant, but far from universal, degree of public warmth.
What do Germans expect from the incoming coalition?
The German public is split on how the new government will handle healthcare (40% "good" versus 42% "bad"), crime (32% vs 46%), and Germany's relationship with Europe and the EU (41% vs 38%).
Meanwhile, they are pessimistic about how the coalition will handle immigration and asylum (27% "good" versus 55% "bad"), inflation (24% vs 55%), and taxes (30% vs 53%).
On the other hand, Germans expect the coalition to do well with the environment and climate protection (51% "good" versus 35% "bad"), and education (46% vs 37%).
Finally, despite now seemingly getting their most popular coalition, Chancellor, and Finance Minister outcomes, Germans are nonetheless most likely to be concerned (31%) and frustrated (20%) with the direction of their country's politics. Just 4% are "optimistic".
See full results here