Despite support for many Budget measures Britons are negative about the government's management of the economy
With Rishi Sunak yesterday giving his third Budget as chancellor, a new YouGov/The Times poll reveals how well the announcements were received by the public.
In terms of its impact, the public are largely indifferent. Half (50%) expect it to make little difference to themselves and their families, while 42% say the same about the country as a whole. In both cases, however, people are substantially more likely to say it would make things worse off (31% for family, 23 for country) than better off (4% and 13%, respectively).
People likewise tend to think it will make little difference to meet Britain's net zero carbon emissions goal (43%) – unsurprising given the chancellor's failure to mention climate change at any point during his speech.
There is broad pessimism that the measures outlined will do enough to help the country recover from the economic impact of the pandemic, with almost twice as many saying it will not (40%) as thinking it will (22%).
On the question of whether the Budget was a fair one, 33% of Britons think it was while 24% think it was not. A large number (43%) are not sure at the present time.
Britons are divided 28%/29% on whether the Budget itself is affordable, with 43% again unsure.
Britons back wage rises and fuel duty freeze, but disapprove of cuts to air passenger duty and increasing foreign aid spending
With the COP-26 climate change conference just days away, many were surprised to see the chancellor announce a cut to air passenger duty on domestic flights. A recent YouGov poll even revealed that such taxes on flights are one of the taxes that Britons are increasingly saying are fair.
Most Britons say the domestic flights tax reduction is the wrong priority at this time (54%), making it the most disapproved-of policy we asked about. Only 25% think it is a good idea.
By contrast, the accompanying policy – to increase duty on long haul overseas flights ­– is much more welcome: 52% say it is a good idea, while 29% say it is the wrong priority.
Other relatively unpopular announcements were that foreign aid spending would go back up to 0.7% by 2024, which only 33% considered a good idea while 45% said was the wrong priority, and reducing tax on draught beer and cider in pubs and bars (38% good idea/43% wrong priority).
All other measures polled proved to be popular. Topping the public opinion list of policies is the increase in the minimum wage, specifically the boost from £8.91 an hour to £9.50 among those aged 23 and older. Fully 85% of Britons said this was a good idea.
Also particularly popular are freezing fuel duty (70%), ending the public sector pay freeze (70%) and reducing business rates for the retail and hospitality sector (69%).
Public views of the government's handling of the economy and the wider economic situation are deteriorating
On Sunak's performance as chancellor, the public is more positive (38%) than negative (26%). However, this does represent a significant deterioration in reviews since March, when the majority of Britons (55%) said he was doing a good job.
Similarly, confidence in the government's handling of the economy has slipped since earlier this year. In March people said the government were doing well by 48% to 39%. Now, those numbers have reversed, with just 39% saying they are still doing well and 47% saying they are doing badly.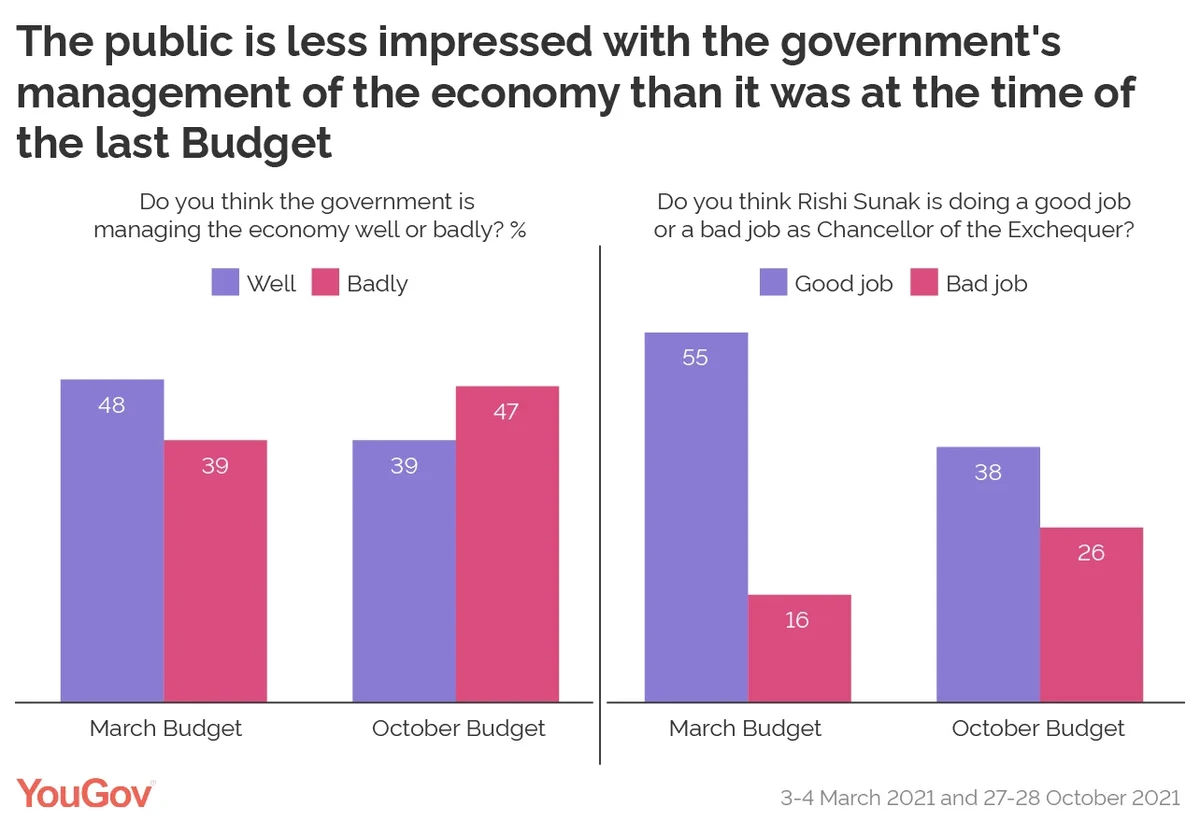 Increasing government disapproval is likely connected to Britons' own household finance fears. The proportion of Britons who expect their household finances to get worse over the next 12 months has risen from 30% in March to 44% now. Only 12% expect things to get better, while 36% suspect they will remain the same.
At the same time, expectations for the economy over the next 12 months are also slightly more negative, with 50% expecting things to get worse, up from 45% earlier in the year. One in five (22%) believe the economy will get better (a drop of 10pts from March), while 18% think things will remain much as they are.