Britain sees sporting success as Olympic interest heads for gold ahead of Games
It is not just the competitors who look for success at sporting events. Both Euro 2012 and the London Olympics have numerous high profile sponsors who will be desperate to gain traction from their association.
But before they can do that, they need consumers to be engaging with those events.
YouGov's SportsIndex works in a similar way to BrandIndex, tracking public perception of major sporting events and competitions over time.
Today I've focused on the attention being given to each event – whether people have heard anything (good or bad) about the event recently. And my findings are as follows:
Olympic Interest is high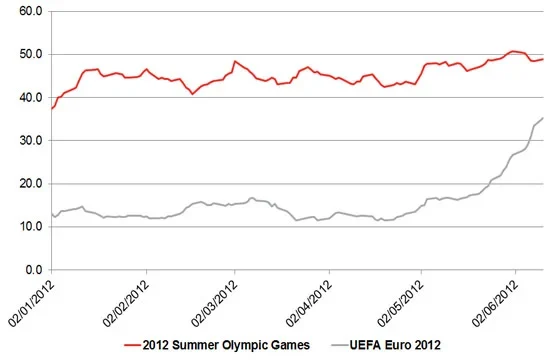 The first SportsIndex chart shows how the 2012 Olympic Games has spent the whole year with scores above 30, rising slowly to 50 now.
It is, somewhat unsurprisingly, the most noticed event this year by a long way and has almost consistently been the leading event. However, it has occasionally been overtaken by other events in the sporting calendar that have their brief moment.
Other sports can't compete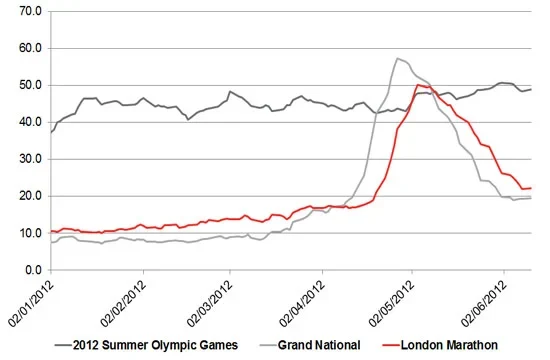 At the end of April, the Olympics was overtaken for a few days first by the Grand National (peaking at 57) and then the London Marathon (peaking at 50) before dropping back to their more general level of 10-20 once the events has passed.
Now is the turn of Euro 2012. With the gain beginning mid-May it has had a longer build up than either of the other two events, but has yet to get as high as they did or overtake the Olympics.
Euro 2012 will gather pace
Its trajectory is positive though and sponsors will hope it gathers pace before the tournament ends, more likely if England can progress to the later stages. Olympic sponsors will be encouraged by its high base level.
How high can the Olympics go?
It will be interesting to see how high attention on the Olympics can go over the next few weeks as the build up to the event grows – and it eventually takes place.
It will also be interesting to gauge what the impact is on the perception of those brands that have been associated with it.
This article also appears in City AM