Half of English people want to drop the "rule of six", but most want to keep masks in public places
The debate rages on as to whether the government should stick to its plans to end COVID-19 restrictions in England on 21 June, with many saying the emergence of the Delta variant (formerly known as the Indian variant) poses a new risk.
YouGov research for The Times shows English people only want to see one of the six restrictions polled dropped later this month.
This would be the so-called "rule of six", which half of people (51%) think should come to an end on 21 June, compared to 36% who think it should remain in place. Adults aged between 18 and 24 are the most keen to see this indoor socialising rule dropped (60%), compared to 45% of 50-64 year olds, who are the least likely.
People are also split over weddings: the current limit allows for 30 guests, but while 46% think this should be dropped on 21 June, 42% think the cap should remain in place.
When it comes to work, some 56% of English people want to see the advice to work from home stay in place. Around a third of English people (34%) would want this advice to end, however.
Another 55% think the current caps on attendance at major sporting and entertainment events should remain in place, a major decision for the government given the Euro 2020 tournament matches on the horizon. A third of people (33%) think the limit on fans in stadiums for sports and other entertainment should be dropped.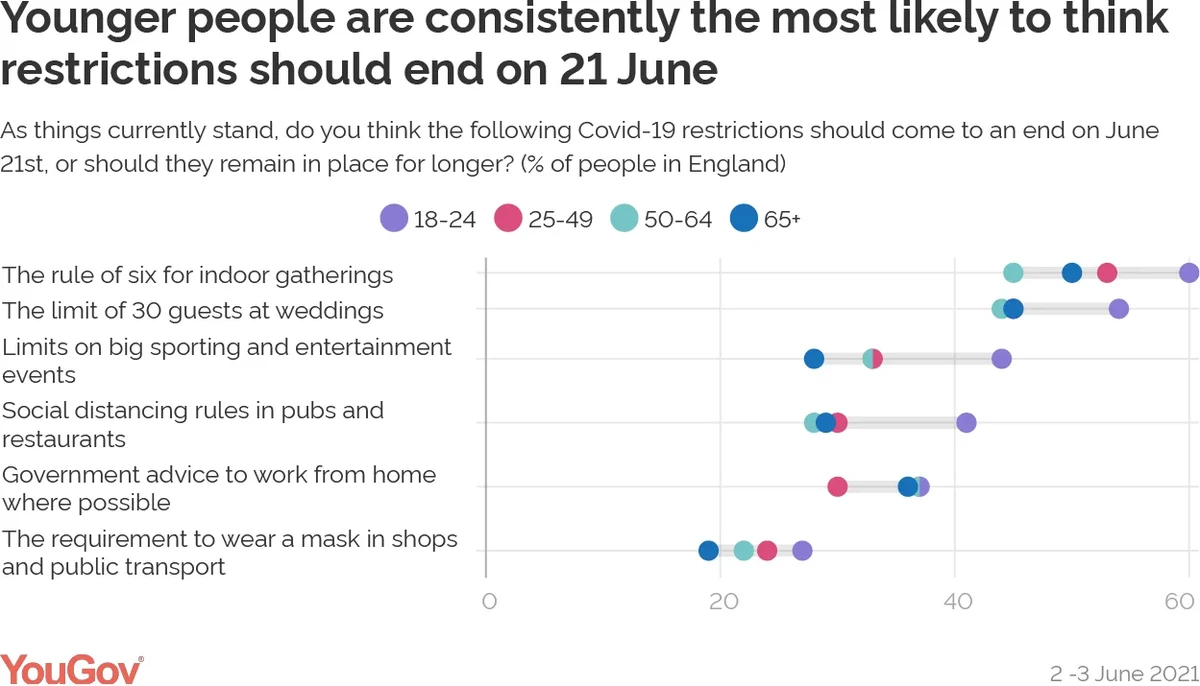 Two thirds of people (61%) want to keep social distancing in pubs and restaurants in place - including larger spaces between tables, mask use when not sat down, and not ordering at the bar. However, some three in ten (30%) want these measures scrapped on 21 June. Adults aged between 18 and 24 are split 41% to 38% over whether pub social distancing should go or remain in place, while the over-65s are firmly of the opinion it should be kept on past 21 June (64%).
The use of masks in shops and public transport is the measure English people are least likely to want scrapped (22%), with the vast majority (71%) thinking this practice should continue after 'Freedom Day'. This includes over half in each age group, rising to three quarters of the over-65s (76%).
See full results here