Political unrest biggest reason why Britons would avoid a holiday destination; bad reviews second
Over half of Britons have said that political unrest would be one of the top three factors most likely to put them off travelling to a holiday destination, our online survey has revealed. Bad reviews from friends or family, and resorts having a poor reputation online, were also factors cited when it comes to dissuading holidaymakers from a given resort.
54 % of Britons chose 'political unrest' among their top three reasons for not travelling to a holiday destination
Britons aged 55 and over were most concerned about political unrest disrupting their holiday, as 61% of this age group cited events such as the riots in Greece as one of the three main factors which would put them off certain destinations
32% of those over 55 said listed bad reviews by friends and family
While 29% said that the area being known for unseasonably bad weather would put them off going
Our online poll of 2,007 British adults, commissioned by prepaid currency card company Caxton FX, revealed the most influential factors which will cause Brits to avoid certain destinations, in a country or area they wanted to visit.
Bad reviews
Having a stellar reputation online could make or break summer resorts, the poll suggests.
29.9% of Britons online said they would avoid certain destinations if they read bad reviews on travel websites such as TripAdvisor
The 25 to 44 age group were most influenced by the 'Trip Advisors' of the internet, with 33% of this age group saying they would avoid certain destinations after reading bad reviews online
Friends and family recommendations
However, despite the ease of hundreds of reviews at your fingers tips online, it seems that word-of-mouth recommendations from friends and family are still significant when it comes to choosing your next trip.
29.7% of Britons said that bad feedback from family or friends would put them off choosing a destination
And it seems that that family and friends' recommendations get more important with age, as 38% of 45-54 year olds cite this as an important consideration
Versus only 21% of those aged 18 to 24 who would be influenced
Affordable luxury?
Aspects of cost also ranked highly in the survey as Brits are increasingly looking for affordable luxury after a few years of tightened purse strings.
The rise in fuel prices was a major concern, as 28% of consumers would find the cost of flights one of their top 3 factors putting them off
Additionally, 26% of Brits were concerned about the cost of accommodation when booking their holiday
While worries about the Eurozone are affecting people's holiday choices, as 14% profess to being put off going to a country with a bad exchange rate
James Hickman, MD of Caxton FX commented: "Summer holidays are a costly luxury for most and it's evident that when Brits are spending their hard earned money, they want it to be a dream holiday.
"Clearly, consumers are increasingly sensitive to the news agenda, as the Greek riots, Trip Advisor's profile, and the Eurozone crisis are all affecting our holiday making decisions in 2012. It's important that Brits do their research, ask around and don't take their holiday decisions lightly."
The Most Likely Factors That Put Off People Choosing a Holiday Destination: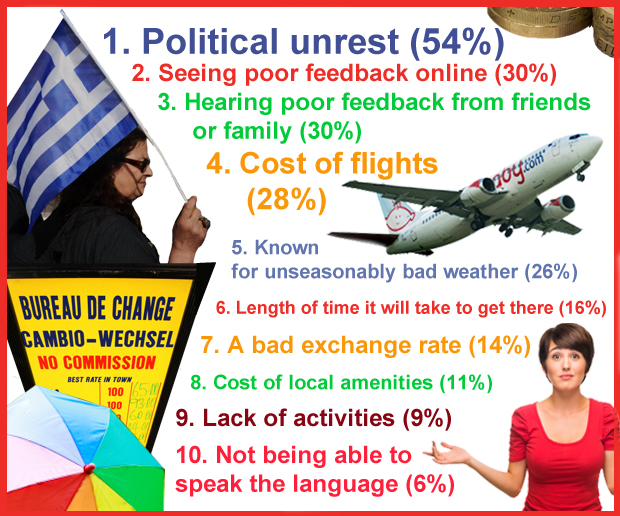 See the survey details and full results here

Founded in 2001, Caxton FX is one of the UK's most respected experts on foreign exchange. Built on over 10 years of experience, the company is committed to offering consumers value for money and a wide range of personal and professional foreign exchange solutions.
It provides a wide range of pre-paid currency cards in Dollars, Euros and Worldwide currency enabling consumers to make the most of their money while they're abroad.