A pro-independence majority is likely
Our final poll of the election campaign for the Scottish Parliament suggests the SNP are on the cusp of winning a majority.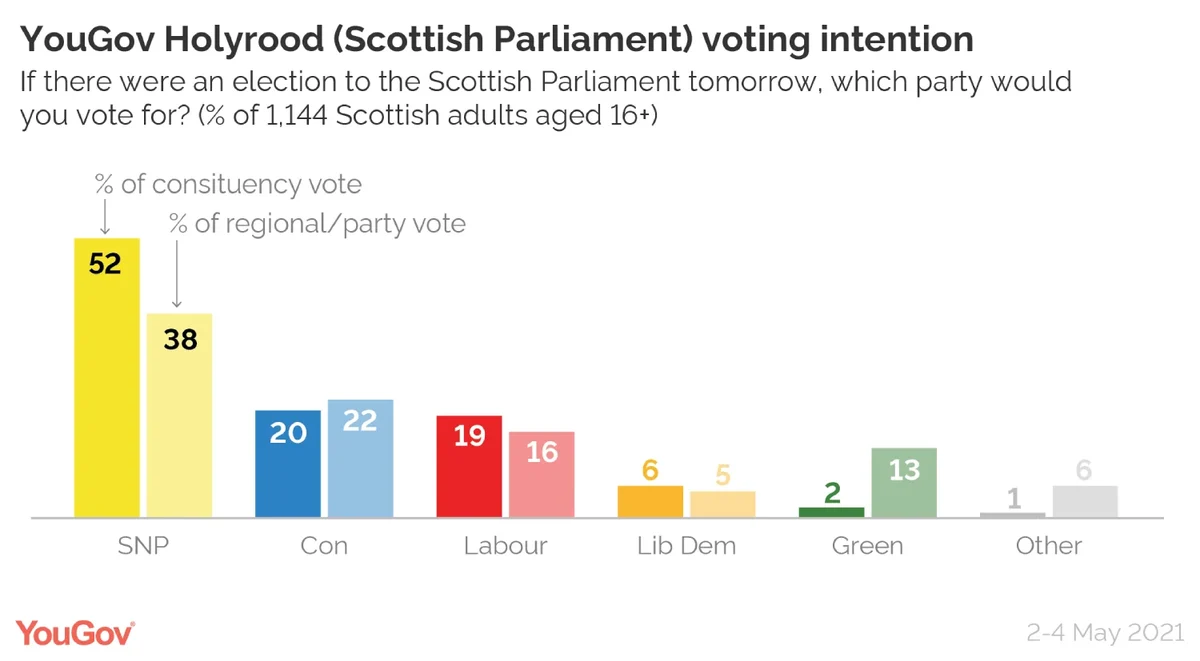 Voting intentions in the constituency vote stand at: SNP 52%, Conservative 20%, Labour 19%, Lib Dem 6%. In the regional vote support stands at: SNP 38%, Conservative 22%, Labour 16%, Green 13%, Lib Dem 5%, Alba 3%.
If repeated on Thursday, these figures would put the SNP within reach of securing an outright majority at Holyrood, the first time that has happened since 2011. The exact number of seats is hard to call as the final seat in many regional lists will be determined by very small margins and – like all polls – our figures come with a margin of error.
If the SNP do fall short, our final call suggests a strong performance for the Scottish Greens, meaning a pro-independence majority is likely either way.
Despite the strong support for the SNP, and the suggestion they are heading for a successful election outcome, attitudes towards Scottish independence itself are less positive. Four in ten Scots (41%) say they would vote Yes in another independence referendum, but 46% would vote No. Taking away those who answered "don't know" or that they wouldn't vote, that translates into 47% Yes and 53% No.