One in three Britons say they will now meet up with people from other homes, more than double the number who had planned to do so before the rules change was announced
Earlier in the month, the government made a curious decision to relax coronavirus restrictions over the Christmas period, allowing up to three different households to mix between 23-27 December.
The move certainly doesn't seem to have been made as a result of a public outcry. Six in ten Britons (60%) had said prior to the announcement that they wouldn't mind if the lockdown rules were still in place. Only 16% said it would bother them "a great deal".
Nor do the government's scientific advisers appear to be on board, with England's Chief Medical Officer Chris Whitty's dark warning to people mixing households not to hug elderly relatives "if you want them to survive to be hugged again".
Now a new YouGov survey uncovers the scale of the impact the government's decision may have made.
Asked what their plans had been when it looked like the lockdown rules would be in place over Christmas, 56% of Britons say they had been planning not to mix households.
But only 41% say this is still the case now that rules will be relaxed from 23-27 December.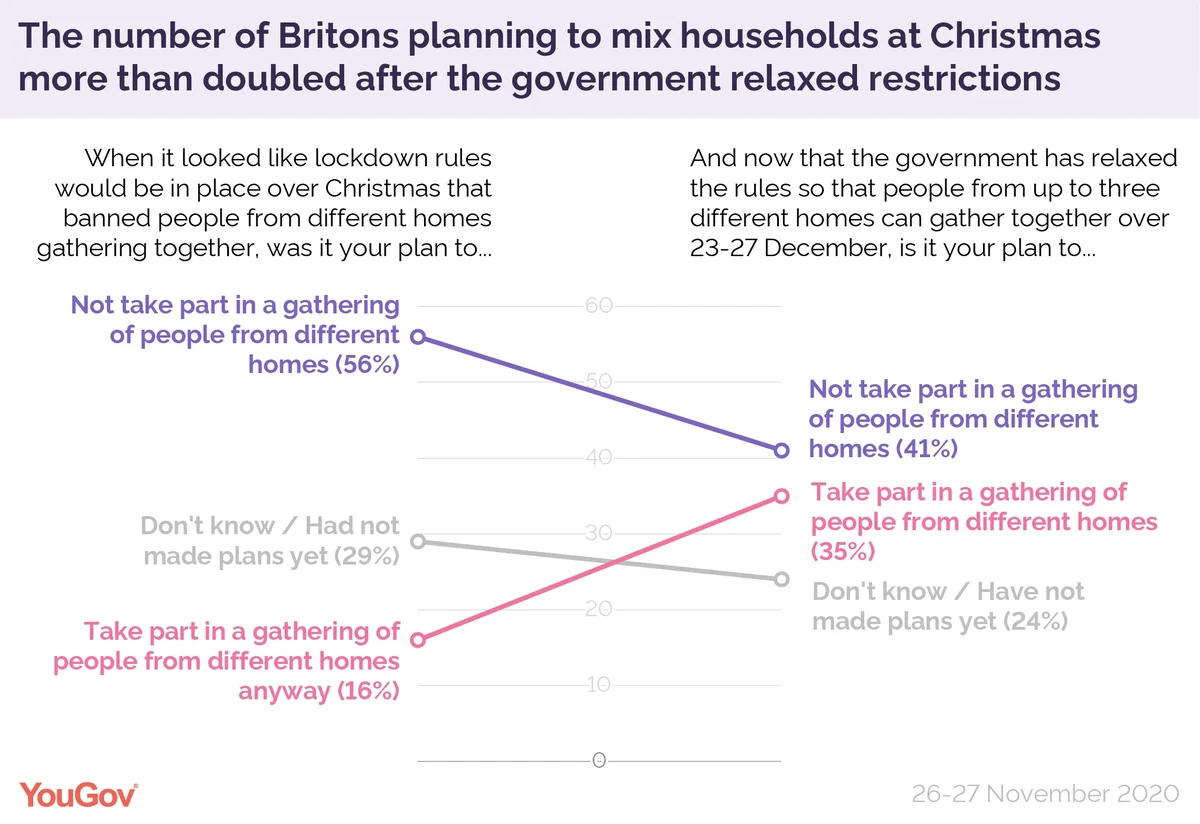 One in three Britons (35%) say that now that the rules have been relaxed they intend to mix households. Just 16% say (or admit) that this had been their plan prior to the announcement.
One in four Britons (24%) are now undecided on their Christmas plans, including one in eight of those who had originally planned to not meet up with people from other households.
Nevertheless, the results show that one in five of those who had been planning to hold a one-household Christmas have since decided to mix with others – a figure that represents 11% of the British public.
It is also notable that one in three of those who weren't sure what they were going to do before the rule change was announced have since made up their minds to mix households. This group represent another 9% of Britons.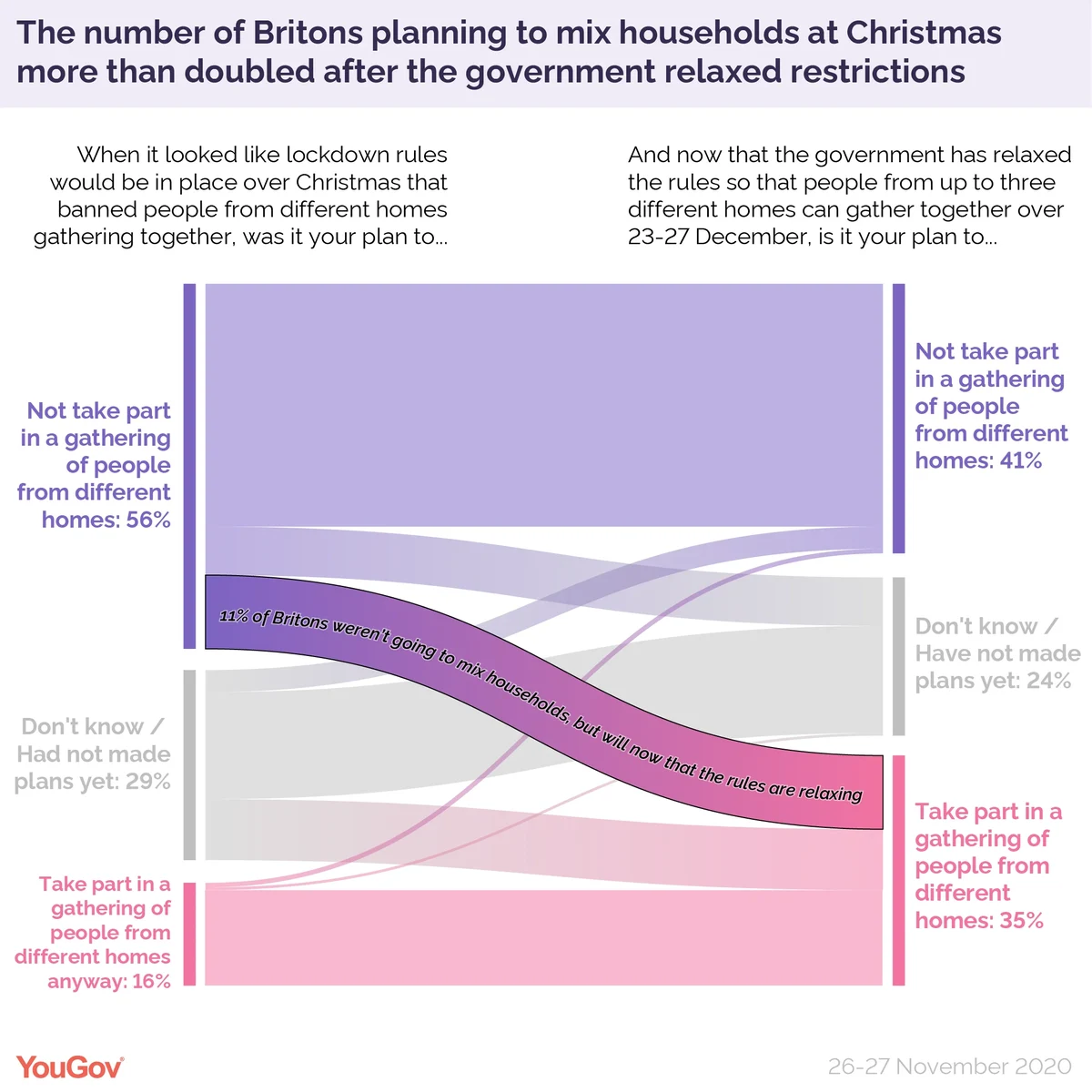 The results highlight how public behaviour responds to government rules. YouGov research has consistently found that the attitude of half of the public (48% in the case of this survey) towards coronavirus rules is to 'follow the rules as and when the government introduces them, but not to act earlier or go further than the government says'. In this case, the data highlights the phenomenon from the opposite angle – many Britons' adherence to anti-COVID measures dropping the moment it is no longer required.
Among Britons who say they only follow government rules and go no further, 54% said they were planning not to mix households before the rules change, but only 37% say the same now that they are being relaxed. The number planning to mix households meanwhile rose from 16% to 40%.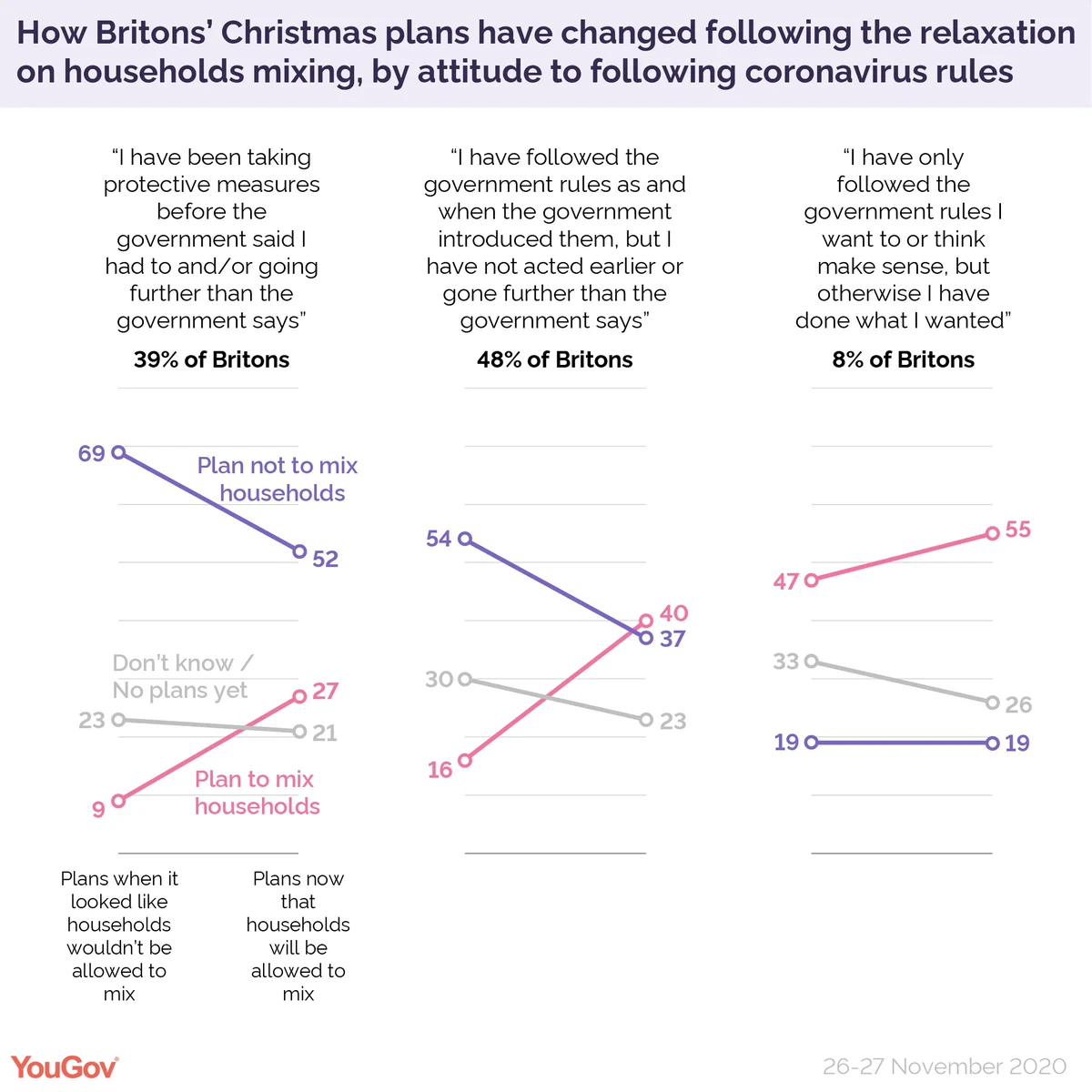 Another example of Britons' reluctance to take anti-coronavirus measures if they don't have to can be seen in the uptake of face masks. It wasn't until the government made it a requirement that masks be worn in supermarkets in England that usage surged – from 38% to 69% between mid and late July. Prior to that point, the British had been uniquely reluctant among nations to cover their faces.
In relaxing the COVID-19 restrictions for Christmas, it seems that the government has effectively encouraged millions of Britons to mix households.