SNP maintain strong lead in Holyrood voting intention
The latest YouGov Scottish Independence research shows Yes narrowly ahead of No by 51% to 49%. This is slightly down from the six-point lead (53% to 47%) we saw in August, which was the biggest Yes lead of any YouGov poll. All these figures are within the margin of error of a dead-heat.Looking ahead to the Scottish Parliament elections next May, the Scottish National Party is still well ahead. The latest research finds the SNP is on 56% in the constituency vote, with the Conservatives on 19%, Labour on 15%, Liberal Democrats on 6% and the Green Party on 2%.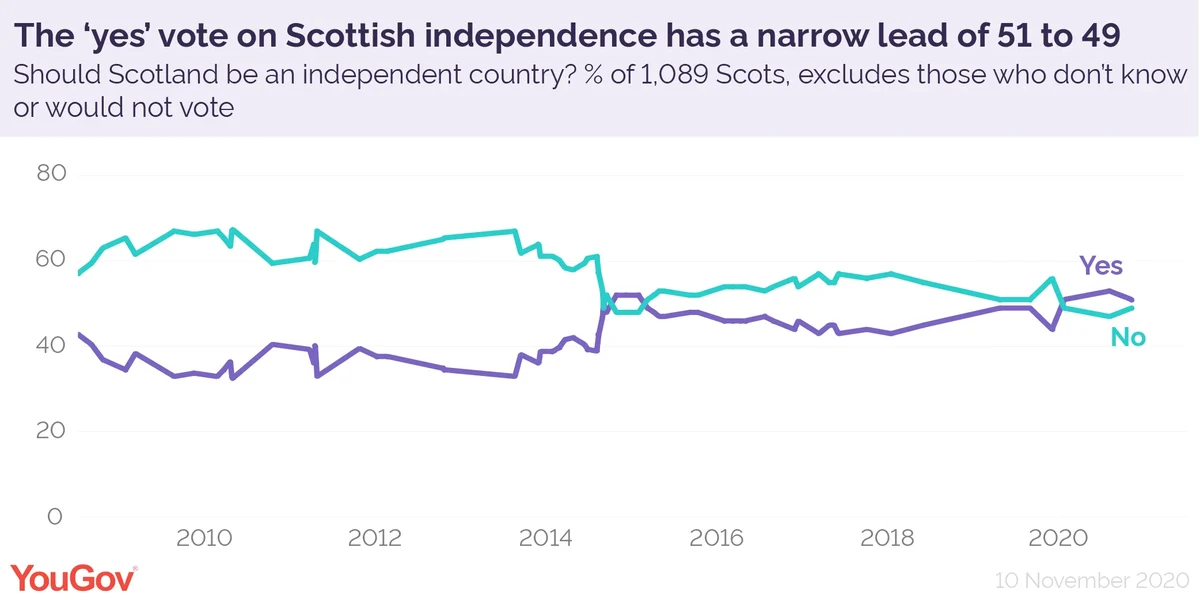 Looking at the regional list vote the SNP is on 47% with the Conservatives on 20%, Labour on 13%, the Greens on 7% and Liberal Democrats on 6%.
If next May's Scottish elections reflect these figures, the SNP would be on course for a comfortable majority, increasing its number of seats at Holyrood.YouGov's latest politician approval ratings find that there has been a minor drop in the number of people thinking Nicola Sturgeon is doing well as First Minister, falling from 72% in August to 67% now (27% believe she is doing badly). Again, this small shift is within the margin of error.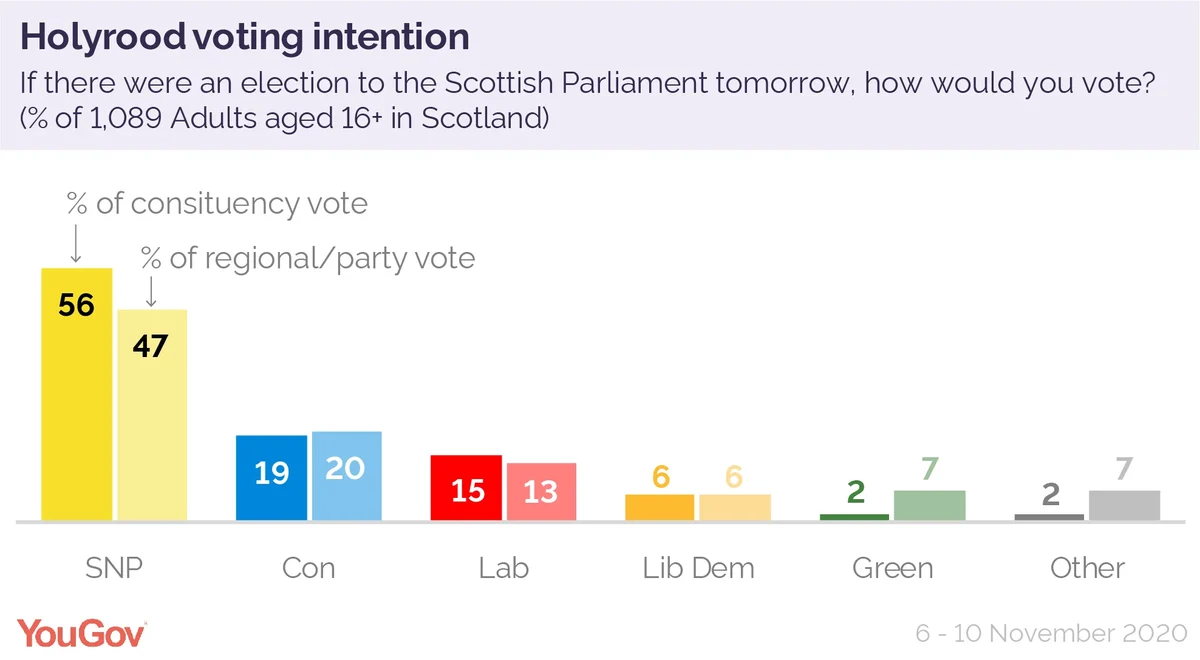 Her ratings compare favourably to those of the Boris Johnson, who just 20% of Scots believe is doing well and 74% think is doing badly. Labour leader Keir Starmer sits between the Prime Minister and First Minister, with 41% saying he is doing a good job and 32% a bad job.
COVID-19 handling
It is a similar picture when looking specifically at how well the leaders have handled the coronavirus crisis. Seven in ten (70%) Scots think Nicola Sturgeon is handling the crisis well, down from nearly eight in ten (79%) in August. The Prime Minister's numbers are largely unchanged, with 19% saying he is doing well and 76% believing he is doing badly.
Scots overwhelmingly prefer the approach to tackling the virus that has been taken in Scotland (69%) over the approach taken in England (8%). One in six (16%) say they favour neither. Scots are also very supportive of the devolved approach to decision making around COVID-19 (68%) rather than a UK-wide approach (23%).
They are also content with the current tier system in place in Scotland with 64% saying that lockdown rules should differ in certain areas if their level of spread of the virus is different. One in four (24%) would prefer the same restrictions to be applied across all of Scotland.