With the Liverpool City Region perhaps the area of the country hardest hit by the second wave of coronavirus – it was the first to be placed in the "very high" COVID alert tier – it is perhaps no surprise that the results of a new YouGov survey find residents have an overwhelmingly negative view of the government's performance.
Fully eight in ten (80%) people in the city region think the government have done a bad job of handling the pandemic, including 52% who think they have performed "very" badly. Just 16% think the government has done well.
Even amongst Conservative voters in the region, opinions are split. Half (51%) of those that voted for the party in 2019 think the government is doing well, while a similar number (48%) say the opposite.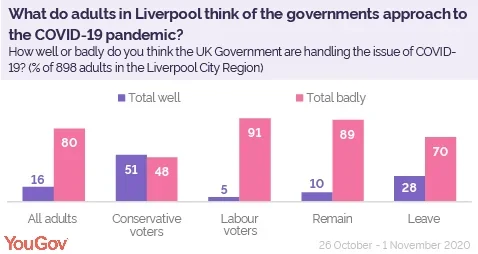 What do Liverpudlians think of Steve Rotheram, Andy Burnham and Boris Johnson?
When it comes to views of their city region mayor – Steve Rotheram – 35% of Liverpudlians approve of his handling of coronavirus, twice the number that disapprove (17%). A further 25% neither approve nor disapprove.
There is more support for the mayor 30 miles east, with Greater Manchester's Andy Burnham seeing 47% of Liverpudlians approve of his handling of COVID-19 (although much of this is down to Burnham's more prominent public profile).
Both fare far better than the Prime Minister, who is judged to have done a good job tackling coronavirus by just 13% of Liverpudlians. Nearly three quarters (73%) disapprove of Boris Johnson's handling of the issue.
How Liverpool reacted to Tier 3
While most of England are just getting used to the new restrictions imposed following the national lockdown, Liverpudlians had already been living with many of these after the city was placed in Tier 3 on October 14th.
When asked two weeks after these restrictions were imposed upon the region, a majority (62%) supported the move and only 28% opposed it. This is, however, slightly lower than the 72% of adults in England who supported the national lockdown when it was announced.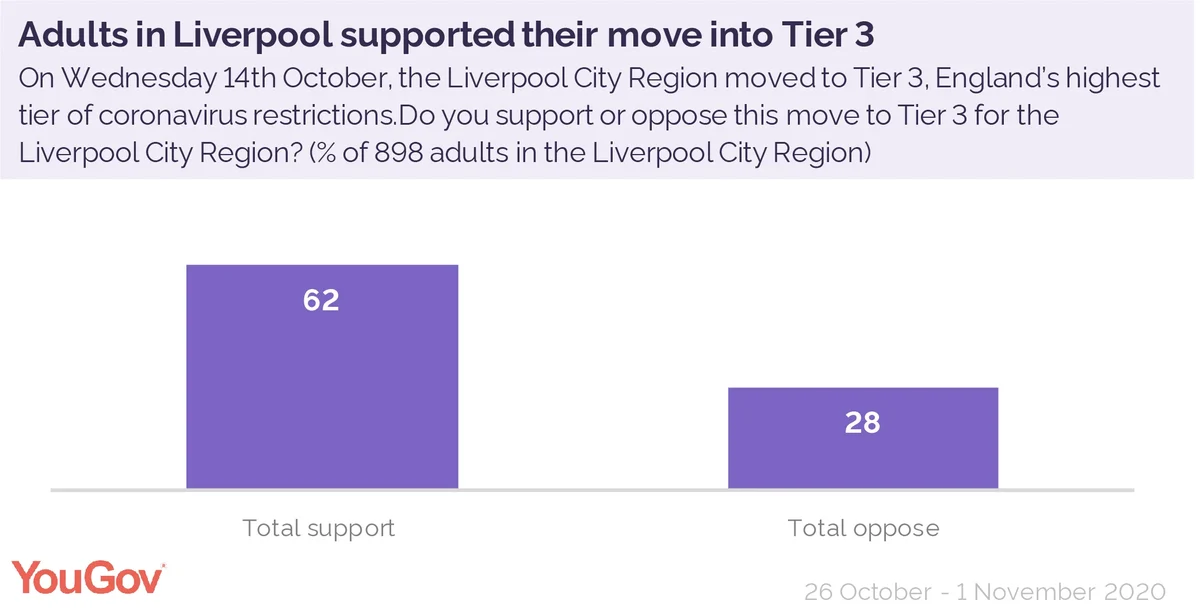 Liverpudlians will also likely be happy to see that the tiered system has been replaced, at least for now, by a national lockdown. Half (51%) said they preferred decisions to be made on an England-wide basis rather than applying different rules locally (32%). In this they take a completely different view to the rest of the country: in a mid-October survey 62% of English people said they thought lockdown rules should vary depending on local conditions.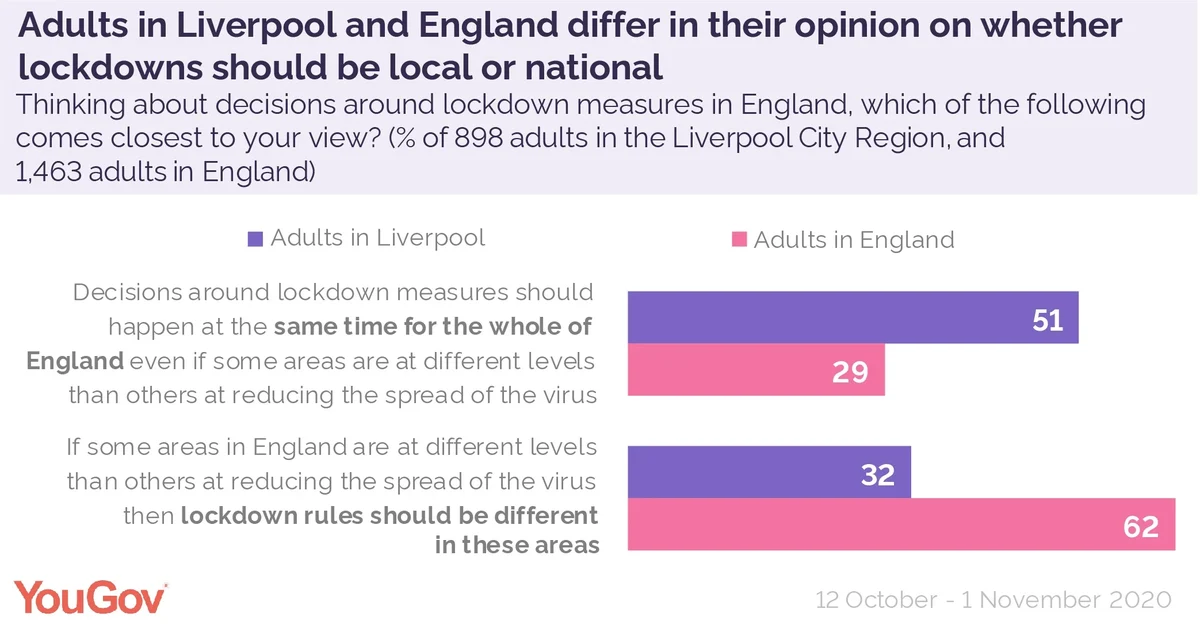 Liverpool City Region residents were also sceptical of the effectiveness of the three-tiered system. Just one in five (22%) thought this system would help reduce the spread of coronavirus. Almost three times as many (61%) said the system of local restrictions would be ineffective.
Despite talk in the media of the tiered system being confusing, 72% of Liverpool said they understood the restrictions imposed upon them (only 23% said they didn't). As for keeping to them, 54% said they had followed the restrictions all of the time, although almost a third (32%) admitted to occasionally lapsing. Another 7% said they mostly or never followed the rules.
Looking at specific breaches of the rules, almost a quarter (23%) admitted to having met someone they weren't meant to at least once since restrictions were brought in. One in eight (13%) had travelled out of the area other than for permitted reasons, 8% had broken the 'rule of six' in a public outdoor space, and 6% had stayed overnight in another area.
This research previously appeared on the BBC