Support for giving rights to British passport-holders in Hong Kong is on the rise in the shadow of China's new national security law
Nick Or, Will Jennings, John Kenny and Andra Roescu, University of Southampton
In May, the Chinese Government proposed a controversial national security law in Hong Kong – which was signed by President Xi Jinping on June 30th. The UK Government has expressed concern that it undermines the autonomy of the territory and poses a threat to civil liberties. This has led the PM to confirm the UK will offer a 'path to citizenship' for Hong Kong's British passport holders.
Before its handover to China in 1997, British National Overseas (BNO) passports were issued to the people in Hong Kong. However, they have limited rights in the UK and cannot be resident for more than six months in a year. In light of recent events, the UK Government had repeatedly indicated its willingness to change immigration rules to allow holders of BNO passports the right to work and study in the UK for an extendable period of 12 months and provide a pathway to future citizenship (including in the Prime Minister's letter to South China Morning Post).
Today, there are about 350,000 BNO passport-holders in Hong Kong and another 2.5 million would be eligible to apply. Of course, immigration has been a highly contentious issue in British politics in recent decades – though there is evidence that public concern has been in reverse lately. Given the possibility that such a change could result in a large number of migrants entering the country from Hong Kong, it is unclear how the British public would respond to this.
High quality longitudinal data is essential for tracking public opinion towards the granting of citizenship rights to BNO passport-holders. In partnership with YouGov, we have replicated survey questions that were originally asked by Gallup in January 1990 and which have been digitally restored as part of our project with the Roper Center for Public Opinion Research that is digitising hundreds of historical opinion polls since the 1950s. In the original survey, respondents were asked: "Have you heard of the Government's proposal to give some British passport-holders in Hong Kong a permanent right to abode in Britain?". If they had heard about the proposal, they were asked "Do you approve or disapprove of the Government's proposals or not?" – choosing from the options: "Approve – very strongly", "Approve – not very strongly", "Disapprove – not very strongly", "Disapprove – very strongly" and "Don't know". The continued relevance of these questions meant that thirty years later, in June 2020, YouGov were able to asked respondents the same questions, allowing us to discover how public opinion has changed in the intervening period.
Interestingly, the results reveal a fall in public awareness on the issue. In 2020, about half the population (51%) reported having heard about the proposals – though this figure seems likely to rise with the PM's recent announcement. Back in 1990, the figure was a much higher 78%. It is possible that the COVID-19 pandemic has distracted the public's attention, while the Tiananmen Massacre in June 1989 could have increased the salience of Hong Kong's handover to the British public. The recent YouGov poll suggests slight party differences in knowledge of the proposals – with 60% of Conservative voters having heard of them compared to 48% of Labour voters. This partisan pattern of awareness is similar to that found in 1990.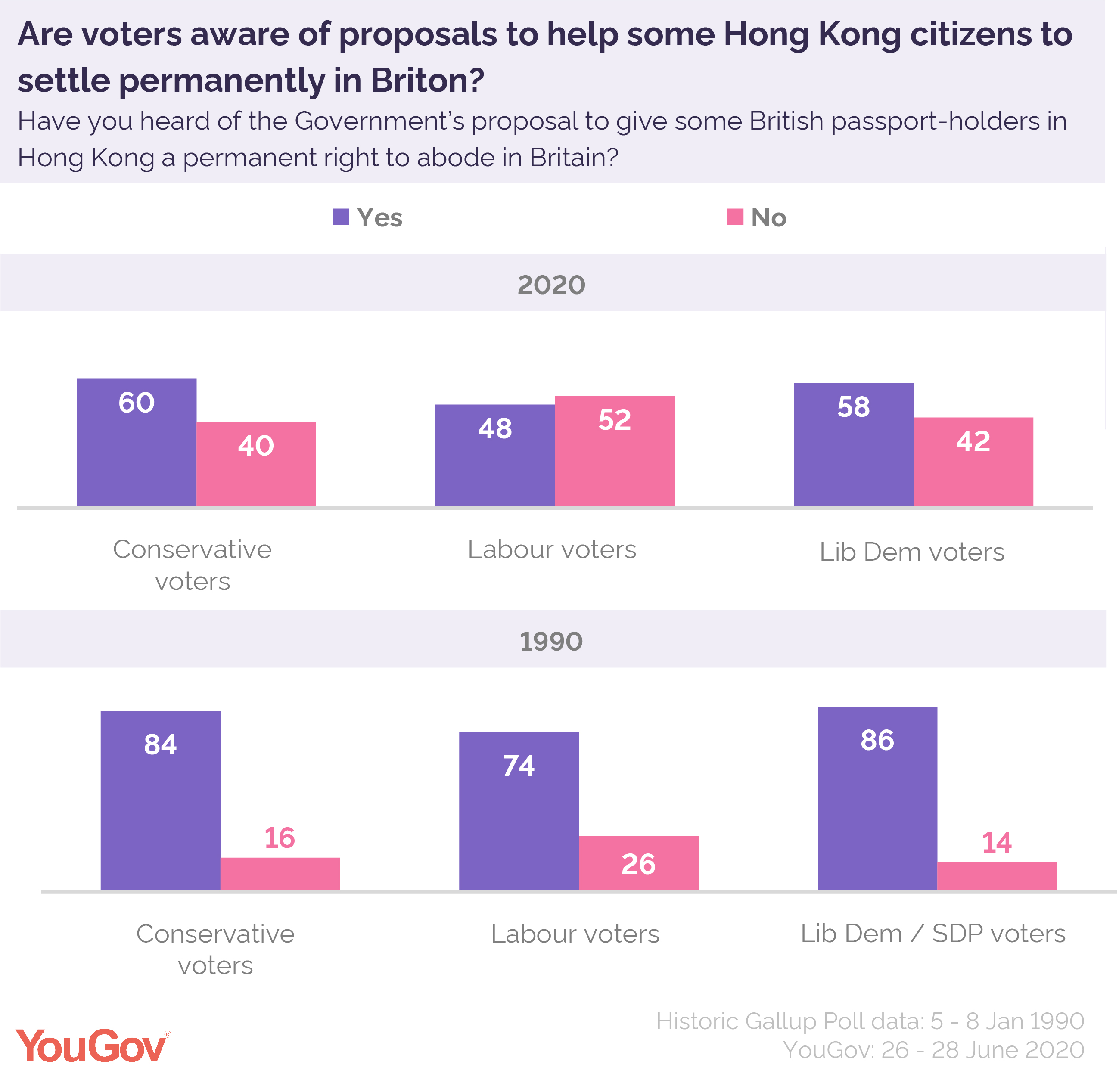 Click to enlarge
In terms of support for the expansion of rights to BNO-passport holders, however, the past thirty years have seen a substantial rise in public support among those who have heard of the proposal. In 1990, just a third of respondents (33%) who had heard of the proposals approved of them (10% very strongly and 23% not very strongly), while nearly six-in-ten (57%) disapproved. By contrast, in 2020, nearly two-thirds (64%) supported giving British passport-holders in Hong Kong a permanent right to abode in the UK (25% approve very strongly and 39% approve not very strongly). Just one-in-five people (22%) were against it. We cannot be sure what is driving this, but softening public attitudes towards immigration may be a factor.
It is also notable how the partisan balance of support has shifted over time. Today, there is little difference between Conservative and Labour voters who have heard of the proposal in support for giving rights to BNO-passport holders (Liberal Democrats are slightly more supportive). Back in 1990, support was considerably lower among Labour voters – with just 22% supporting proposals compared to 39% for Conservative voters. This likely reflects the changing electorates of the two parties – and their attitudes towards immigration in general.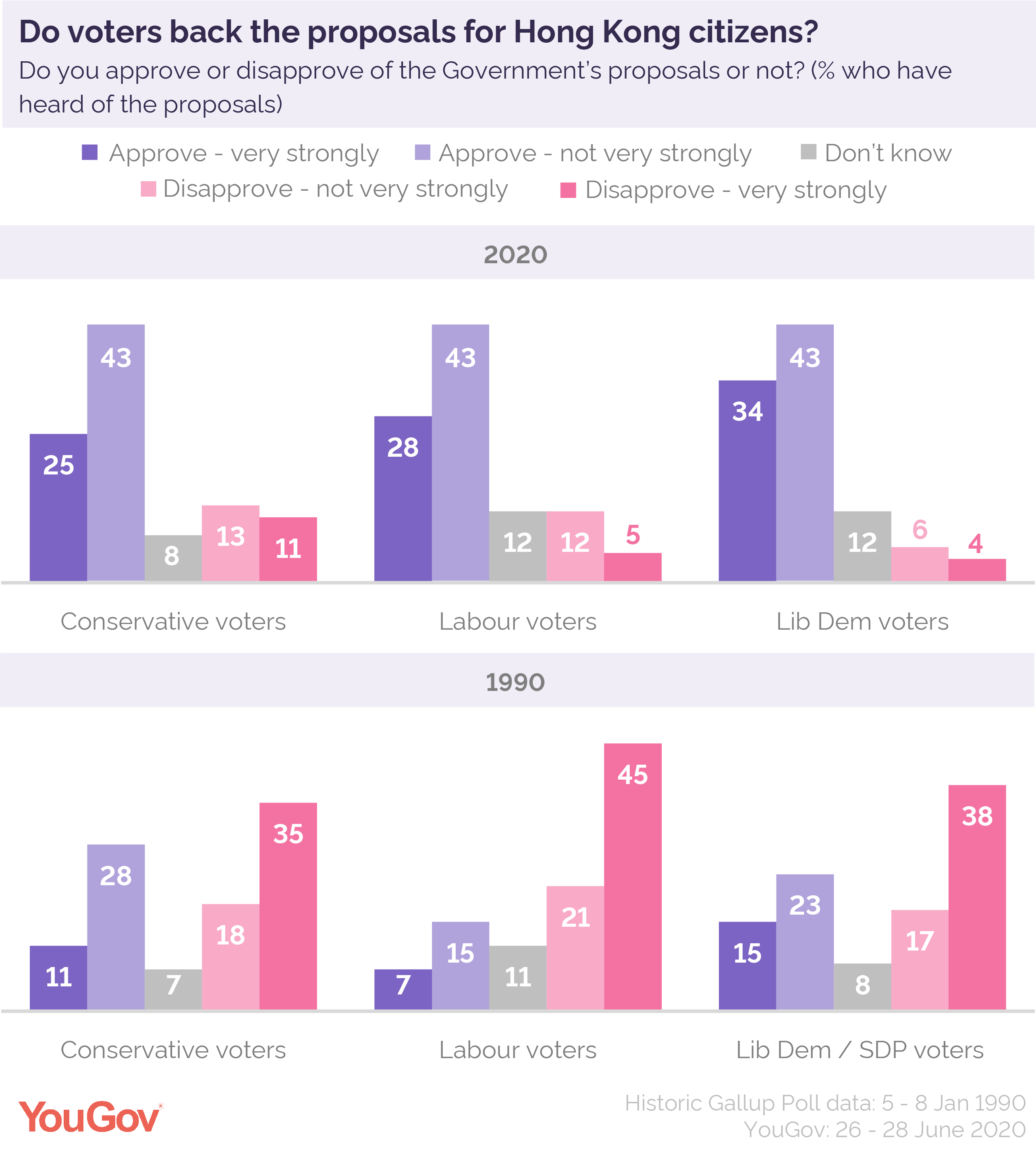 Click to enlarge
For those who have heard of the Government's proposals, there is higher support for giving more rights to British passport-holders in Hong Kong compared to 1990. This is true for supporters of all parties. However, only half the public are aware of the issue and it is unclear how public opinion might change on this issue now the proposals have become more concrete. Yet, this more permissive climate of public opinion could yet prove significant in making future policy change possible – as China curbs the autonomy of Hong Kong and its people.
Note: The reference for the historical Gallup survey from January 1990 is GBSSLT1990-CQ001. The survey is held by the Roper Opinion Center for Public Opinion Research at Cornell University: https://ropercenter.cornell.edu/ipoll/study/31076504.