Plurality of key workers also say they can't fully do their jobs while social distancing
The UK is yet to return to any semblance of normality, with retailers figuring out how to offer socially-distanced shopping, hospitality still waiting for a solution and schools yet to fully reopen. And YouGov polling reveals that the majority of key workers are concerned for the health of their family and those they live with.
Overall 70% of key workers are worried for the health of those they live with during the coronavirus pandemic, with nearly a quarter (23%) very worried.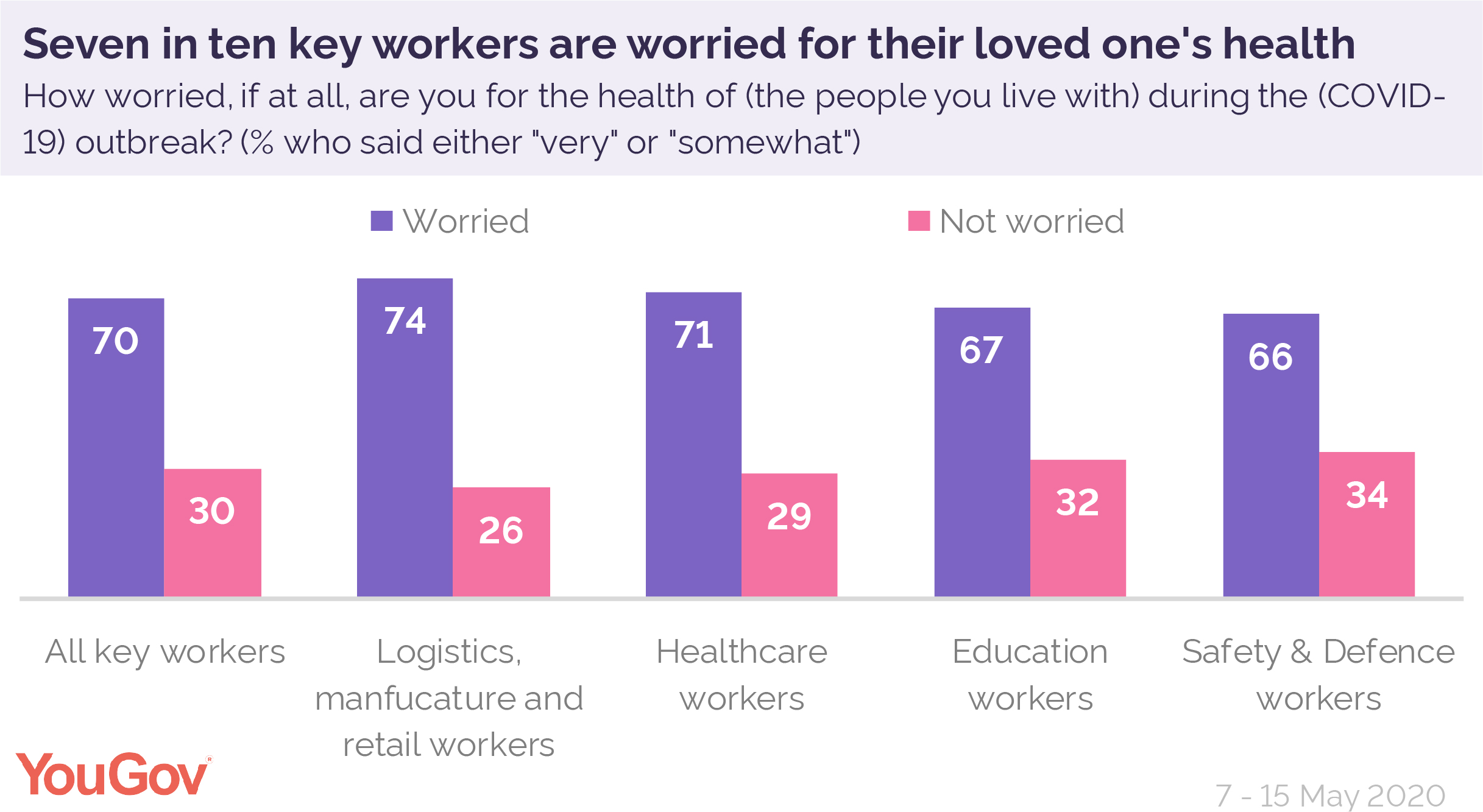 Click to enlarge
Levels of concern are similar across all groups of key workers, however, those working in logistics, manufacturing and retail are most concerned (74%). Some 71% of healthcare workers are also worried, compared to 67% and 66% of educational workers and those in safety and defence, respectively.
However, the research also revealed that key workers are less concerned for their own personal health than that of their families and housemates. In comparison to the 70% who are worried for the health of those they live with, only 53% of key workers are also concerned for themselves.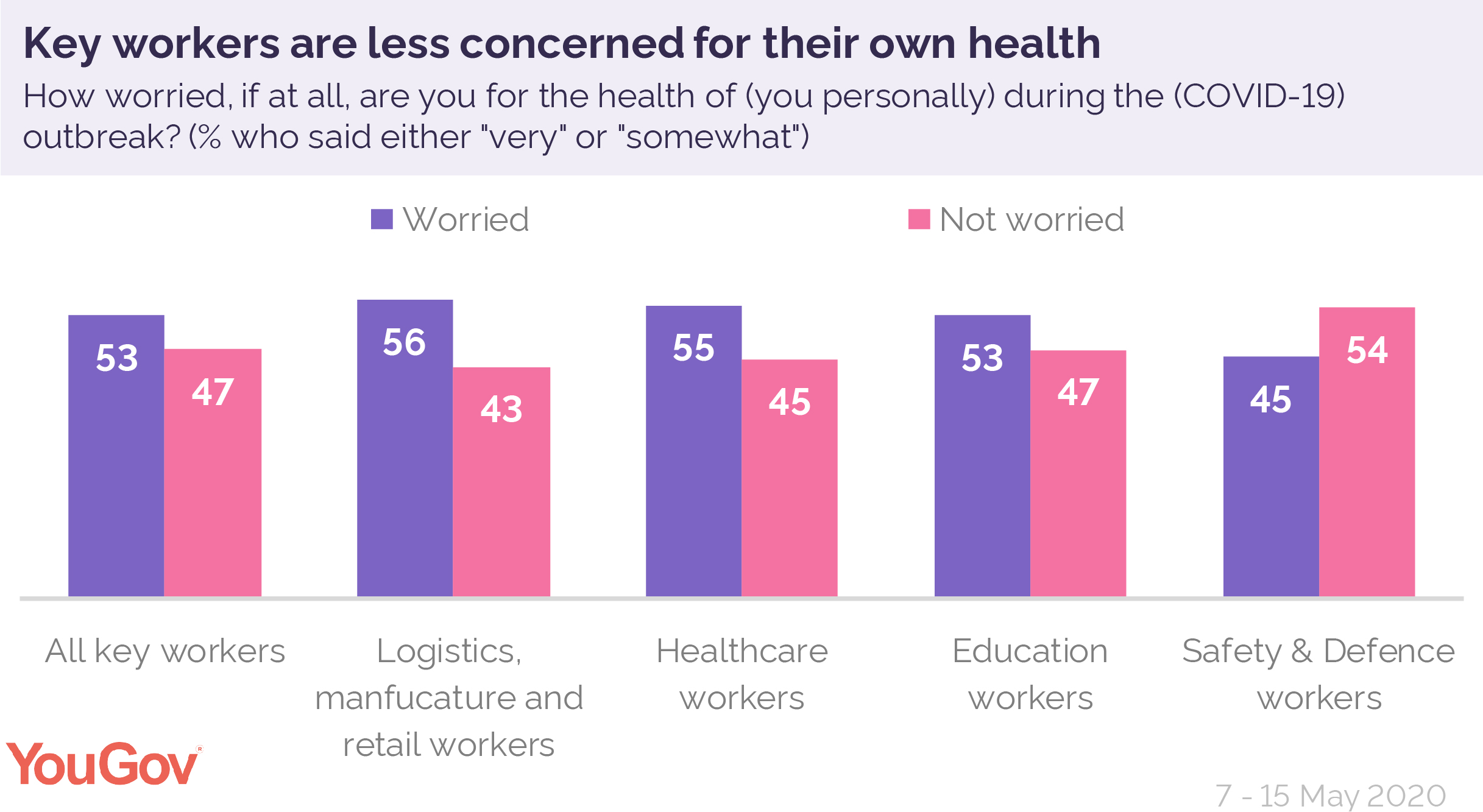 Click to enlarge
Again, those working in logistics, manufacturing and retail are the most worried (56%), with workers in the safety and defence sectors more likely to say they are not worried concerned.
Half of healthcare workers (55%) are concerned for their own health due to the pandemic, as well as 53% of teachers and other workers in education roles who say they also worry for their health.
This concern for health could stem from working conditions, with the plurality (36%) of key workers saying they cannot complete most of their job functions if they maintain safe social distancing. Only 18% of key workers overall say they can do their entire job while keeping two metres from colleagues. Another 18% say they cannot fulfil any of their job functions while social distancing.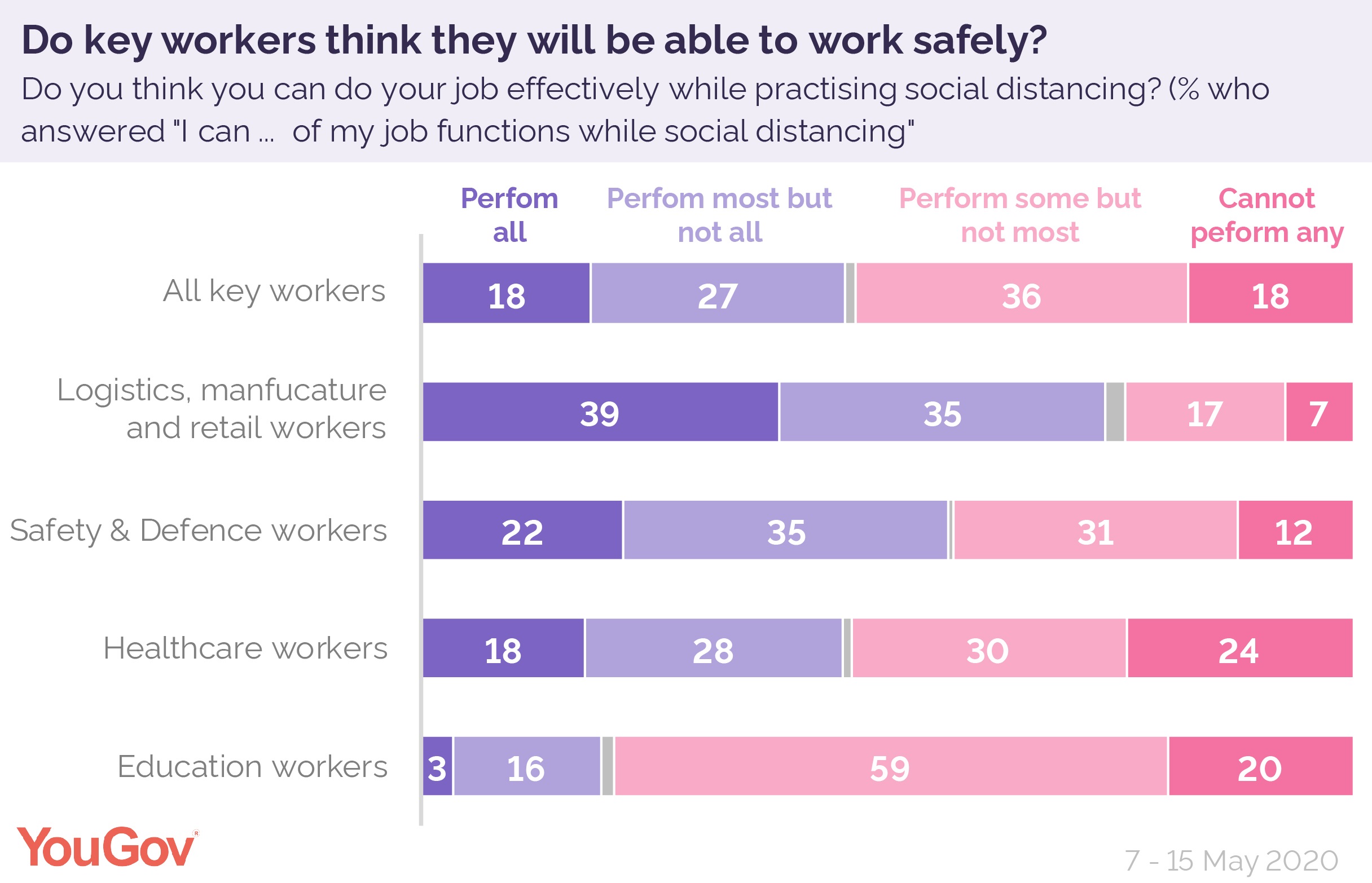 Click to enlarge
Workers in the logistics, manufacturing and retail sectors are most likely to be able to do their entire job without breaking social distancing (39%) suggesting their concerns for health could be down to other factors, such as handling merchandise or money.
Over half (57%) of healthcare workers say they can perform most of or all of their job functions within social-distancing guidelines. However, approaching a quarter (24%) of healthcare workers say they cannot keep to the two metre at all when at work, with 31% saying they can only perform some functions while doing so.
Teachers have been in the news with schools in England opening and others preparing to receive students for the first time in months. However, just 3% of workers in education say they can maintain the social-distancing rules when at work. The majority (59%) of workers in this sector are able to perform only some, but not most of their functions if they adhere to guidelines, with 20% saying they are completely unable to fulfil their job roles if socially-distancing.