Where previously Britons had largely been in favour, now they are torn
It's easy to forget given everything that's going on in the world that the Brexit process is still happening.
The Brexit transition period is set to come to an end on January 1st. If the UK wants to extend that period, it will have to do so by the end of June or it will be obliged to leave the EU, with or without a deal, at the end of the year.
Coronavirus has obviously caused a disruption to Brexit negotiations, and the Northern Ireland Assembly has been the latest of many voices to call for the transition period to be extended as a result.
In early April, YouGov found Britons favoured extending the transition period by 56% to 27%. Fast forward two months and the public are now divided: 41% continue to support extension while 41% now oppose it.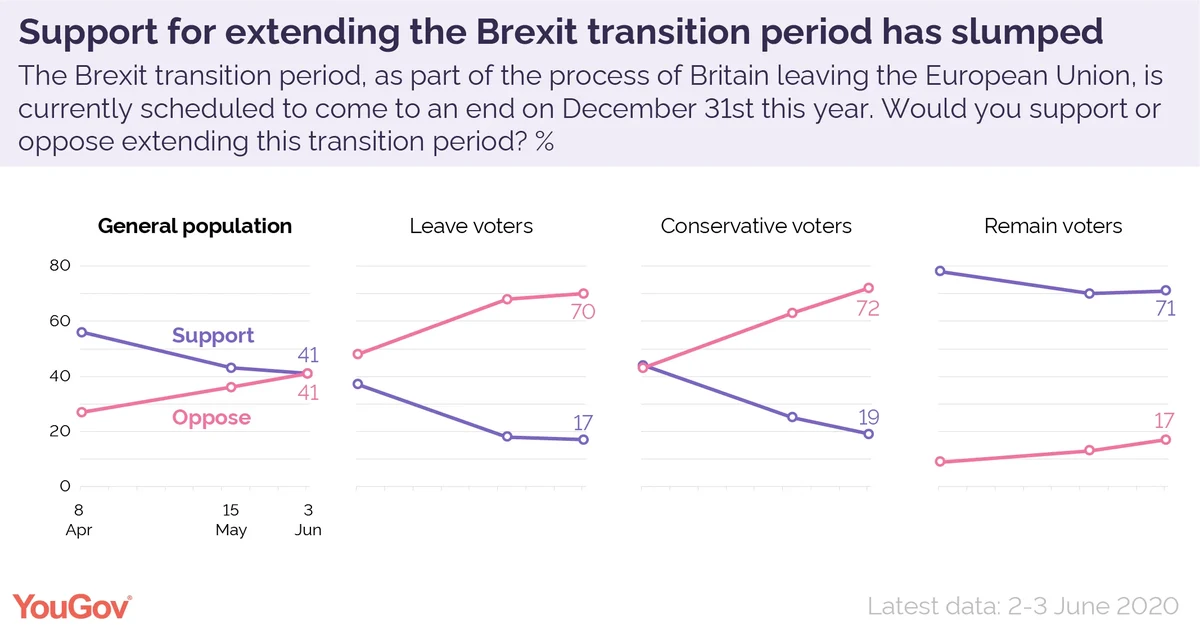 The shift has taken place almost entirely among Leave and Conservative voters. In April Leave voters opposed extension at a rate of 48% to 37% - they now oppose it by fully 70% to 17%. Likewise, Tories were split 44% to 43% in April, now they oppose extension by 72% to 19%.
Sentiment among Remain voters is largely the same: two months ago this group supported extension by 78% to 9%, now they do so by 71% to 17%.
But will voters blame Boris Johnson for failing to deliver another Brexit deadline?
Despite their opposition to extending the transition period, Leave voters don't appear like they will blame Boris Johnson should it come to pass. Almost half (48%) say it wouldn't be his fault at all, and another 16% say it would only be his fault to a small extent. Just 16% think it would be largely or entirely the Prime Minister's fault if the Brexit transition slips into next year.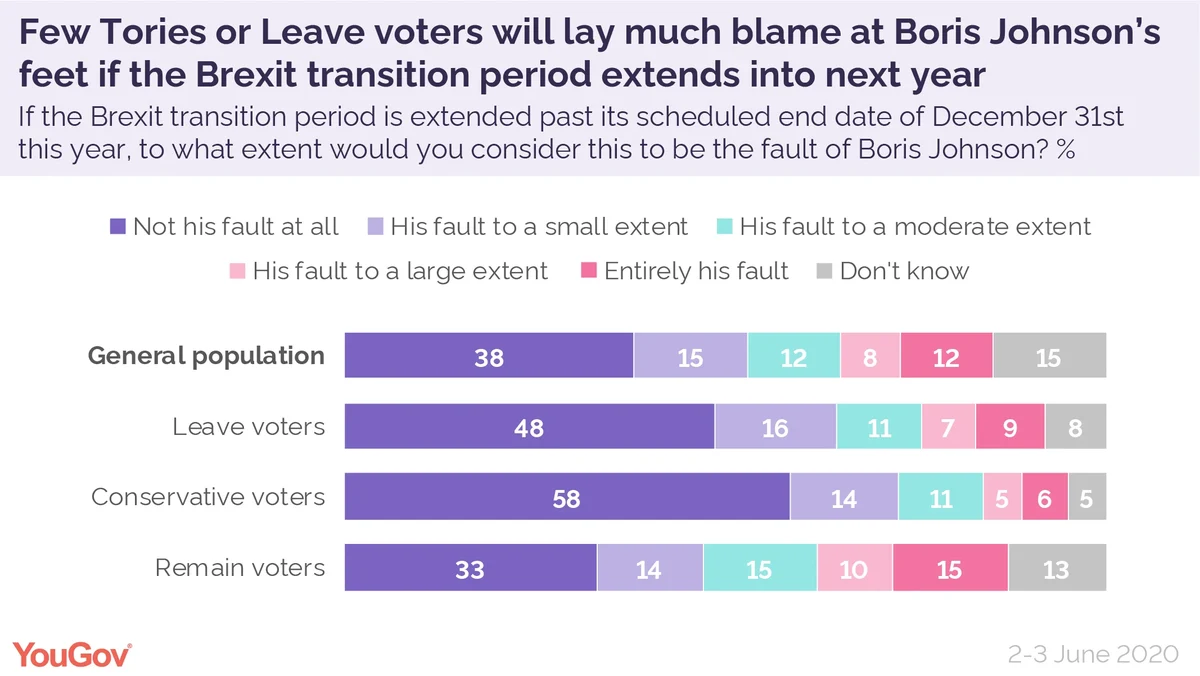 Last year Johnson was famously forced to overrun his pledge to have Brexit done by October 31st. At the beginning of September, 60% of Leave voters said it wouldn't be Johnson's fault at all if Brexit was delayed.
Back then this figure remained constant even as the likelihood that Brexit would be delayed was increasingly acknowledged by Leave voters. A survey at the same time had shown that 60% of Brexit-backers thought it was likely that Brexit would happen on time. By the start of October that figure had fallen to 35%, yet the number saying they wouldn't blame Boris Johnson remained static at 64%.
In the final event, once the Brexit deadline had come and gone, 63% of Leave voters said they didn't blame the Prime Minister.
However, it is not clear whether such sentiment will hold up this time around. The 2019 series of polls took place much closer to the deadline date, and at a time when the reason for the delay was apparent to all.
This time around, however, we are almost seven months away from the deadline. And while the coronavirus crisis will have been the main reason why the exit date had been disrupted – if it is moved – the outbreak itself is likely to far be less serious by then, and voters may draw less of a connection between the two than they do now.
How will the COVID-19 outbreak affect the Brexit deal?
In terms of the impact that Britons think the coronavirus crisis will have had an eventual Brexit deal, 46% ultimately think it makes no difference. Another 29% think it makes the chances of getting a good deal less likely, while only 6% think our odds of a good deal will have improved.
As ever, the figures differ dramatically depending on who you ask. By a long margin Leave voters think it will make no difference (63%) rather than having a negative impact (14%). Remain voters, on the other hand, are more likely to think it will adversely affect Britain's chances of getting a good deal (45%) than having no impact (35%).