Britons are generally opposed to the overall changes to lockdown, however opinions soften when presented with the individual changes
On Monday the COVID-19 lockdown measures were slightly relaxed. We're now allowed to exercise outside as much as we want, visit garden centres and golf courses, and generally have more freedom to travel and spend time outdoors.
How do Britons feel about the changes?
Overall, the plurality of Britons (49%) are opposed to the modifications, and just a third (36%) are in favour. But support varies across the political spectrum.
The majority of Conservative voters back the move (58%) and just three in ten (32%) are opposed. Meanwhile, 65% of Labour voters and 56% of Liberal Democrat voters are against the changes.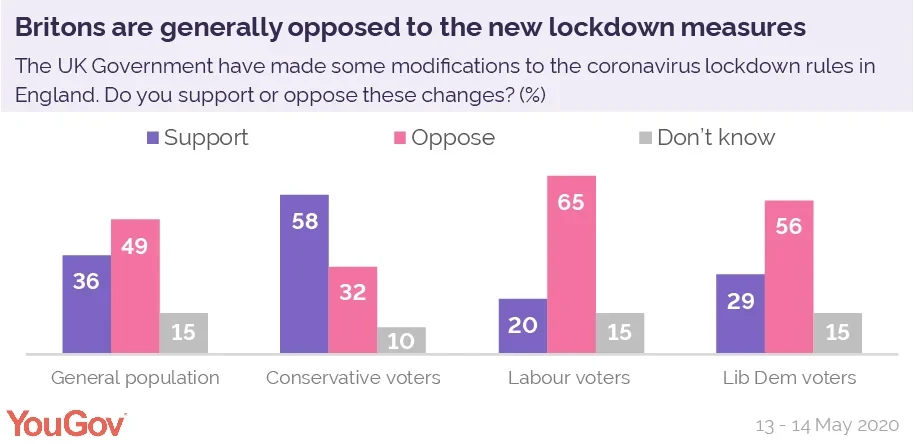 Half (54%) of Britons think the changes go too far in relaxing the rules, while 29% say the Government has got the balance about right. Fewer than one in ten (8%) adults think the changes don't go far enough in reducing the restrictions of lockdown.
These latest numbers represent a drop on those from a snap poll we conducted on May 10th, in which the public was split 44% to 43% on support and opposition for the changes, respectively.
The new rules have also left Britons confused, with 60% saying the changes are unclear. Conservatives (61%) say the rules are clear, compared to only 19% and 22% of Labour and Liberal Democrats.
Some changes are more popular than others
Despite this general level of animosity towards changing lockdown, when voters are presented with the individual measures they are much more likely to support the changes.
For example, 80% Brits are supportive of allowing unlimited outdoor exercise, including 75% of Labour and 92% of Liberal Democrat voters – who are most opposed to the changes.
Labour and Lib Dem voters are generally in support of some of the other measures as well, including 52% and 68% respectively who support the re-opening of garden centres. Another 51% and 69% respectively are in support of allowing people to meet one other person from a different household as long as the meeting takes place outside and is in accordance to social distancing guidelines.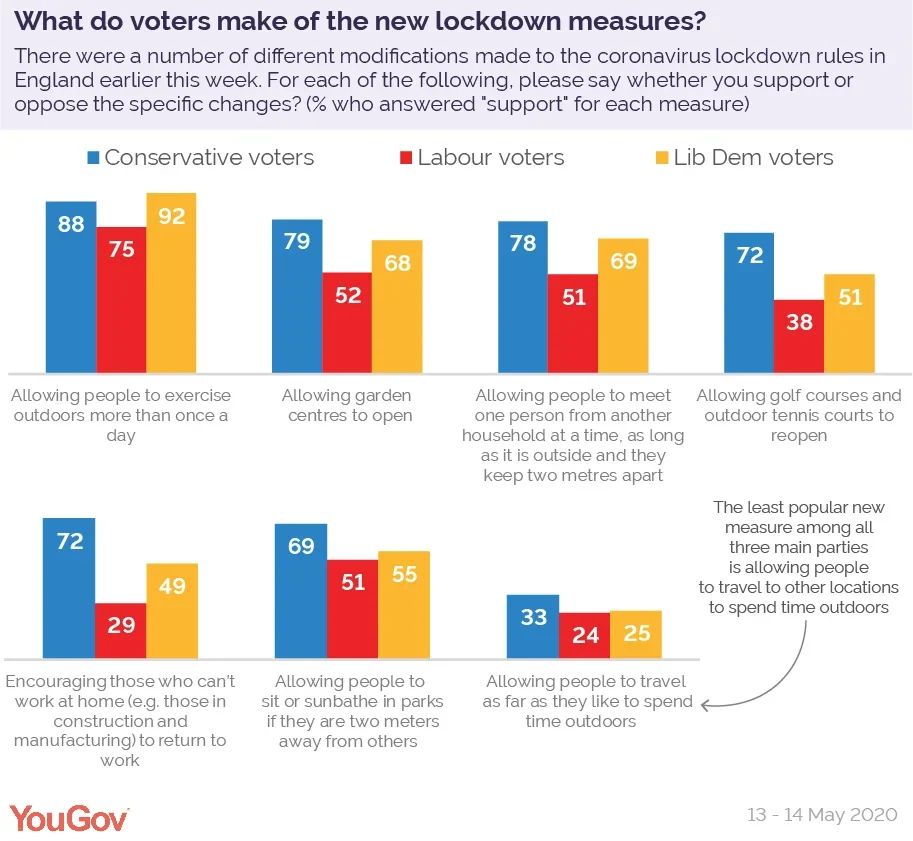 However Labour voters are less supportive of other measures, for example only 38% support the reopening of golf clubs and outdoor tennis courts, with 52% opposed to this change. Half (53%) of Labour voters are also opposed to encouraging those who cannot work at home to return to their workplace, compared to 72% of Conservatives who are in support of the change.
The only change to lockdown that has drawn opposition from all three main parties and the general public alike is the ability for people to travel to spend time outdoors. The move is opposed by 61% of Conservatives, who support all the other changes, as well as 68% of both Labour and Lib Dem voters.
How has favourability of political figures changed?
The early days of the pandemic saw Boris Johnson's favourability among the population skyrocket, between the 18th and 23rd of March (the day lockdown was announced) the Prime Minister saw the percentage of Britons with a favourable opinion jump from 43 to 55, peaking at 58 in late April.
However, as lockdown wears on Boris Johnson's positive favourability could be waning, as the latest YouGov polling shows his favourability now stands at 50, the lowest since he announced lockdown and down four percentage points from 54% last week. This is compared to 43% who have an unfavourable opinion of the Prime Minister, giving him a net score of 7, down 9 points since May 6th.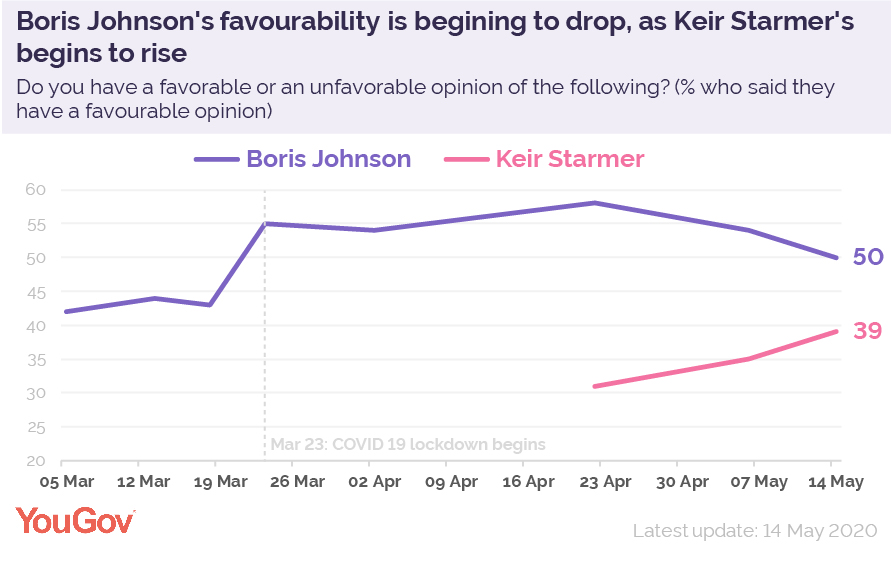 On the opposite side of the house Sir Keir Starmer has seen his favourability rise in recent weeks, with the leader of the opposition now commanding 39% positive favourability among Britons, up from 31% in late April. Three in ten (30%) have an unfavourable opinion of Keir Starmer, leaving him with a net favourability score of 9, a two point lead on the Prime Minister.
However, despite a prime time BBC News slot earlier this week, a third (32%) of Brits still don't know enough about the opposition leader to comment. Because of this, we should compare Johnson and Starmer's net scores cautiously.
Elsewhere in the House, Chancellor of the Exchequer Rishi Sunak has seen his favourability rise again, possibly due to the announcement that the Treasury will extend the furlough scheme. Overall 54% of Brits now have a positive opinion of Sunak - a six percentage point increase in the last week. Only 19% of Brits have an unfavourable opinion of the Chancellor, giving him a net favorability of 35.
See full results for lockdown measures here
See full results for favourability here