YouGov conducts one of Britain's biggest ever post-election surveys to chart how the nation's political character is shifting
YouGov has conducted the largest survey yet on last week's general election, interviewing over 40,000 British adults to discover patterns across demographics: age, gender, class, education and previous votes.
Age is still the biggest dividing line in British politics
In the EU referendum and again in 2017 age was a new dividing line in British politics. The data indicates that little has changed on this front over the past two years, with Labour still winning a majority of younger voters and the Conservatives miles ahead among older Britons.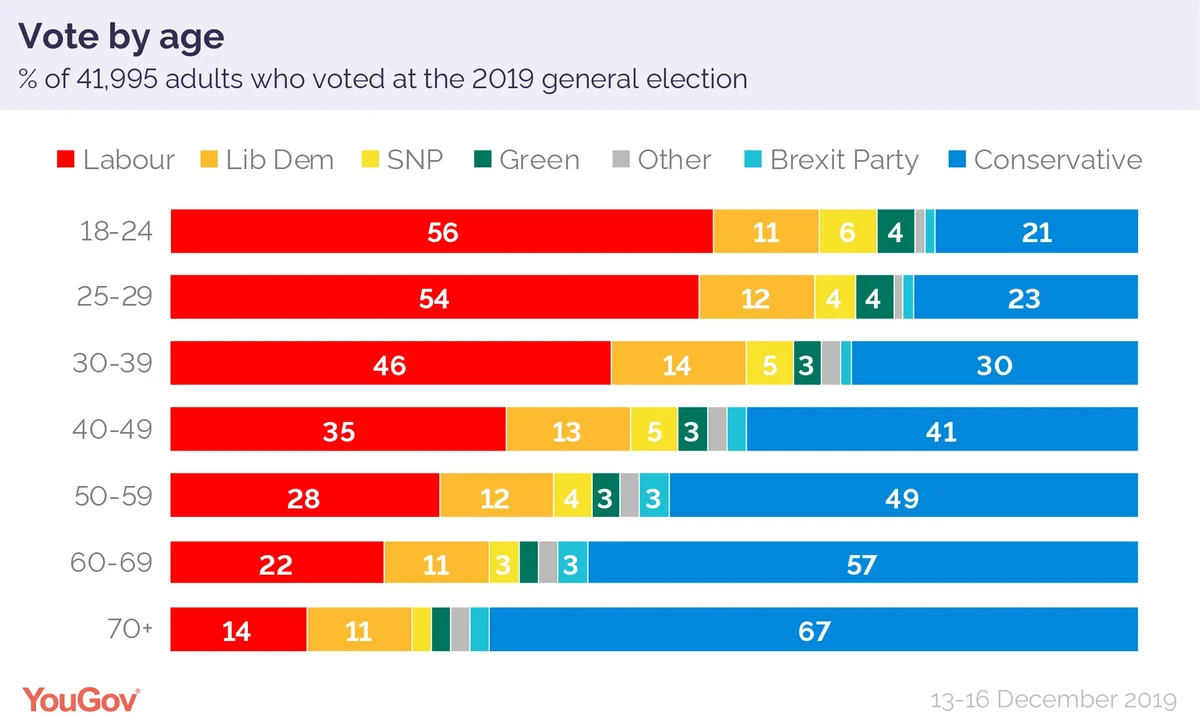 In fact, for every 10 years older a voter is, their chance of voting Tory increases by around nine points, and the chance of them voting Labour decreases by eight points.
The tipping point - the age at which a voter is more likely to have voted Conservative than Labour - is now 39, down from 47 at the last election.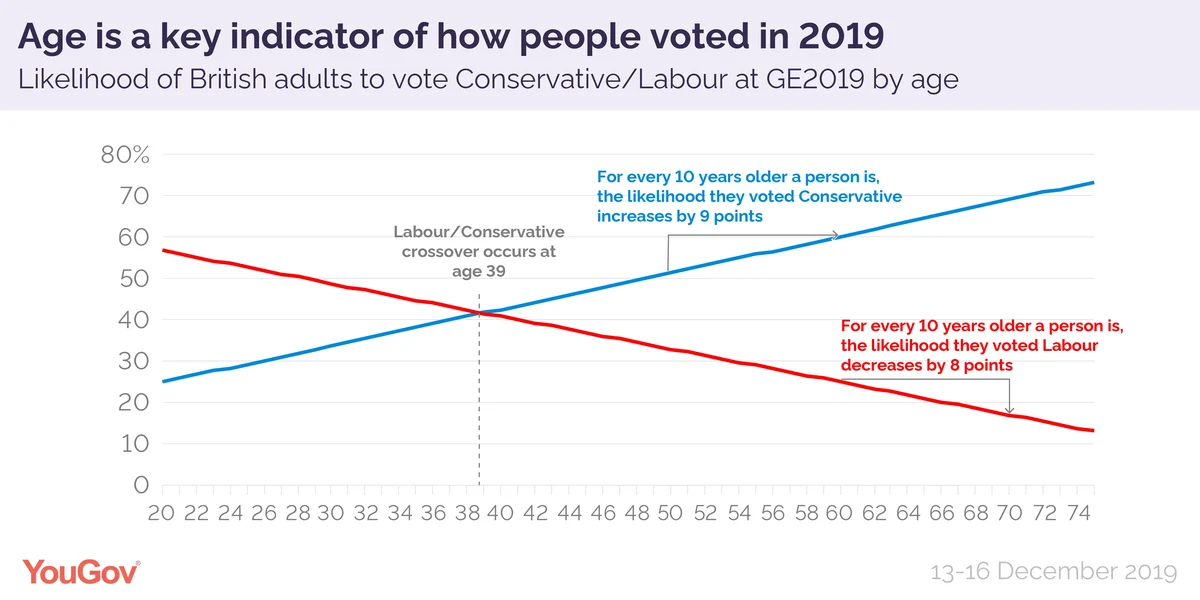 Labour is down among all age groups, although slightly less so among those nearing or in retirement, losing just 5% of their vote share among the over 60s, compared to around 9% among the under 60s. However, given how badly they did among the over 60s in the last election, they didn't have much more to lose.
There is a gender gap, but only among the young
The data points towards a very small gender gap, with the Conservatives on 46% among men and 44% among women, and Labour on 31% among men and 35% among women.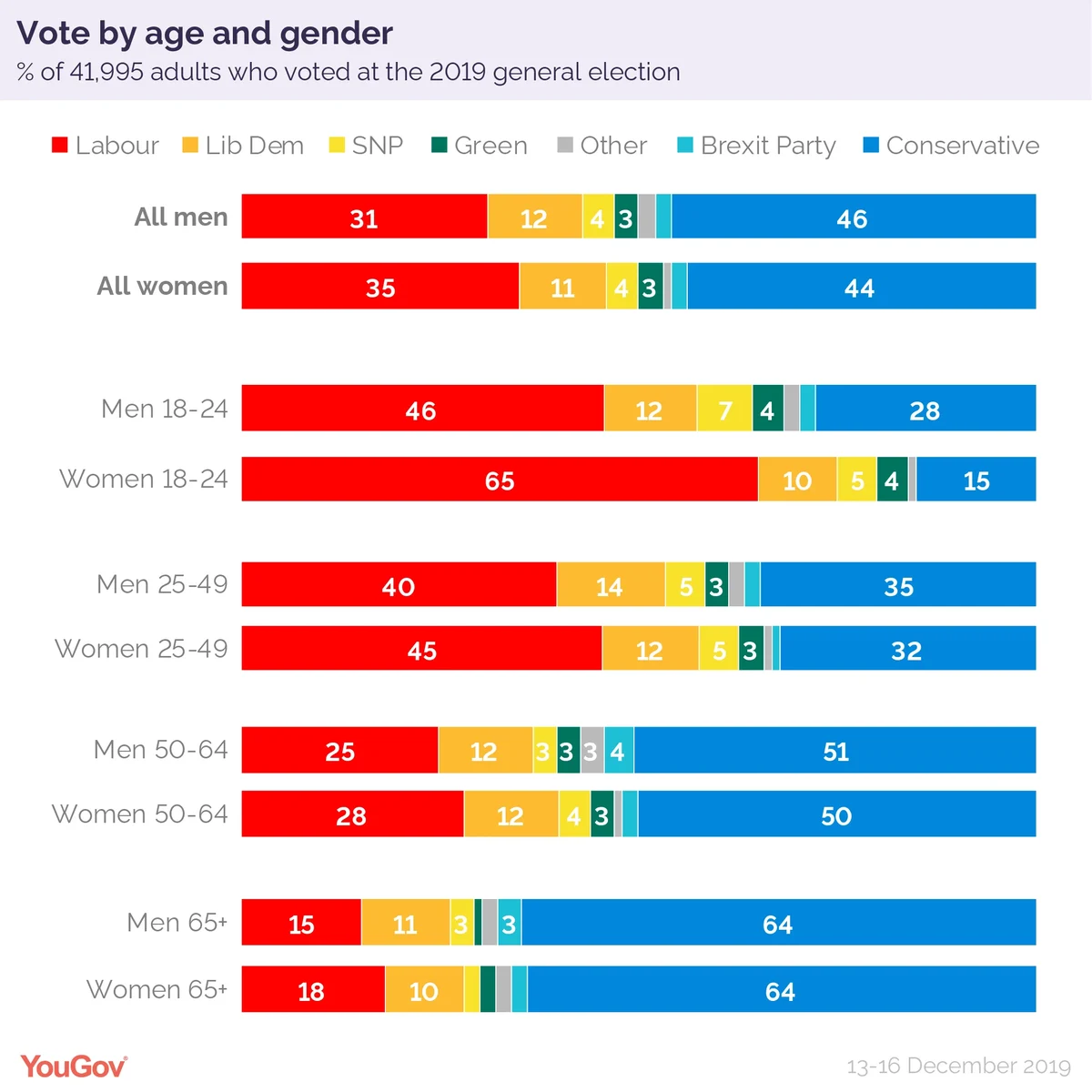 But when you break this down it is most evident among the very youngest. If we just look at those aged from 18 to 24 the Conservatives are on 28% among men and just 15% among women.
On the Labour side, the party are on 46% among young men and 65% among young women, a gap of 19%.
Conservatives perform best across all social grades
The Conservatives comfortably outperformed Labour across all social grades, further evidence that class is no longer a key indicator of how people vote. In fact, the Conservatives actually did better amongst C2DE voters (48%) than they did amongst ABC1 voters (43%). Labour performed the same amongst both social grade groups (33%).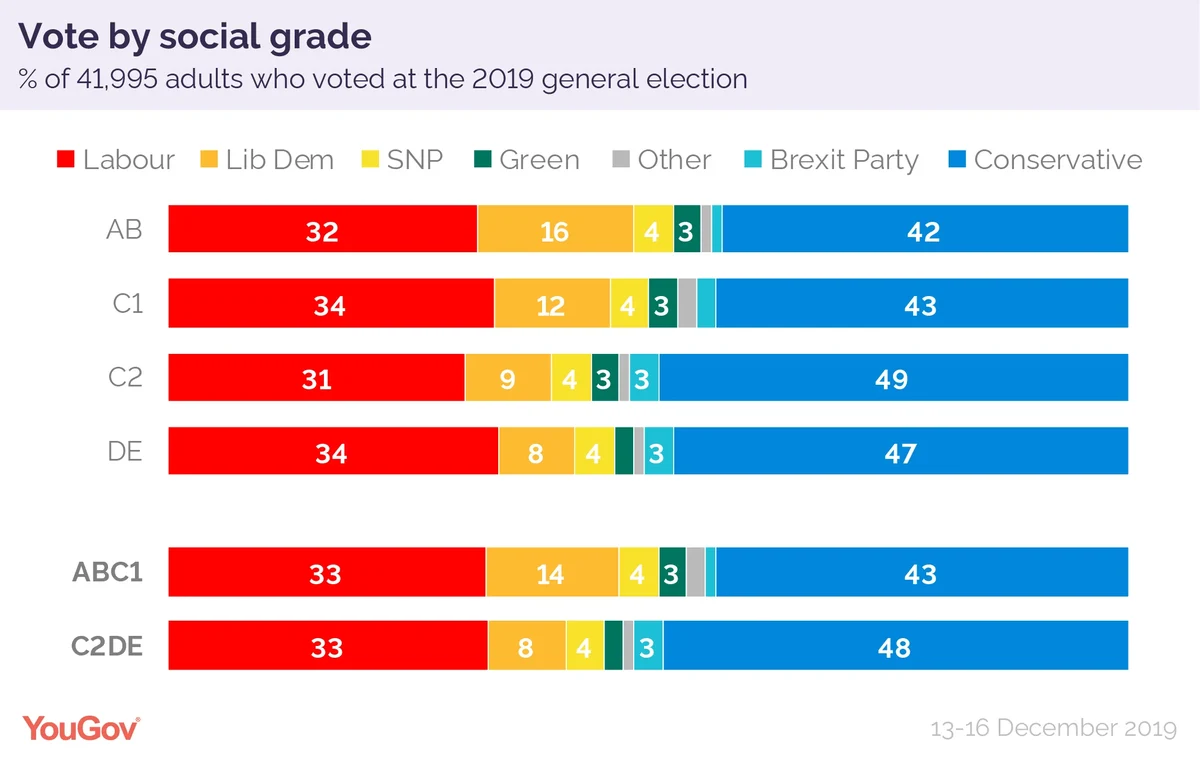 This is a further realignment of voters by class that we first saw in 2017. The Conservatives performed equally well amongst ABC1 voters and C2DE voters (44%) two years ago, marginally better than Labour in both cases. Now they have improved their showing amongst C2DEs while achieving the same as 2017 amongst ABC1s.
Education is still a key dividing line
The highest level of education someone has achieved remains an important dividing line in how people vote. Labour did much better than the Conservatives amongst those who have a degree or higher, by 43% to 29%.
The Liberal Democrats also performed very well amongst this group with 17% of the vote share. We saw in 2016 that those with a higher education level were overwhelmingly more likely to back remaining in the EU, and this has seemingly transferred into party voting.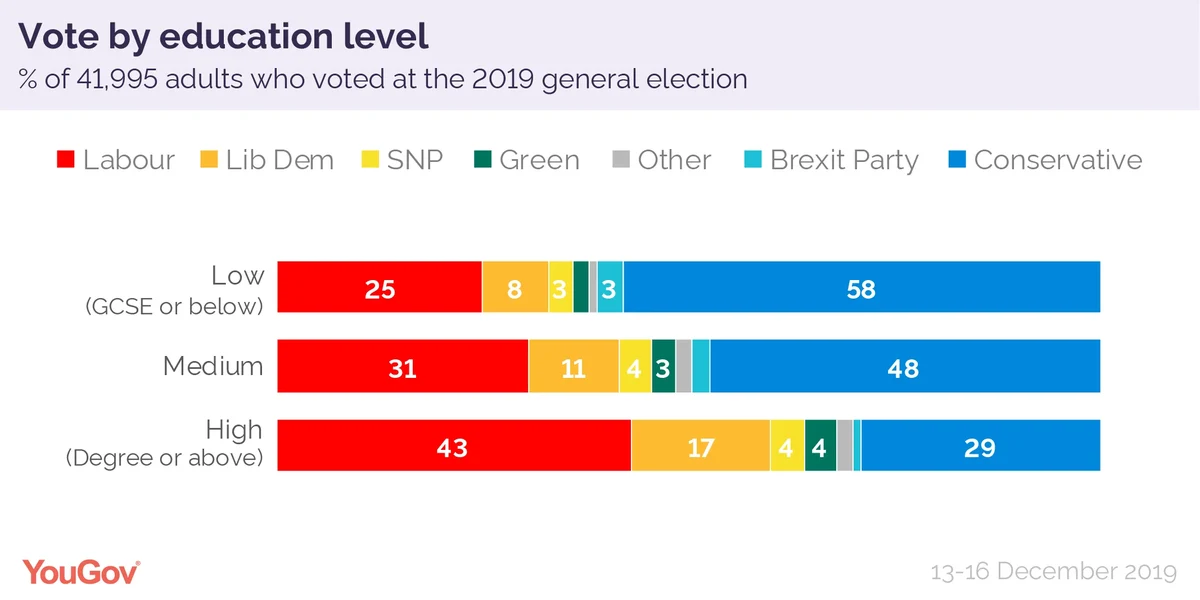 The Conservatives won amongst the much larger group of voters who do not hold a degree, however. They outperformed Labour by more than two to one (58% to 25%) amongst those whose highest level of education is GCSE or lower.
Compared to 2017, the Conservatives have improved amongst those without a degree, but performed worse amongst those with a degree or higher. Labour lost voters amongst all three education level groups.
Retention of 2017 voters was crucial to Conservative success
The Conservatives did a much better job than Labour of retaining their 2017 voters. Some 85% of those who voted Conservative in 2017 stuck with them in 2019, compared to 72% of Labour voters.
The only party with a better retention of 2017 voters was the SNP, who kept hold of 87% of their past voters.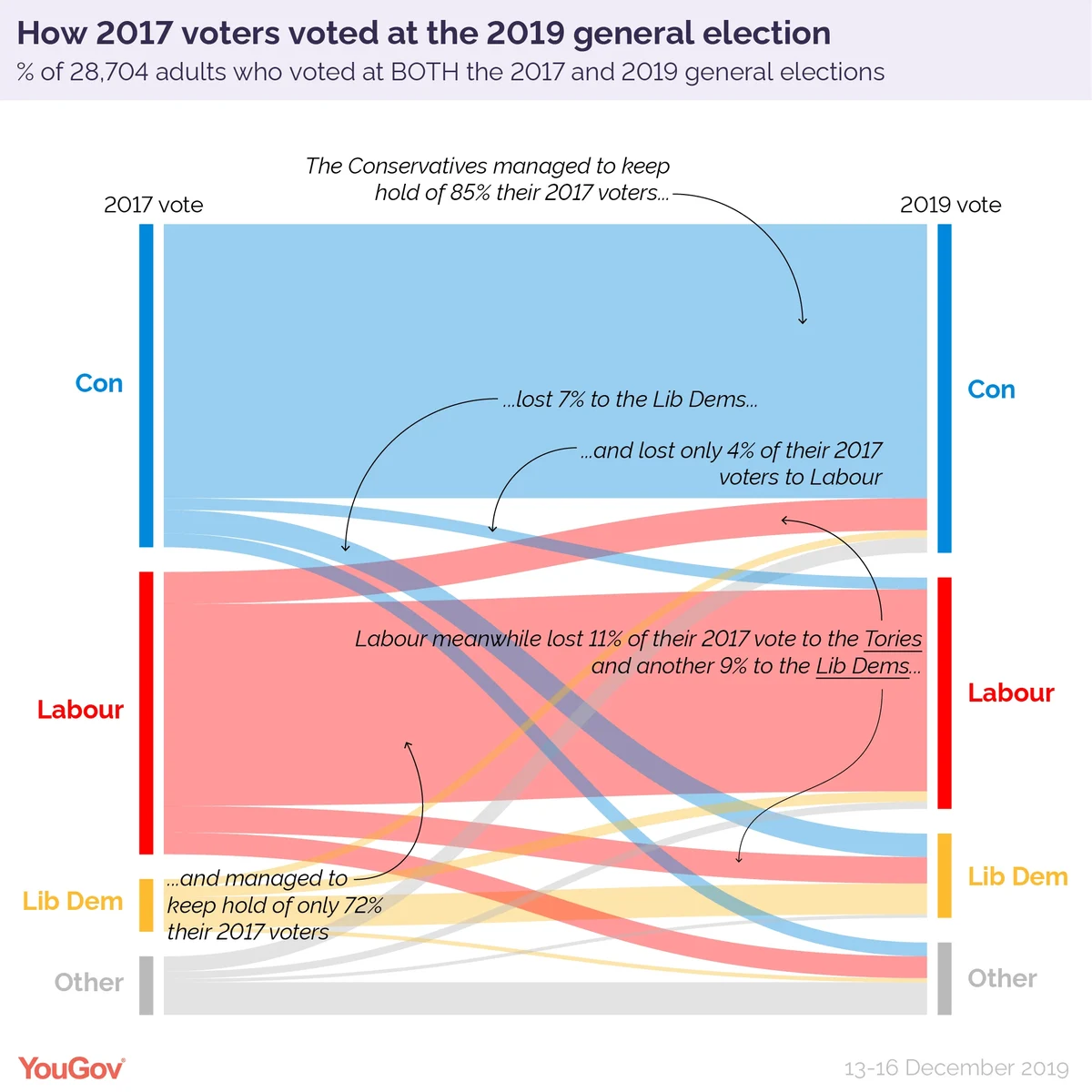 Labour lost similar numbers of voters to the Conservatives (11%) as they did to the Liberal Democrats (9%). The potential threat of the Brexit Party at the start of the campaign proved to do little damage to the Tories, attracting just 2% of 2017 Conservatives. One in five (19%) 2017 UKIP voters backed the Brexit Party, while two thirds (67%) moving to the Tories.
Despite improving their overall vote share from 8% to 12% this election, the Liberal Democrats only retained 59% of their 2017 voters. One in five of this group moved to Labour and 14% voted Conservative.
This loss of voters was balanced by winning over new voters from across all other parties. The Greens also struggled with retaining their 2017 voters (keeping just 30%) with a third (34%) moving to Labour.
Brexit realignment continues
Brexit realignment was already a huge factor in the last general election, with 55% of Remainers voting Labour and 65% of Leavers voting Conservative.
This time around the Conservatives managed to boost their vote share amongst Leave voters to three quarters (74%) while the Labour Party actually reduced their share of Remain voters to just under half (49%). This fall came mainly at the hands of the Liberal Democrats, who increased their vote share amongst Remain voters to 21%, compared to 12% in 2017.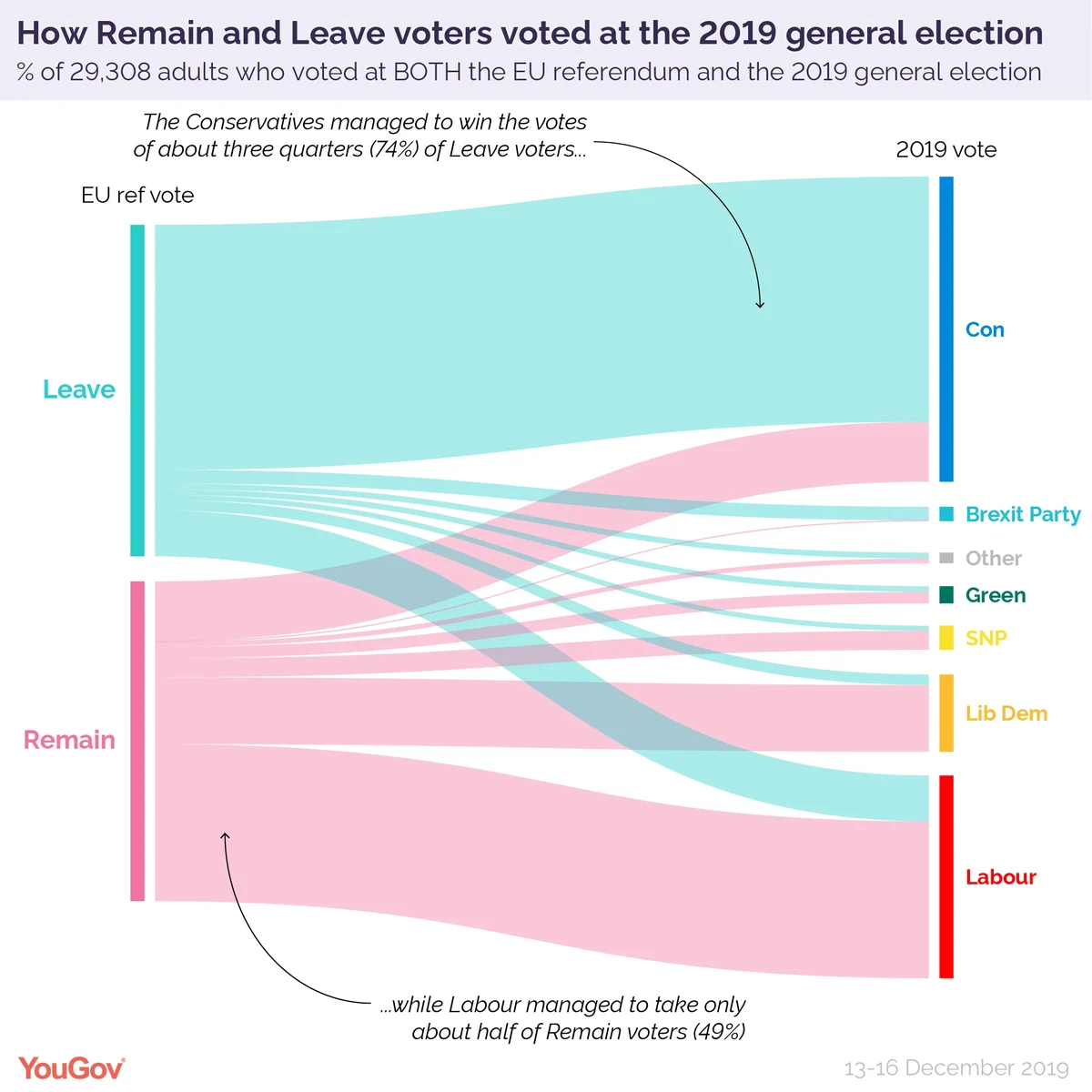 Both the Conservatives and Labour lost voters on the other side of the Brexit debate. The Conservatives held on to 19% of Remainers (down from 25% in 2017) while Labour's vote share amongst Leavers was 14% (down from 24% in 2017).
EU referendum and 2017 voters
The Conservatives managed to keep hold of almost all (92%) of their 2017 voters who were on the Leave side in 2016. Labour were able to hold onto 8 in 10 (79%) of their 2016 Remain voters, although 12% deserted the party in favour of the Liberal Democrats.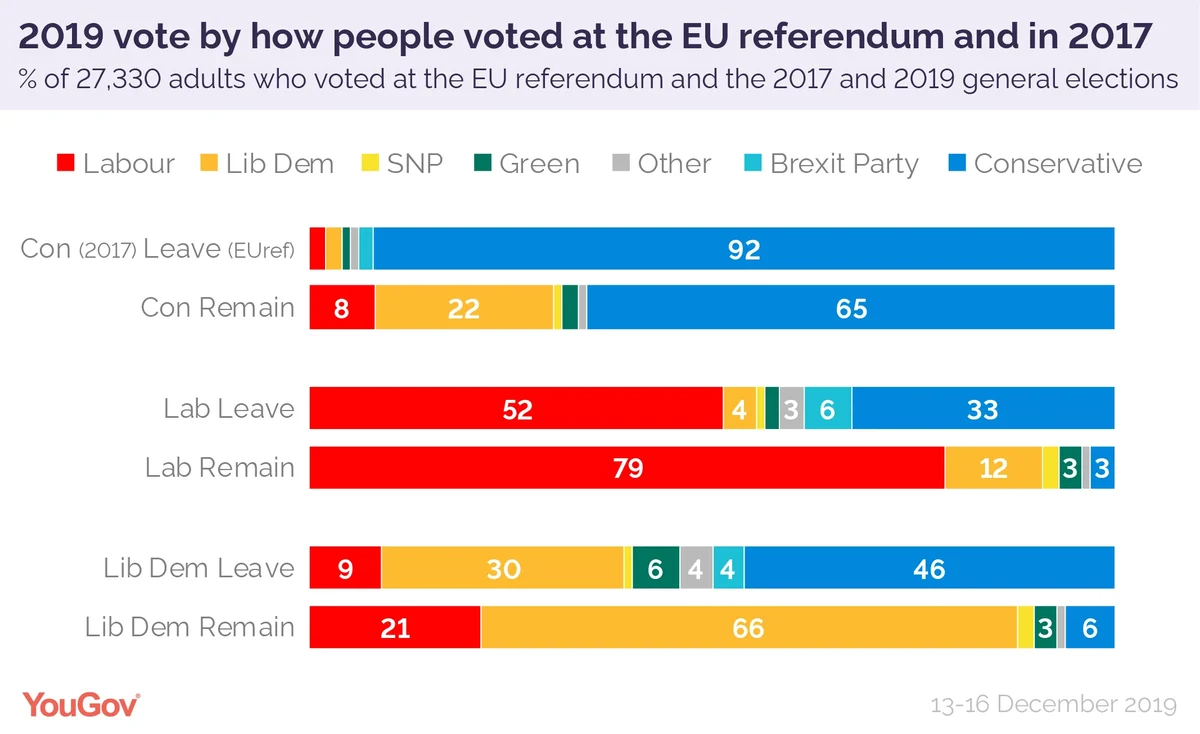 Despite their strong stance on leaving the EU, the Conservatives managed to convince two thirds (65%) of their voters who backed remain in 2016 to stick with them this time round. 22% voted Lib Dem, while 8% moved to the Labour party.
Only half (52%) of those who voted leave in 2016 and Labour in 2017, stuck with the Labour party in 2019. A third (33%) moved directly to the Conservatives, while 6% voted for the Brexit party.
Photo: Getty