This page was uploaded as a placeholder at 4.09pm, with the results of the survey updated once they came in shortly after 9.30pm
A snap YouGov survey of 1,322 viewers shows another close result, with 52% of viewers saying that Boris Johnson performed best, once "don't know" responses were removed, and 48% backing Jeremy Corbyn.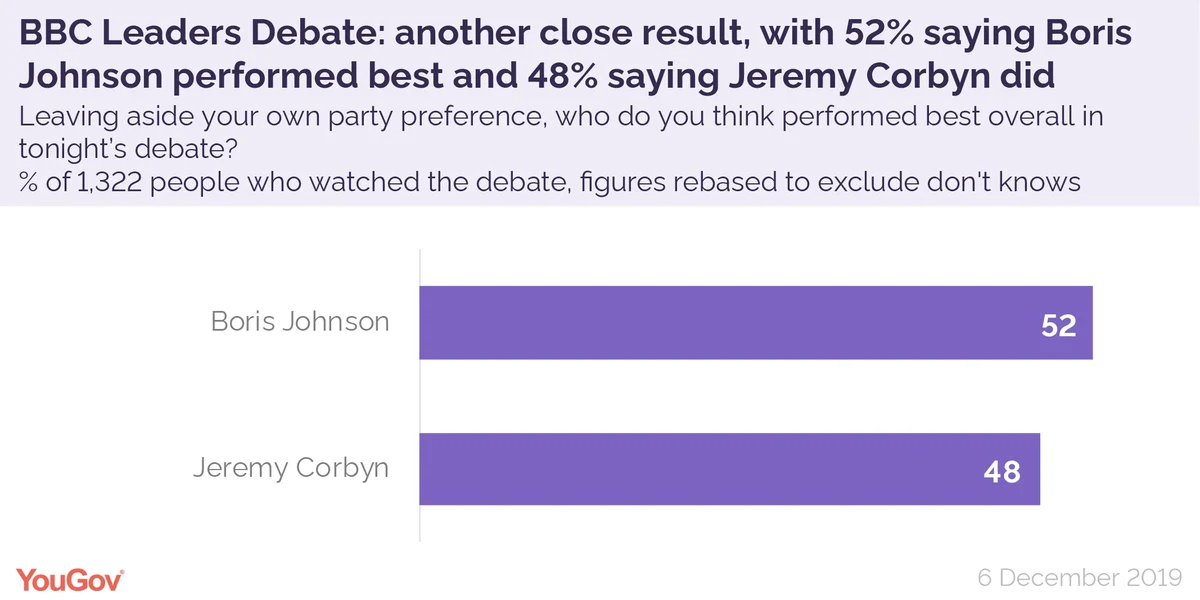 Most viewers think both leaders performed well, with 69% saying so of Corbyn and 62% saying likewise of Johnson.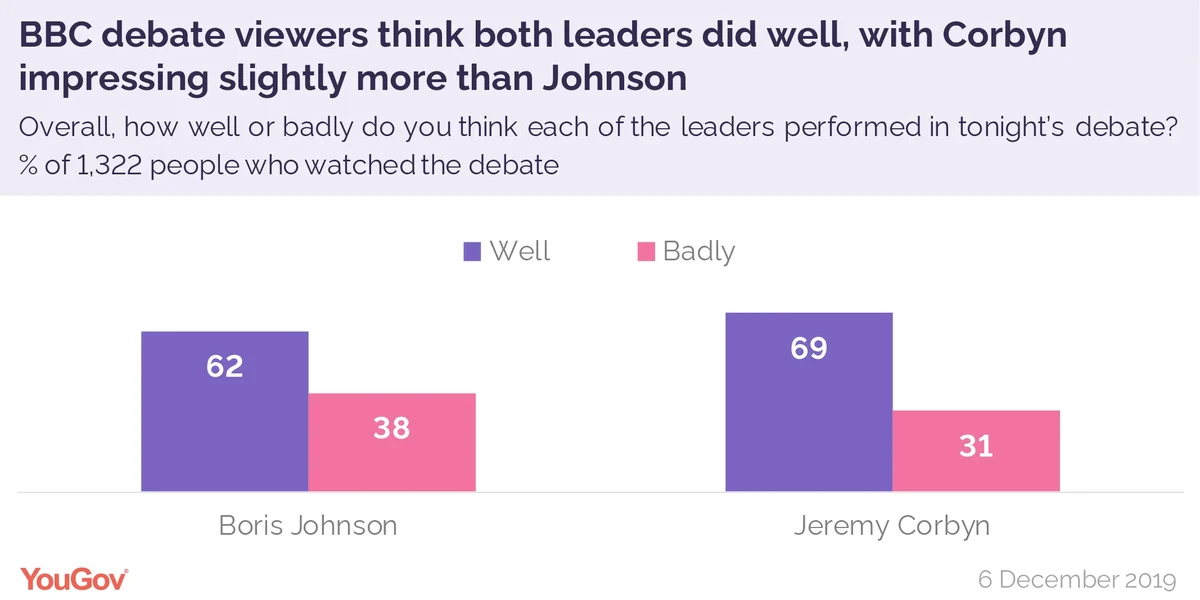 As you might expect, the results break along partisan lines, with those who voted Conservative in 2017 more likely to back Johnson (90%) while Labour voters are much more likely to think Corbyn did well (also 90%).
Nevertheless, half of 2017 Tory voters (48%) say the Leader of the opposition gave a strong performance, while a third (36%) of 2017 Labour voters reciprocate.
Johnson seen as more Prime Ministerial and likeable, Corbyn as more in touch and trustworthy
In terms of characteristics the two participants displayed during the debate, Corbyn beat Johnson among viewers on "in touch trust with ordinary people" (by 57% to 29%) and "trustworthy" (by 48% to 38%).
Boris Johnson, for his part, came across as more "Prime Ministerial" (54% to 30%) and "likeable" (55% to 36%).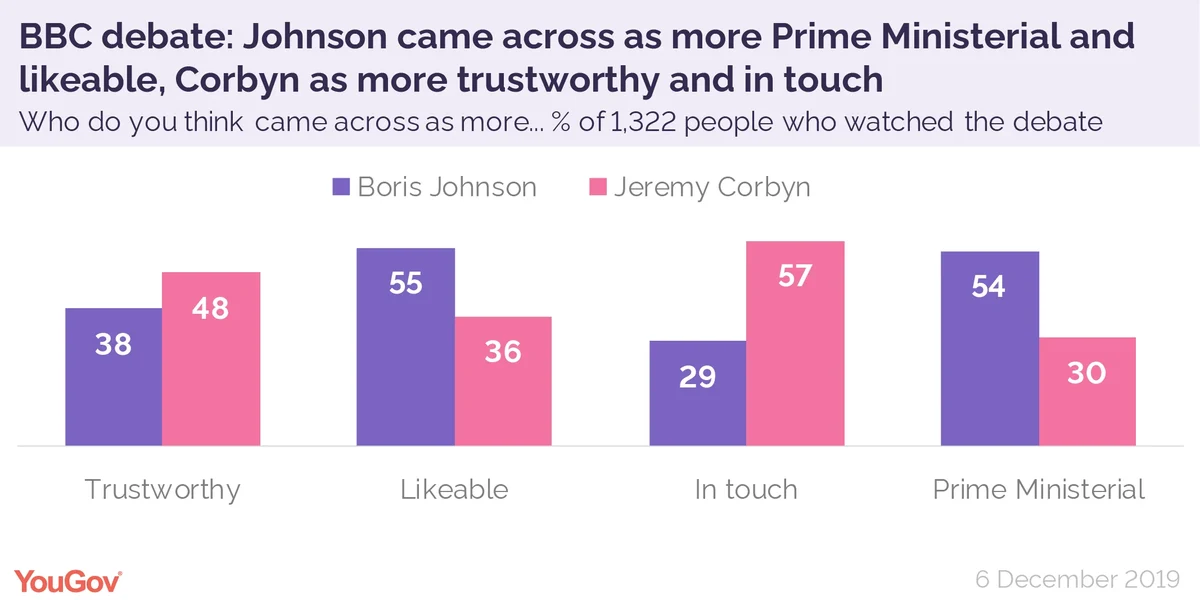 In all four cases, the same person came away winning the same accolades as they did at the ITV debates.
Johnson wins on Brexit, security and government spending, Corbyn on the NHS
Both party leaders won on their preferred topics, with Johnson being seen by 62% as having done better on Brexit and 55% saying Corbyn was better on the NHS. Johnson also impressed more of the audience on security and anti-terrorism, at 55% to Corbyn's 34%. A YouGov survey published yesterday found that the Tories are trusted over Labour on terrorism by two to one.
Things were closer on the topic of government spending, with 48% of viewers saying Johnson had the upper hand and 43% believing Corbyn came off better.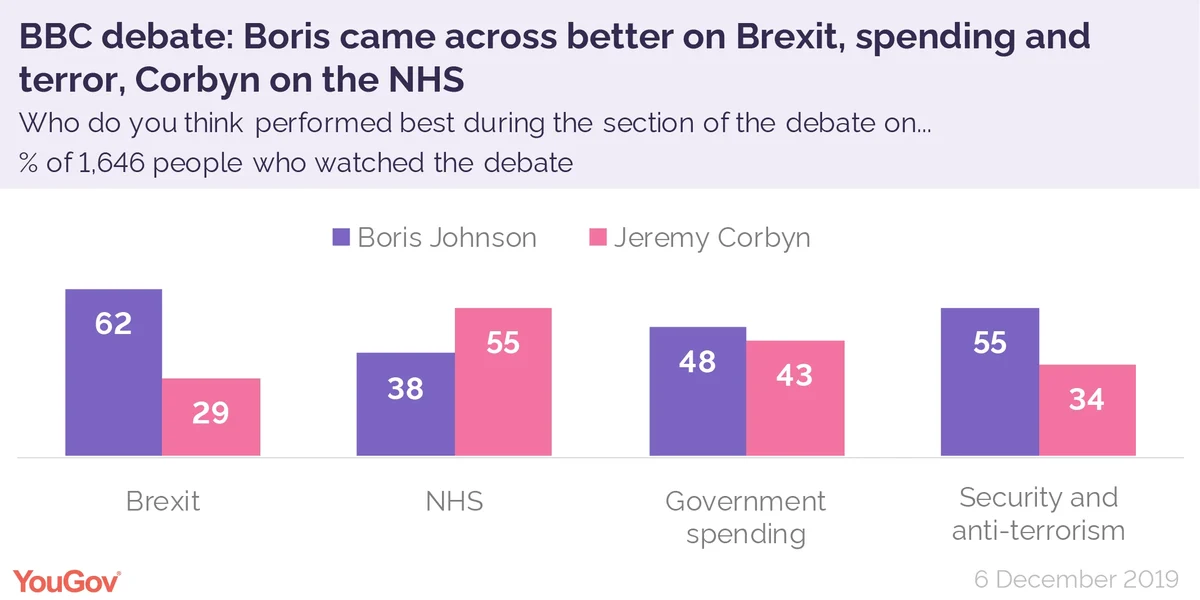 A preliminary survey published this afternoon showed that the public expect Boris Johnson to perform better by 33% to Jeremy Corbyn's 28%, a smaller margin than we found ahead of the ITV debate. You can read more about that survey here.
You can also see the results from our snap poll following the ITV debate last month here.
Photo: BBC