The deadline for registering to vote in the 2019 general election has been and gone, but 14% mistakenly believe they still have a chance
If you haven't already registered to vote then you'll be sitting-out the 2019 general election, but new YouGov research shows that 14% of Britons still believe they have time to get involved. Thankfully, their knowledge of other aspects of the democratic process is shown to be far more robust.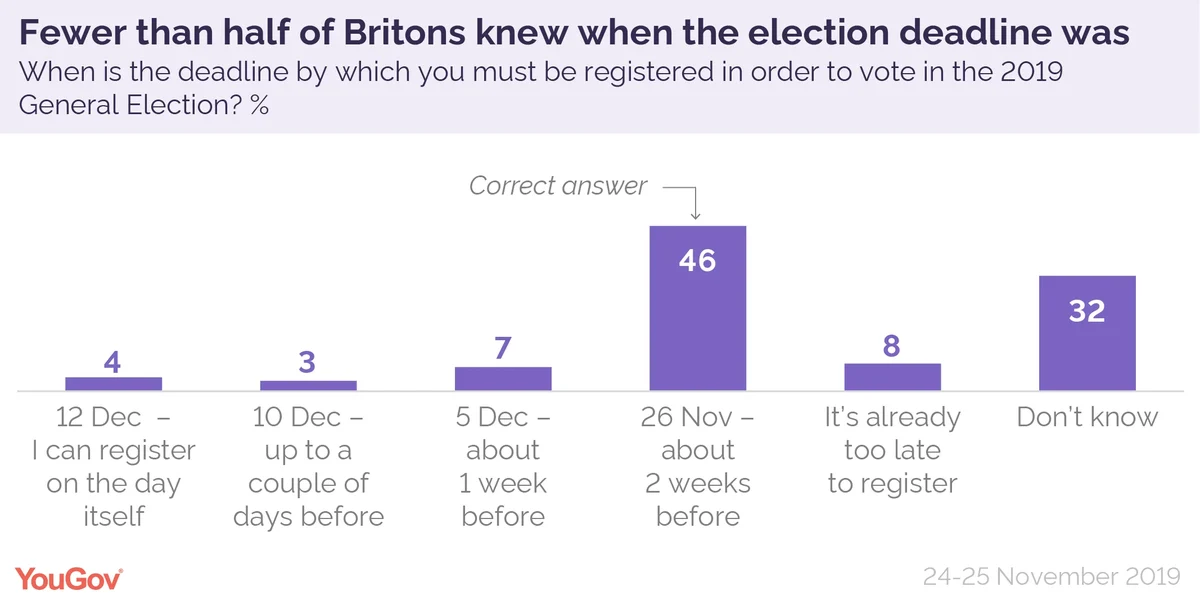 When asked about the registration deadline nearly half (46%) of Britons correctly pointed to November 26th, including the majority of 2017 Labour (54%) and Lib Dem (57%) voters. Conservative supporters were less likely to correctly identify the date (45%).
Older people were also far less likely to get it right: two in five (61%) of 18 to 24 year olds did so, compared to just 43% of those aged over 65.
Some 7% of Brits told us, incorrectly, that it's possible to register on December 5th, as did 3% on December 10th and 4% on election day itself, December 12th.
Most Britons answered our general election questions correctly, apart from on the number of MPs
YouGov also asked a series of true-or-false statements about the election to see how much they know about other aspects of our democracy.
The vast majority of people (97%) correctly said that polling stations are open from 7am to 10pm on election day. Only 3% said this was false.
Nine in ten people (89%) also knew that elections are not usually held on a Wednesday (the truth being that they usually fall on a Thursday), although 11% did think it was true.
Only slightly fewer (84%) knew that you are not automatically registered to vote if you pay council tax, and 83% also knew that the same is not true automatically when you turn 18.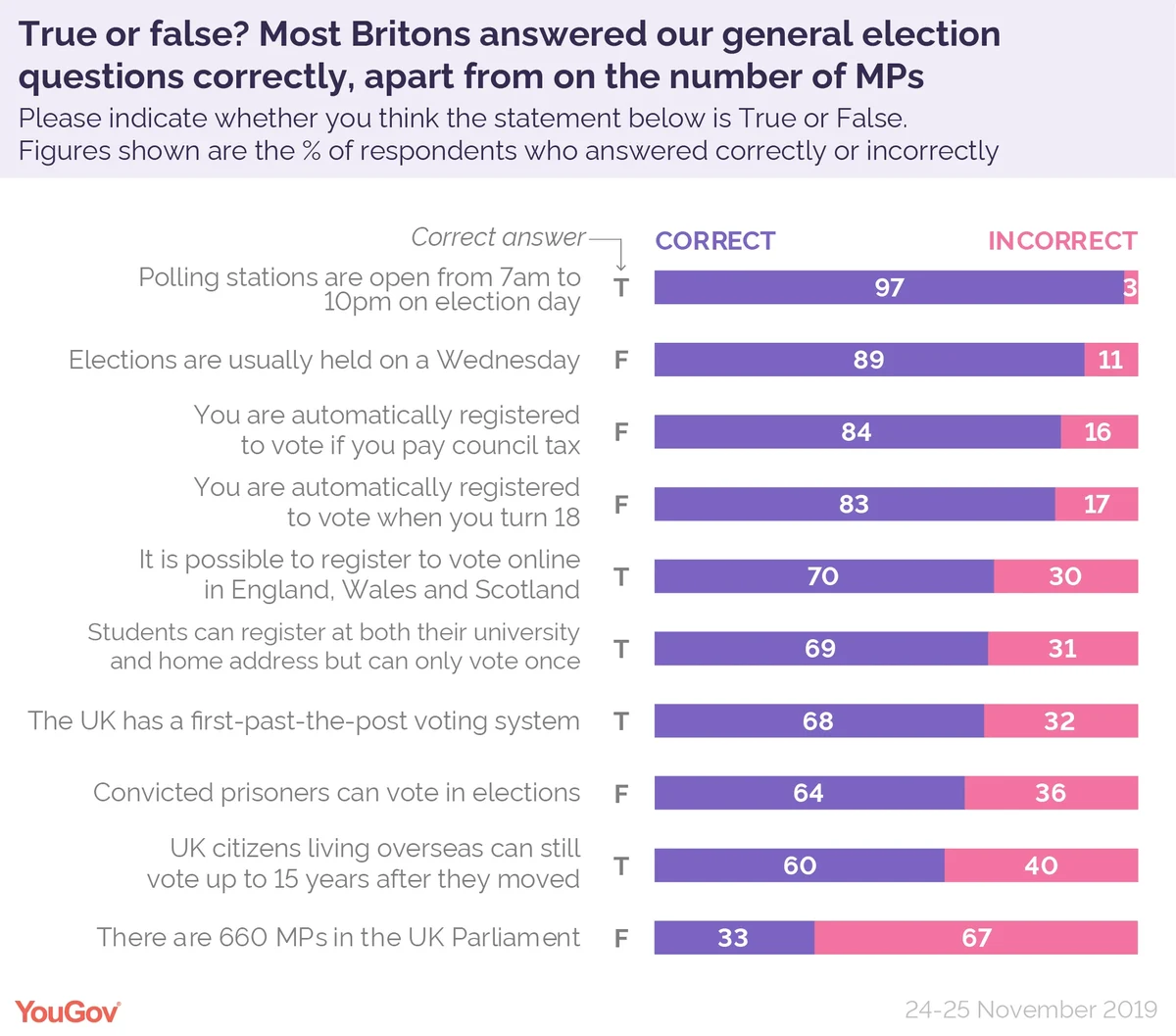 Seven in ten people (70%) knew that it is possible to register to vote online in England, Wales and Scotland, and 69% knew that students can register at both their university and home address but you may only vote once.
Some 68% of people knew that the UK has a first-past-the-post voting system, 64% knew that convicted prisoners cannot vote in the election, and 60% knew that UK citizens living overseas can still vote up to 15 years after they moved.
The only statement which tricked the majority was: 'There are 660 MPs in the UK Parliament'. Some 67% thought this was true, although there are actually 650 seats in the country.
More people know who their incumbent MP is than this year's parliamentary candidates
In additional polling, YouGov also asked whether the public know the incumbent and prospective MPs in their constituency. Just over half (56%) could name the outgoing MP, and, of this group, 94% were correct when asked to do so.
At this point in the election, 46% say they know who the current parliamentary candidates are in their constituency. When prompted, 92% correctly entered one or more of their names.
Photo: Getty
See the results for the true or false questions and for MP recognition