More than three quarters of Brits strongly identify as either a Leaver or a Remainer, while just 48% have a strong attachment to a political party
With Britons heading to the polls after Parliament failed to break the Brexit deadlock, we find that the public are far more likely to identify with Leave or Remain than a political party.
When asked whether they see themselves as a Leaver or a Remainer, 86% choose one of the two options (41% Leave, 45% Remain). In contrast, just two thirds (68%) of the public choose a party.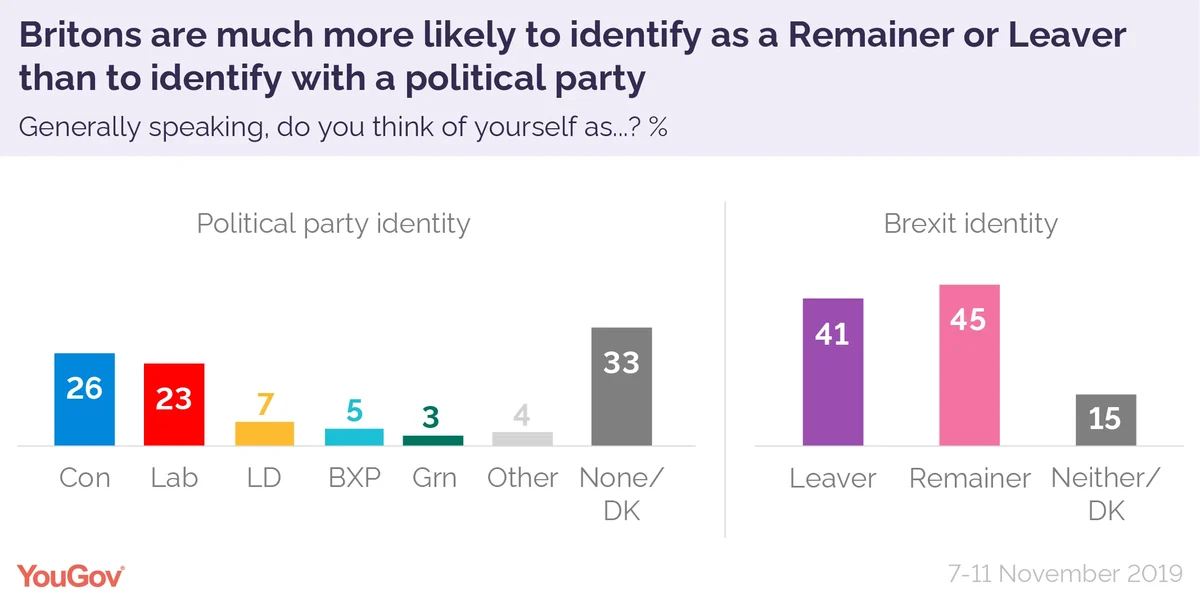 When we look at the strength of these identities the difference between party and Brexit becomes ever starker.
Three quarters (76%) of Brits identify either very strongly (51%) or fairly strongly (25%) with their chosen Brexit preference. Conversely, the majority of Brits either don't strongly identify with a political party or don't identify with a party at all. Just 15% say they identify with a party very strongly, and 33% do so fairly strongly.
There's nothing to separate strength of identity between Remain and Leave. A massive 90% of both identify strongly with their Brexit preference. Boiling this down further, 62% of Leavers and 58% of Remainers identify very strongly with their chosen position.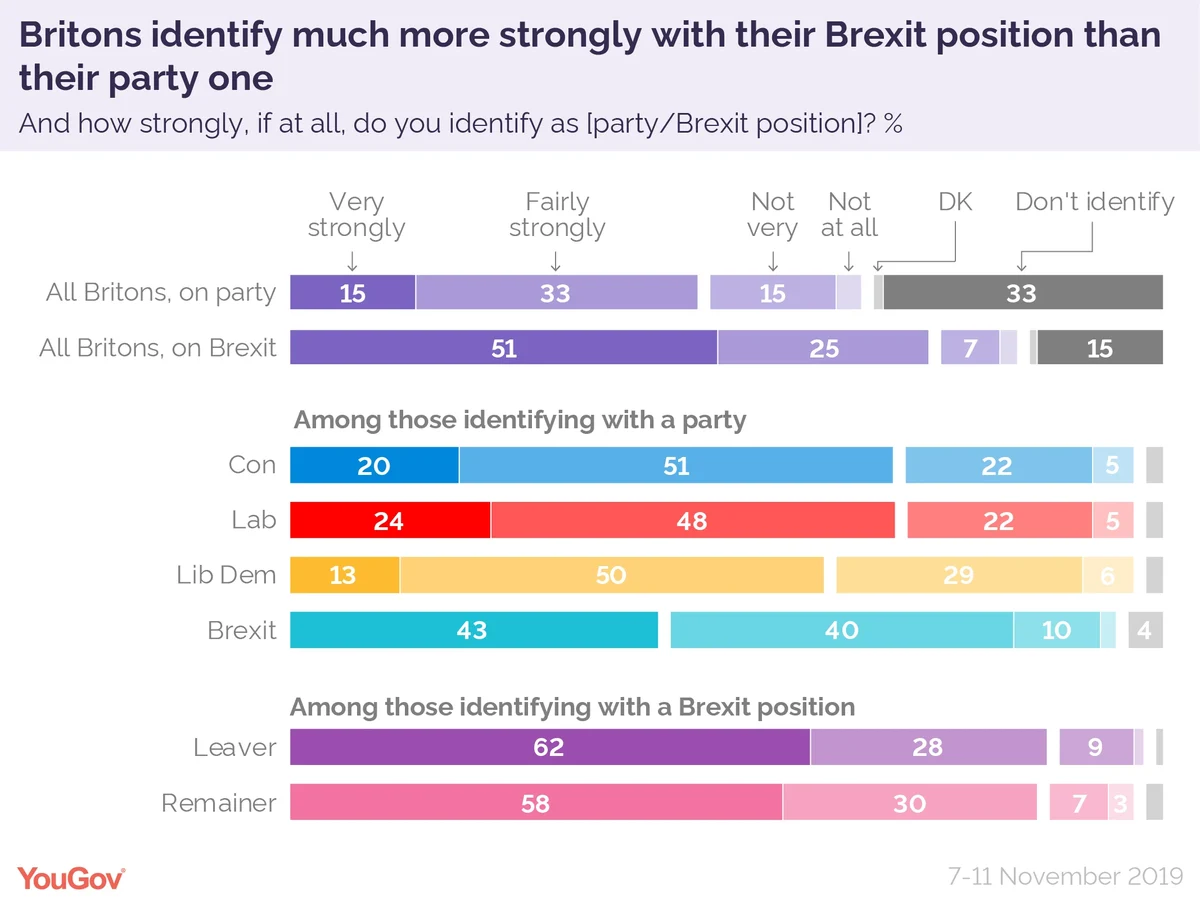 When looking at identity across parties, half of Brits see themselves as either close to the Conservatives (26%) or Labour (23%). Just 7% identify with the Liberal Democrats and 5% the Breixt Party.
Strength of identity across parties varies but is lower than Brexit identity across the board. Some 71% of those who see themselves as a Conservative, 72% Labour and 63% a Lib Dem say they strongly identify with their party. These numbers drop significantly, however, when looking just at those who identify very strongly with a party: 20% Conservatives, 24% Labour and just 13% for Liberal Democrats.
While a relatively small group overall, those who see themselves as belonging to the Brexit Party are much more likely than other parties to identify strongly with their party, with 83% either saying they do so either very strongly (43%) or fairly strongly (40%).
Combining identities, we see that 63% of the public see themselves as belonging to both a party and a Brexit position. One in five (22%) have a Brexit identity but not a party identity, 5% have a party identity but not a Brexit position, while 10% don't have a Brexit or party identity.
The biggest groups when looking at both party and Brexit identity are Conservative Leavers (19%) and Labour Remainers (16%). In contrast, 6% of the public identify as Conservative and a Remainer, while 5% identify as Labour and a Leaver.
Photo: Getty