BrandIndex scores for big banks RBS and Santander show 2011 public perception stabilising...but remaining low
In January, I looked at how our major banks had fared over 2010, noting that it had been a bad year for perception of Santander, with customer opinion in particular driving scores on YouGov's BrandIndex figures downwards at an alarming rate.
RBS remained the worst perceived of the big banks, but had made strides throughout 2010.
I concluded that for RBS, the roots of recovery were in place but there was some way to go; for Santander, public opinion was low and falling – customer service would need improving to reverse this decline. So how have they fared in 2011?
Both saw perception stabilise. Santander, which fell from +8 to -8 on the Index score (a composite of six key perception measures) in 2010 has tracked along at about that level since (-10 today). RBS recovered from -21 at the start of 2010 to -13 by the end of the year and is still there now.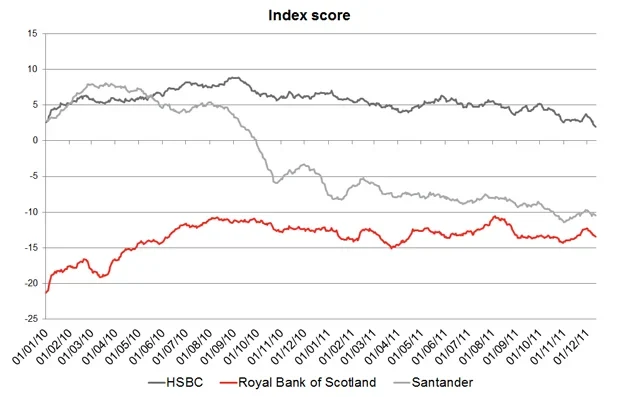 The two remain fourth and fifth of the five main banks and some way below HSBC (the only one with positive numbers).
It was customer views that had driven Santander's fall in 2010 and they remain pretty much where they were at the start of the year when we look at recommendation.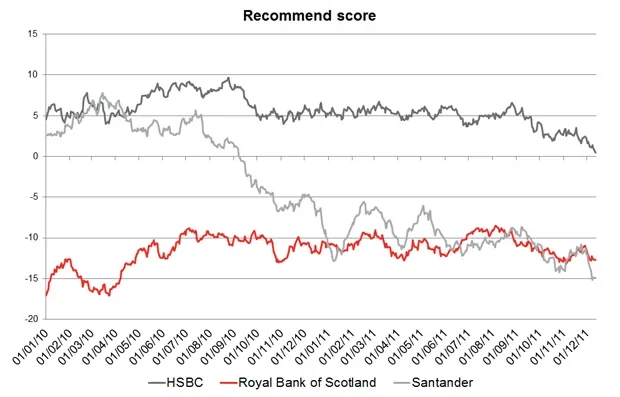 Santander ended 2010 on -11 and in last place of the banks, and now find themselves on -15, still in last place. It's not far behind RBS, but with a big gap to Lloyds, Barclays and leaders, HSBC.
Santander has not seen customer service perceptions improve: its decline has been halted but not reversed.
RBS's roots of recovery remain in place but it has not been able to build on them. As 2011 draws to a close, it seems that overall, both banks remain in the position they were in when it began.
A version of this article also appears in CityAM