Do Britons prefer Johnson's new deal over Theresa May's 2018 deal?
The detail of Boris Johnson's Brexit deal is emerging, and the Prime Minister is rallying support for it in the House of Commons – but how does it fare with voters?
Do Britons really think the deals are different?
While 64% of Britons say that Johnson's deal is different to the one Theresa May secured in late 2018, only one in ten (10%) say they differ significantly. Around a quarter of Britons think the deals are moderately different (26%) with a similar number (28%) saying they only differ by a small amount. A third of Britons say they don't know if the deals are different or not.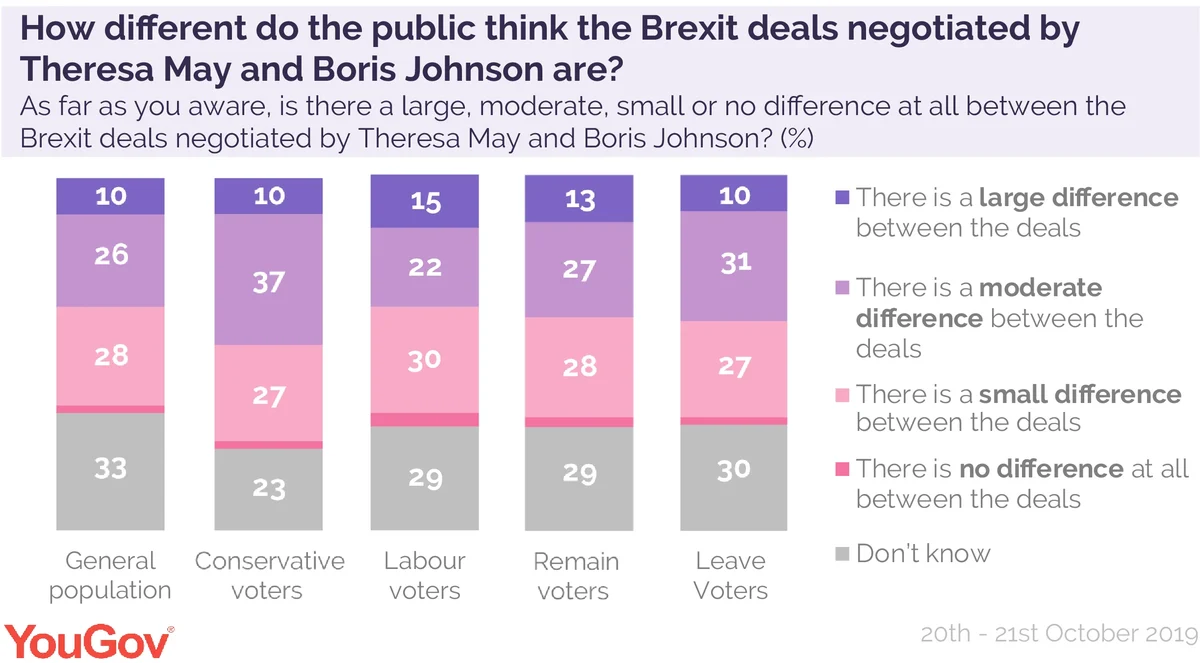 Just under half (47%) of Conservative voters say the deals are at least moderately different, compared just over a third (37%) of Labour voters who say the same.
Opinions on whether Johnson has really changed the deal on the table are also split when comparing Remain and Leave voters, with around three in ten of both groups saying the deals are either moderately different at most.
Is the Johnson deal any better?
When it comes to which deal is better, a quarter of Britons (27%) say that Johnson has improved upon May's previous deal at least a little bit, and quarter (25%) say neither deal is better nor worse than the other. However 19% say the new deal is actually worse than the 2018 offering from the EU.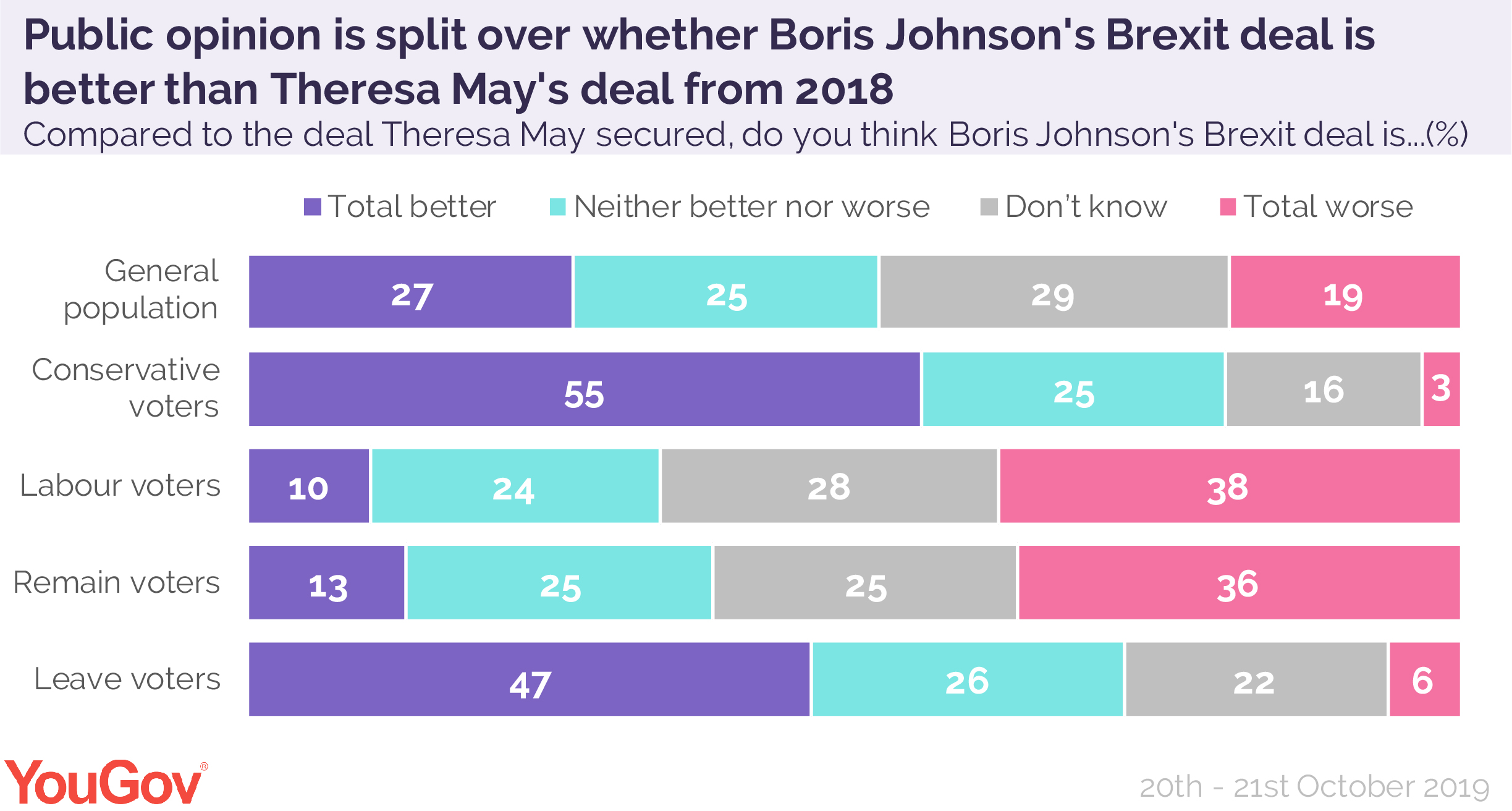 Click to enlarge
Of Brits who said the deals are largely different, 44% said Johnson deal is worse than May's compared to 36% who said it was better. Despite 28% of Britons saying the difference between the deals is small – almost third of those (32%) say the deal is better than May's, with 21% saying May's was the superior.
Over half of Conservative voters (55%) say Johnson's deal is better to some degree, and one in six (16%) saying it's much better. This compares to one in ten (10%) Labour voters who agrees Johnson has brought forth a better deal for the UK - over a third of Labour voters say Johnson's deal is worse, however.
Among Leave voters, just shy of half (47%) say the Johnson deal is better, compared to 13% of Remain voters.
Which does the UK prefer?
Given the choice, just shy of half of Brits (46%) aren't sure which of the deals they would actually prefer: over a third (37%) say they want the Johnson deal, and 17% say they would prefer Theresa May's original Brexit deal.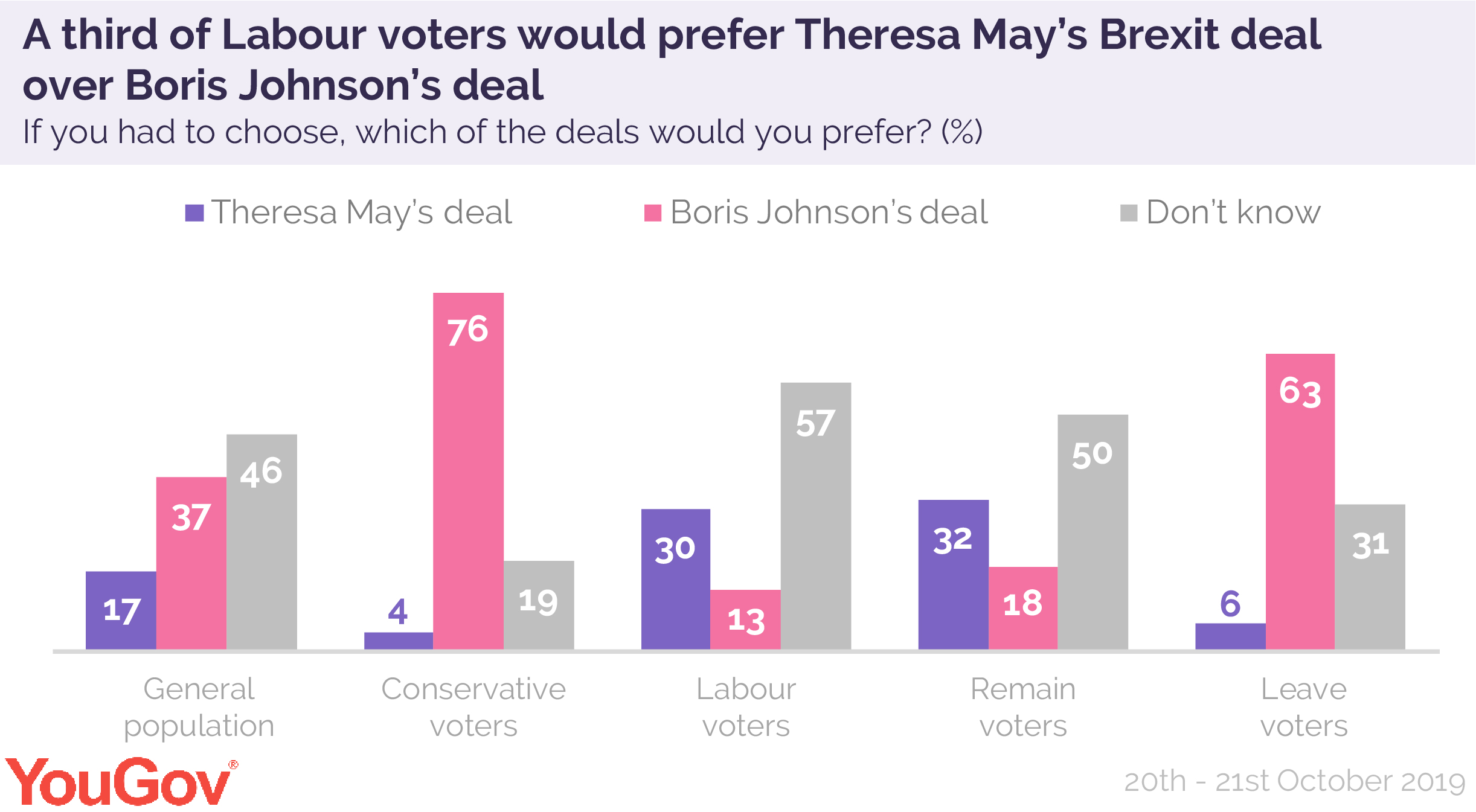 Click to enlarge
Three quarters (76%) of Conservative voters firmly prefer the Johnson deal, compared to just 4% who would prefer to have the original deal back on the table.
Interestingly, while over half (57%) of Labour voters don't know which deal they prefer, three in ten (30%) say they prefer the May deal over the Johnson deal despite the Labour Party voting it down in the House of Commons.
Image: Getty