Half of Conservative voters likewise think the PM should put himself on the wrong side of the law by refusing to ask the EU to extend the Brexit deadline
With a bill forcing Boris Johnson to request the EU delay the Brexit deadline until 31 January 2020 set to become law tonight, the Prime Minister is faced with a choice: break the promise that formed the core of his leadership bid, or break the law of the land.
After days of speculation it now looks likely that the PM will abide by the law, with The Times reporting that several cabinet ministers had warned him they would have to resign if he did not.
However, new YouGov polling conducted over the weekend reveals that 52% of Leave voters think the Prime Minister should break the law by refusing to ask the EU for a Brexit deadline extension. Only 28% put the law before the Brexit deadline, while the remaining 21% said they didn't know what he should do.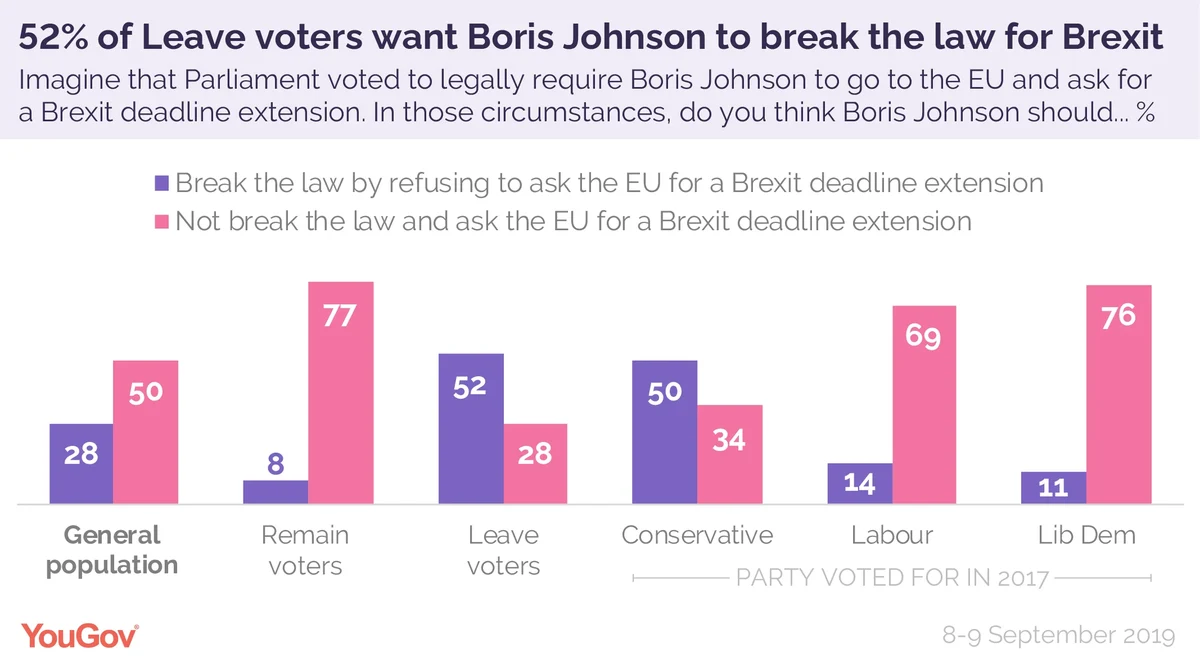 Among the public as a whole the two sides are almost reversed, with 50% of Britons preferring Johnson to abide by the law compared to 28% who would want him to break it.
Half (50%) of those who voted for the Conservative party in 2017 would want the Tory leader to flout the law and refuse to ask the EU for a Brexit deadline extension – only a third (34%) see it as more important for the leader of the nation to operate within the law.
By contrast, 77% of Remain voters, 76% of Lib Dem voters and 69% of Labour voters all say that Johnson should refrain from breaking the law on this matter.
Photo: Getty