Brexiteers will not be blaming Boris Johnson in the event that Parliament blocks Brexit by October 31st, the premise he is likely to use to call an election
With MPs voting tonight on whether to wrest Parliamentary time in order to pass a bill delaying Brexit, Number 10 has let it be known that they consider this to be a confidence vote in the Government.
Should MPs be successful in getting their way, Boris Johnson will seek to call an election tomorrow.
With the Brexit deadline already looming as he entered Downing Street, Boris Johnson always knew that delivering Britain's withdrawal from the EU under the current Parliament would be a tall order. That's why many suspect he's been picking fights with Parliament to create an excuse to call a general election on the basis that MPs are blocking him from making good on his promise to bring Britain out of the EU by October 31st.
But with that pledge having formed the basis of Johnson's Conservative leadership pitch, the Prime Minister is making a calculation that Brexiteers will blame his opponents, rather than him, for the failure to meet the deadline.
On this he seems to be correct. Asked to what extent it would be the Prime Minister's fault if Brexit did not take place by October 31st following MPs voting to block it, 60% of Leave voters say it would not be his fault "at all", as do 61% of those currently planning to vote for the Brexit Party and 68% currently backing the Conservatives. Only a tiny fraction of these groups assign much blame to the PM.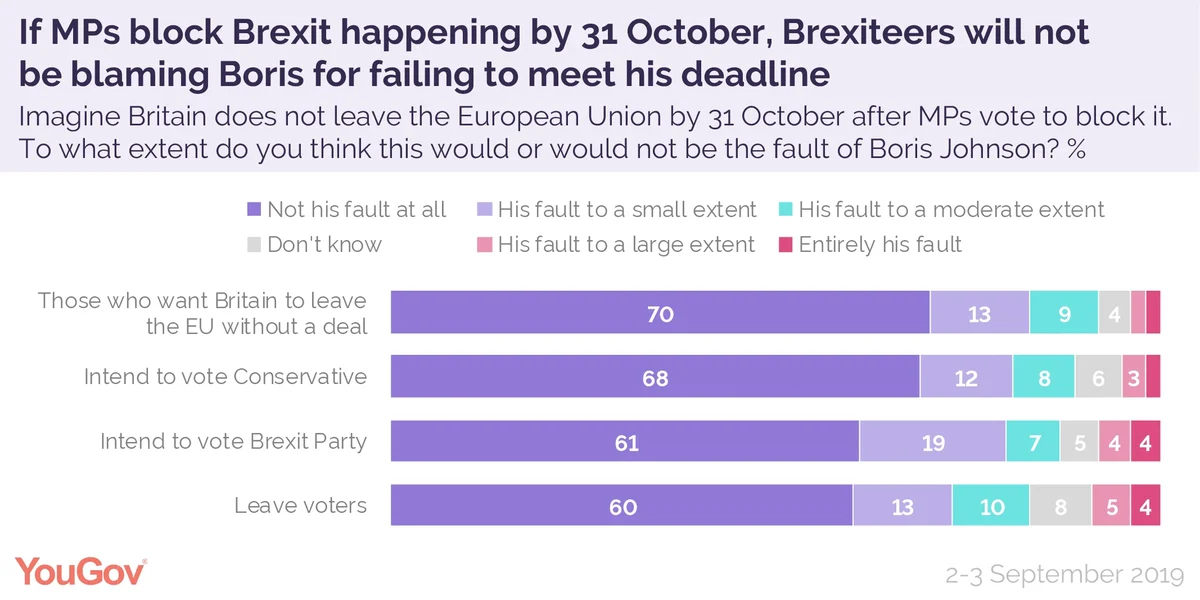 One dilemma for Boris is whether the Conservatives would campaign in such an election on the basis that they would seek a renegotiated deal, or whether they would campaign on a pledge to bring about a No Deal Brexit.
It may well be that Boris's preference is for the latter option – indeed, it was reported yesterday that the PM's chief of staff Dominic Cummings considers the recent attempts to renegotiated with the EU a "sham".
This will presumably not bother the electorate whose votes he seeks unduly: it is the stated preference of 54% of Leave voters, 55% of those who currently intend to vote Conservative, and 72% of those who want to vote Brexit Party for Britain to leave the EU without a deal.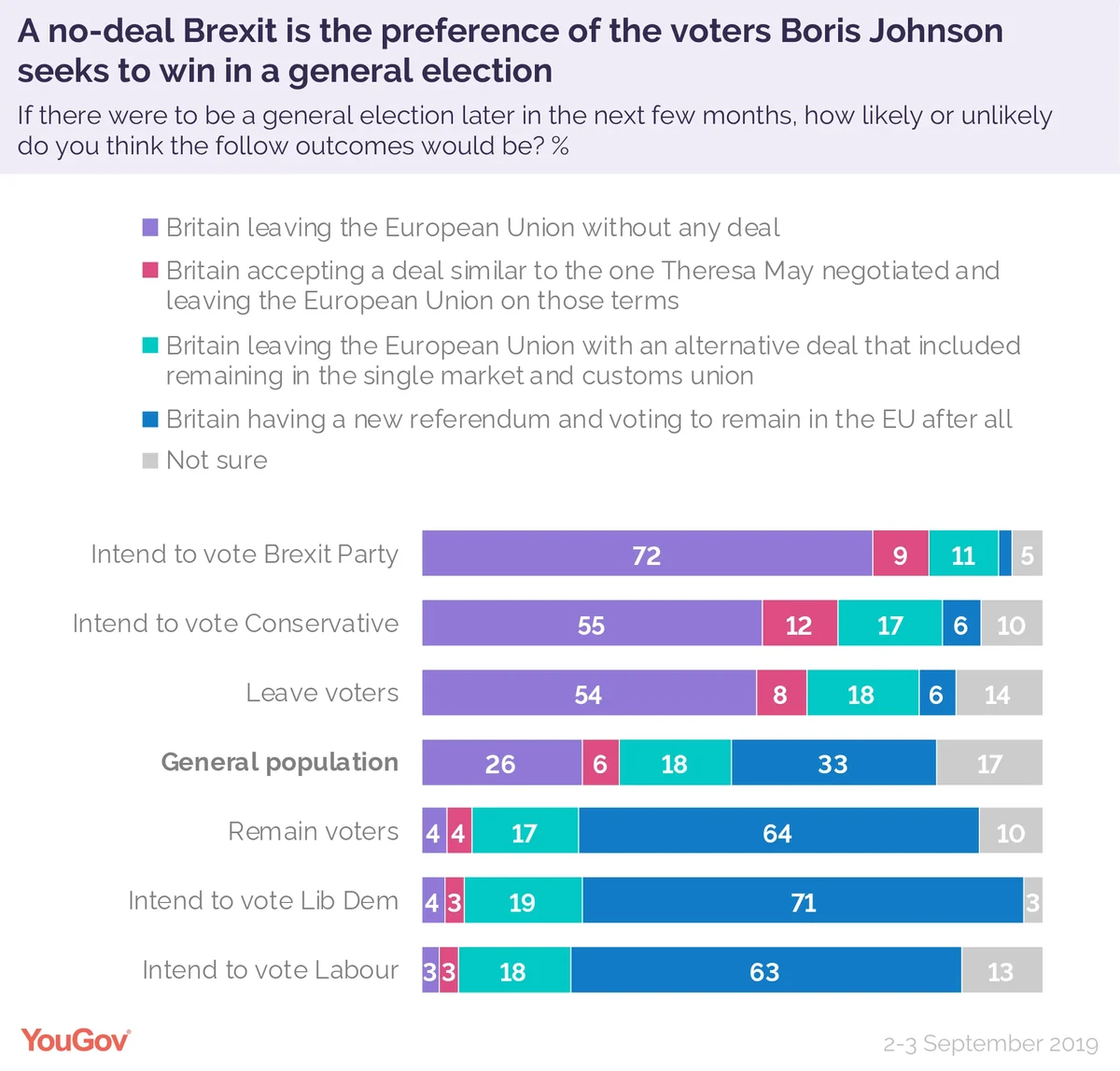 Nevertheless, sizeable minorities among these groups do still think it would be possible for Boris to negotiate a new deal with the EU that Parliament will approve (42% of Conservative backers and 37% of Brexit Party supporters), so the Prime Minister will need to be careful to convince them that he has not been reckless and needlessly squandered an opportunity to get Brexit through.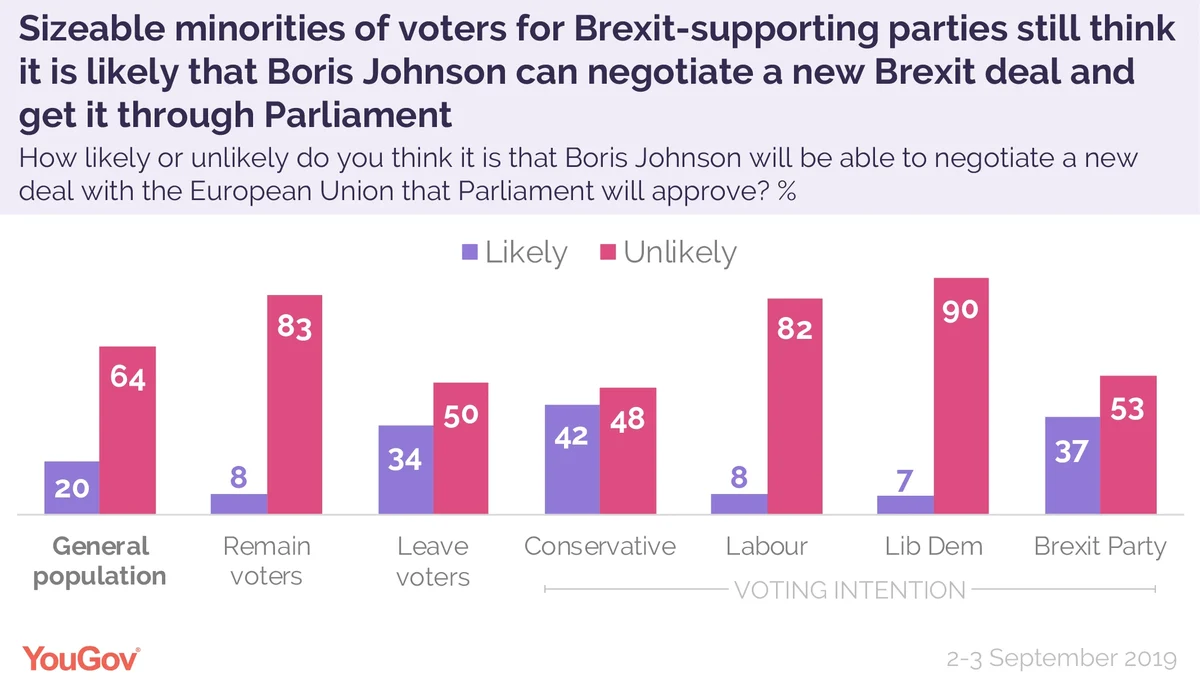 That being said, trust in Boris to make the right decisions on Brexit is high among these voters. He is trusted "a lot" or "a fair amount" on the topic by 62% of Leave voters, 83% of those currently backing the Tories and 70% of those who would vote Brexit Party.
By contrast, his principle opponent – Jeremy Corbyn – is still viewed with intense suspicion by the anti-Brexit bunch and seems incapable of uniting the Remain portion of the electorate under his banner. Fully 70% of Remain voters say they don't trust the Labour leader to make the right decisions on Brexit. Those who currently say they would vote Labour are more likely to trust him than not (50% versus 42%), but those backing the Lib Dems are almost universally untrusting (93%), as are 71% of Greens.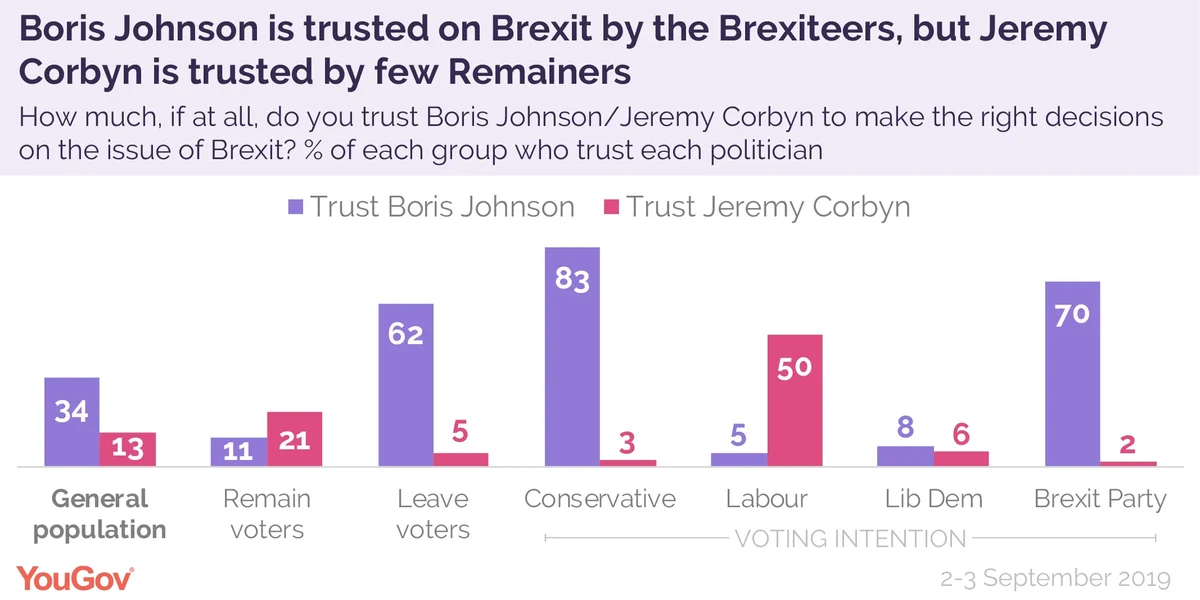 It does not help that the Labour party's stance on Brexit is still confusing to the public. Two thirds of all Britons (69%) say Labour's Brexit policy is "fairly" or "completely" unclear or confusing. An identical proportion of Remain voters harbour this view, as do 89% of Lib Dem backers and 71% of those who would vote Green. Even those currently intending to vote Labour tend to me confused (48%, versus the 37% who think it is clear).
By contrast, among the voters Boris Johnson is seeking to unite behind him, the Conservative Party plan for Brexit appears clear. A majority of Leave voters (54%) say it is "very" or "fairly" clear, as a similar number of those currently intending to vote Brexit Party (55%) as well as a full three quarter (77%) of those who back the Conservative Party.
Brexit backers most strongly oppose a general election
While they back Boris on Brexit, it is worth noting however that the Brexit-leaning portion of the electorate opposes having another general election.
While 46% of Britons don't want to have to go back to the polls (compared to 35% who do), those most opposed to an election are Leave voters (65%) and Conservative (70%) and Brexit Party backers (77%). By contrast, most Labour backers support a new election (63%), as do a plurality of Remain voters (48%), while Lib Dem supporters are split 45% to 44%.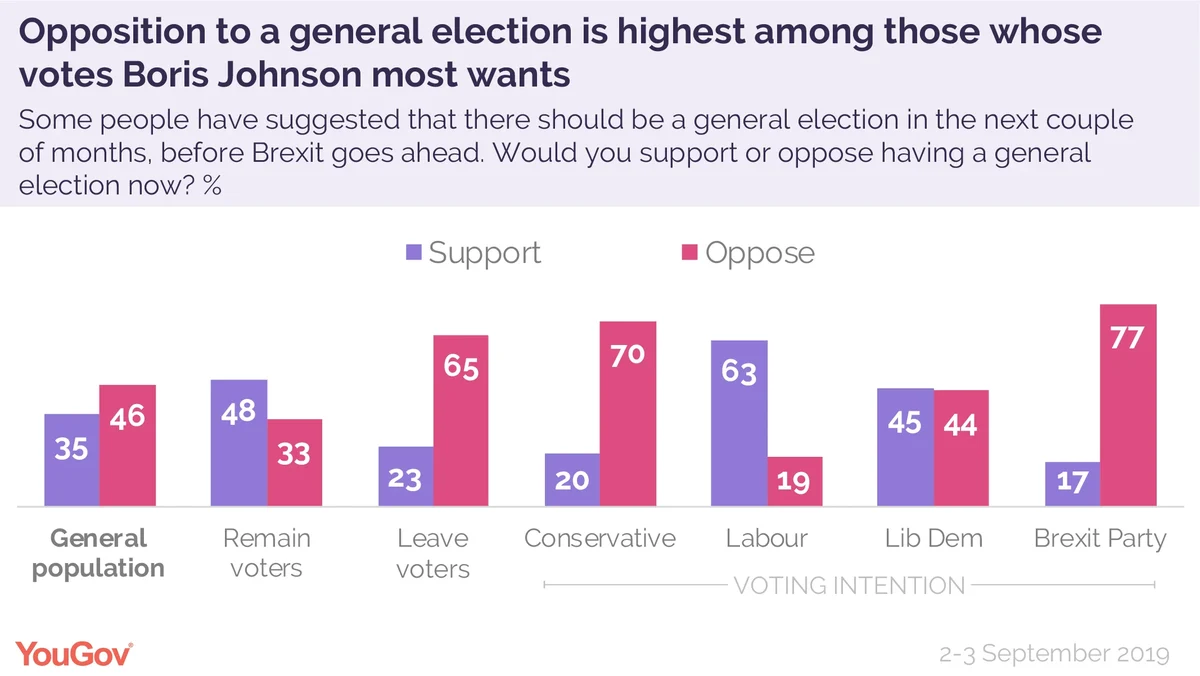 In the event of an election, the public see yet another hung parliament as the most likely outcome. A majority (57%) of people say this is a "very" or "fairly" likely outcome, far more than said the same for any of the other possibilities. Among all voting groups people are more likely than not to see this as a likely outcome.
People are, however, much more likely to think a new Parliament would favour the Conservative/Leave cause than the Labour/Remain one. A third of Britons think that a likely outcome of the general election would be a Conservative majority (37%) or one in which enough pro-Brexit MPs are elected to get Brexit through Parliament (35%). Notably, the latter view is one held by 50% of Leave voters, 54% of those who would currently vote Brexit Party and 60% of Conservative supporters.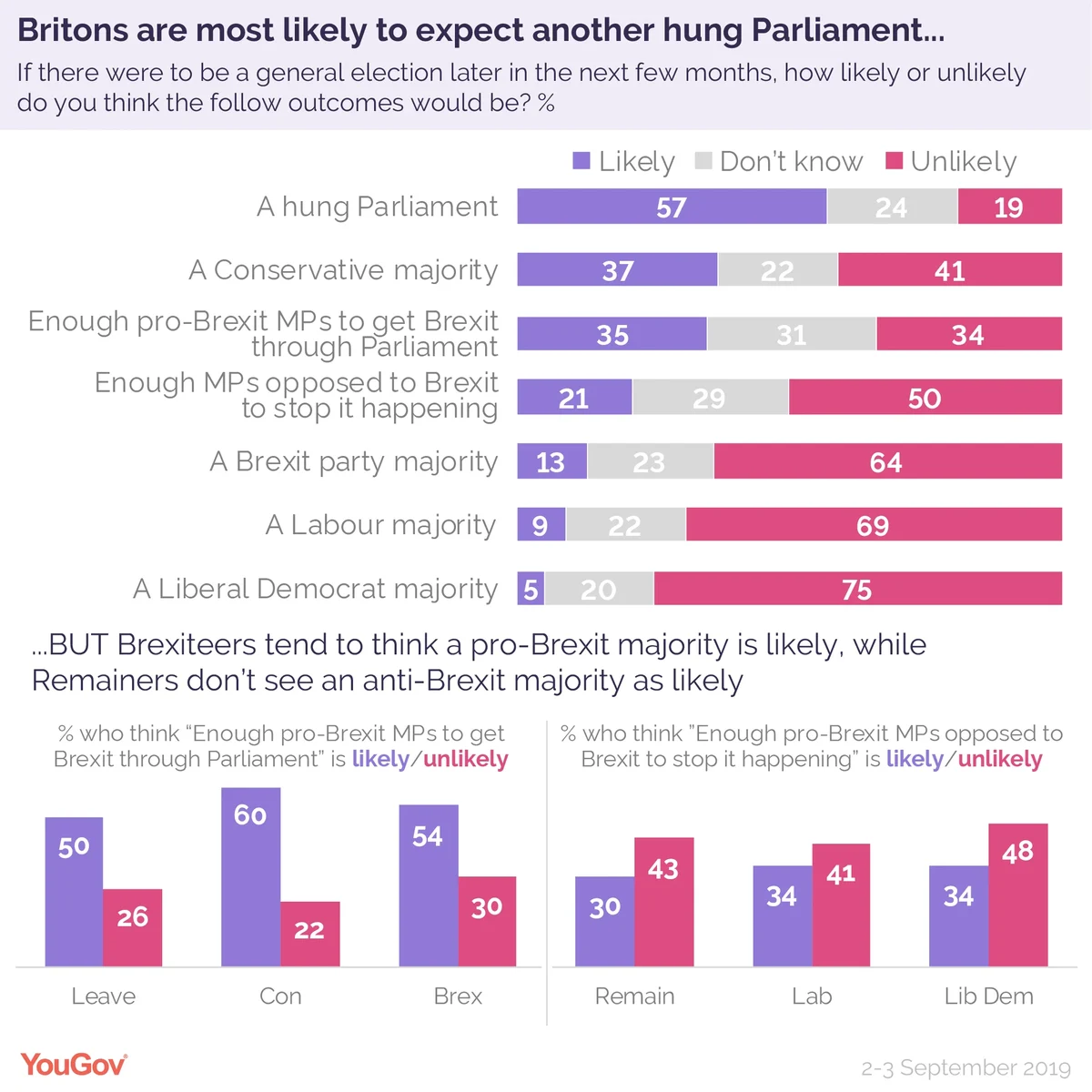 By contrast, only 21% of Britons think an election would result in a Parliament with enough MPs to to stop it happening, including only 30% of Remain voters. The results also show that, somewhat fancifully, more people think a Brexit Party majority is likely (13%) than a Labour party one (9%) or a Liberal Democrat one (5%) – previous YouGov research showed that many Brexit Party voters are ebullient about the party's chances.
Leavers just aren't worried about no-deal
Should No Deal be the battleground on which the 2019 general election is fought, a key problem for the PM's opponents is that Brexiteers just don't think that leaving the EU without a deal is a particular problem. Fully 73% of Leave voters believe that No Deal warnings are exaggerated or invented, and in reality leaving without a deal would not cause serious disruption. Just 12% see them as realistic. Likewise, 71% say they would be "not very worried" or "not worried at all" if a No Deal Brexit took place. It is not clear that a successor campaign to the so called Project Fear of the EU referendum has been developed that looks likely to change their minds.