The public remain unimpressed with his Labour rival, however
New YouGov data shows that public perception of Boris Johnson has improved in several key areas since he became Prime Minister just over a month ago.
The most dramatic shift is in his decisiveness rating, which has seen a boost of more than twenty points. Whereas in late July more Brits saw him as indecisive than decisive (43% to 38%), since taking the reins at Number 10 fully this has swung significantly to 62% and 22% respectively.
At the same time the new PM's perceived strength has increased. Despite being seen as someone who is more strong than weak previously (41% to 34%), his month in office has seen these figures turn around. Half the nation (52%) now see him as strong and only 29% see him as weak.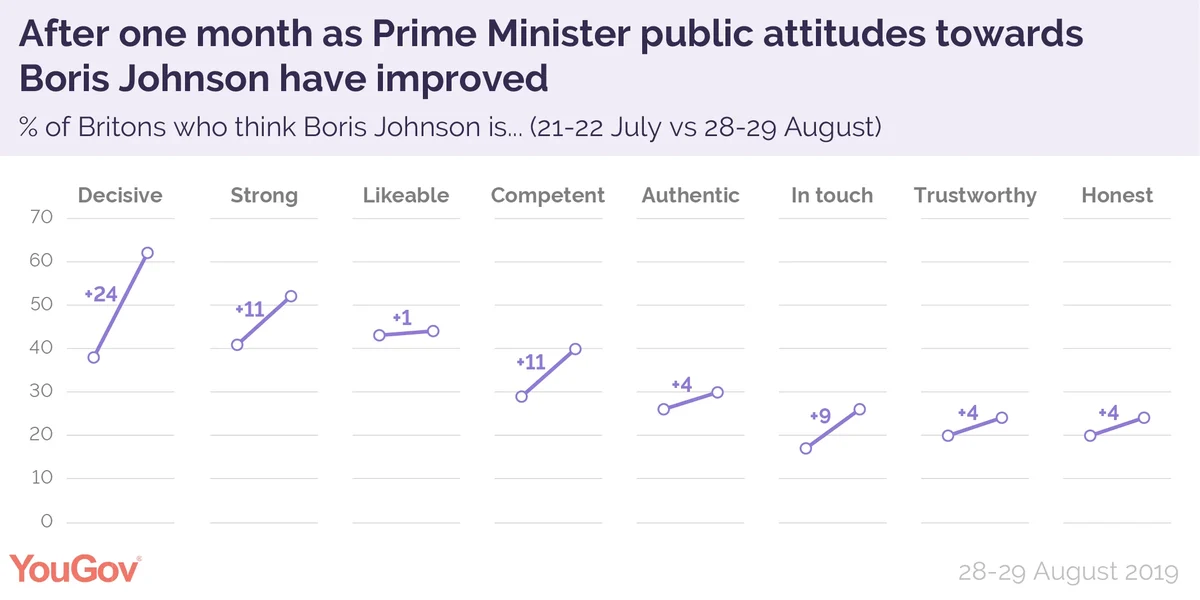 Johnson's competency rating has also increased markedly from 29% to 40%, although this figure still does not outnumber the 43% who see him as incompetent. Likewise, the Prime Minister is now seen to be somewhat more in touch with ordinary people, at 26% now compared to 17% in July. The majority of people (56%) continue to see him as out of touch, however.
Elsewhere, Johnson has only seen marginal changes in the proportion of people who see him as trustworthy (20% to 24%), honest (20% to 24%) authentic (26% to 30%) and likeable (43% to 44%).
Public opinion of Jeremy Corbyn remains low
The same survey found Jeremy Corbyn performing poorly compared to the man he hopes to replace.
Across the same qualities and characteristics there is only one for which his positive score is higher than his negative one. This concerns his authenticity, with 38% of Britons believing the Labour leader to be authentic, compared to the 36% who feel he is putting on an act (and, sadly for him, this narrow lead is within the margin of error).
Corbyn is seen negatively across all other measures, with Britons especially likely to believe him to be indecisive (68%), weak (66%) and incompetent (66%). Comparing the two leaders' scores directly sees Corbyn come out on top in only three areas: he is seen as being more authentic (38% versus 30%), more honest (29% versus 24%) and more trustworthy (24% versus 21%).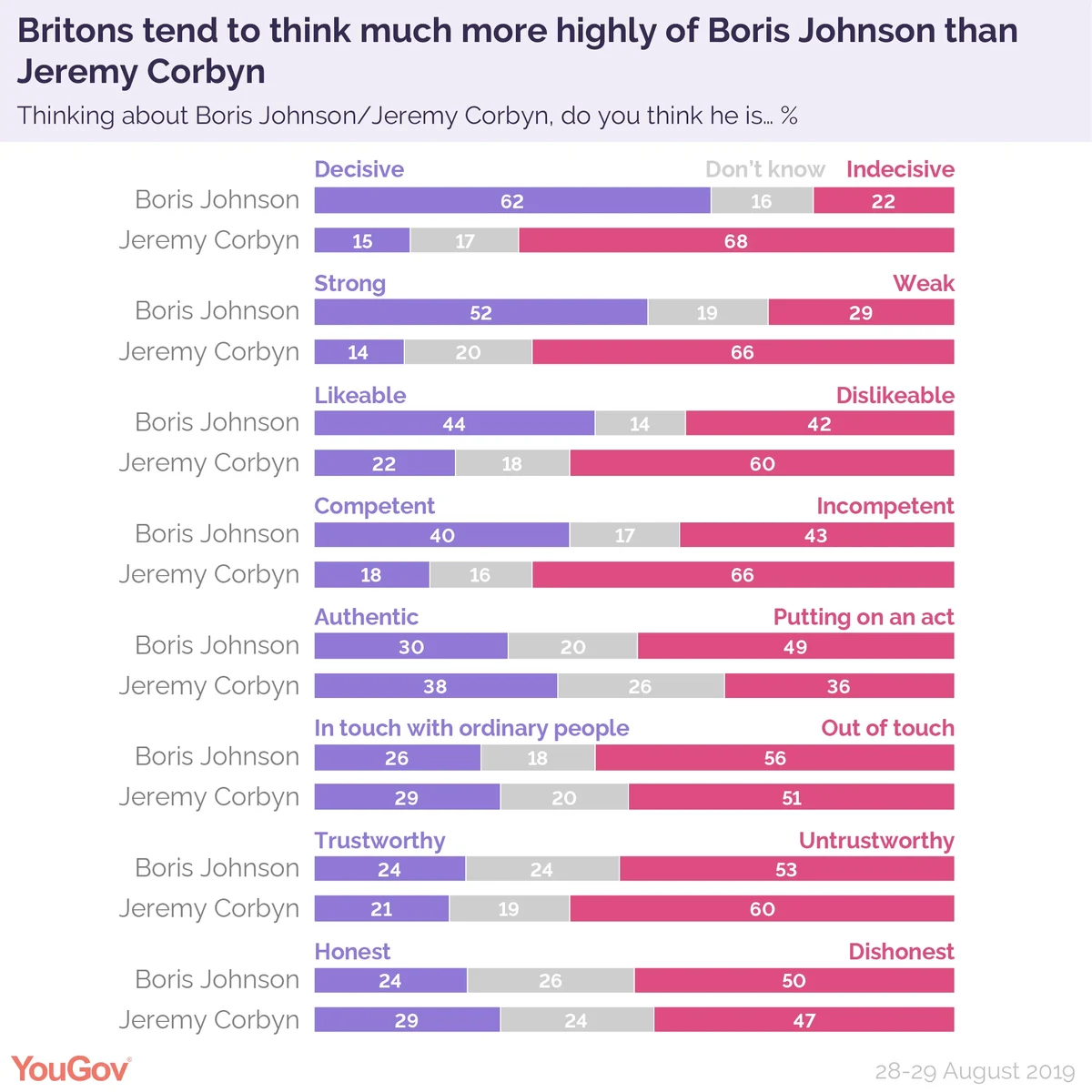 Comparing public perceptions of Corbyn when asked back in January this year till now, it only gets worse for the leader of the Labour Party. He's now considered more incompetent (54% then to 66% now), more dishonest (41% then to 47% now), more dislikeable (54% then to 60% now) as well as weaker (57% then to 66% now), than before.
And today's Jeremy Corbyn is also less popular than January's Jeremy Corbyn. Across the four measures we also asked about at the beginning of the year, Corbyn's competency rating has fallen from 25% to 18%, his strong rating has fallen from 21% to 14%, his likeability rating from 29% to 22%, while his honesty rating has stayed largely static, at 29% now compared to 31% previously.
Photo: Getty