But Remain and Leave voters butt heads once again over Boris Johnson's move
The Queen has approved Boris Johnson's request to prorogue (effectively suspend) parliament for a month, but snap YouGov polling reveals that Britons see the move as unacceptable.
Parliament had already scheduled a period of suspension between September 12th and October 9th to allow for the various party conferences, but this will now be extended: Parliament will now not sit between the middle of September and the middle of October, a total of 23 working days, in the run up to UK's exit from the European Union on the 31st of October. This could limit political manoeuvres on the Remain side designed to stop Boris Johnson's plans.
YouGov polling conducted today reveals that nearly half (47%) of British adults think it's unacceptable to suspend Parliament. Just 27% say it is acceptable, and 26% are unsure.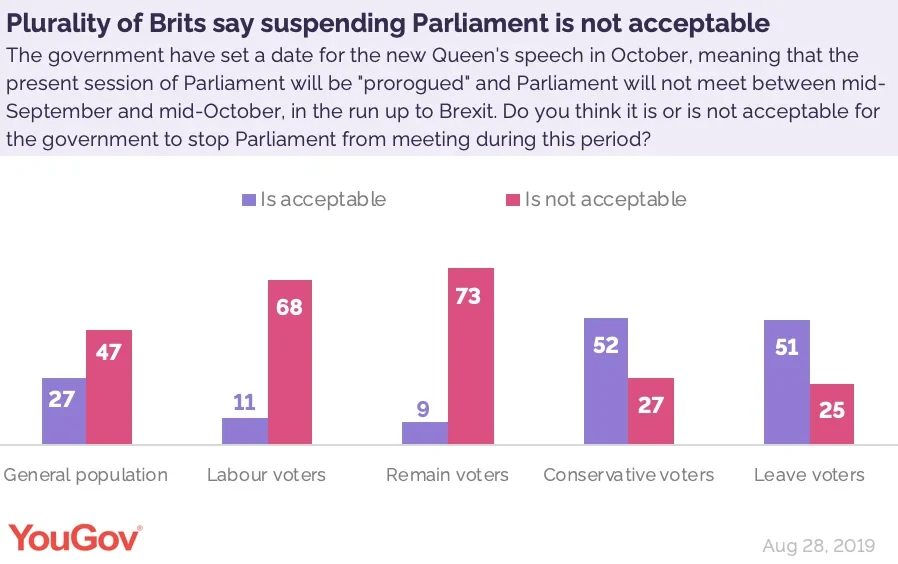 Opinion was split, as ever, between the main political parties. The majority (68%) of Labour voters say the suspension of Parliament is unacceptable, while the majority (52%) of Conservative voters who say the shutdown is acceptable.
The same pattern is shown between the Leave and Remain camps. Half of Leave (51%) voters support the Government plans to suspend Parliament, whereas 73% of Remain voters say the move is unacceptable.
Image: Getty