Jeremy Hunt now leads Boris Johnson as the public's preferred successor by 41% to 29%. Among Conservative voters, Johnson is ahead by 48% to 39%.
As the Conservative leadership race comes down to the final two, Boris Johnson is falling back among the public, but perceptions of Jeremy Hunt are improving.
A quarter (25%) of people now think that Boris Johnson would be a good Prime Minister, and 58% think the opposite (a net figure of -33, compared to -18 a fortnight ago).
Views of Jeremy Hunt are moving in the opposite direction: 28% believe he'd make a good Prime Minister, and 43% imagine he'd make a bad one - a net figure of -14, compared to -24 a fortnight ago).
There have been similar increases across all questions on qualities and personality traits that we asked, with perceptions of Johnson falling across the board and perceptions of Hunt rising.
Despite this, Boris Johnson continues to have better ratings on being likeable and doing a good job of Brexit. Jeremy Hunt is now seen as more honest than Johnson, less divisive and is significantly more likely to be seen as having a good moral character.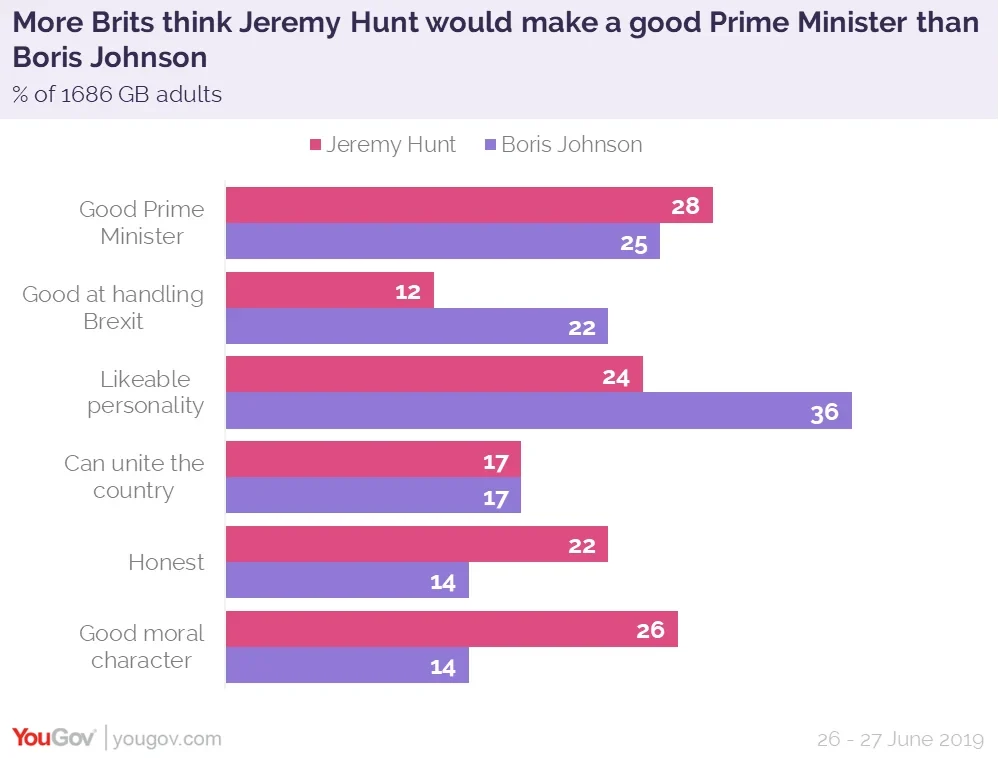 It is impossible to tell whether the changes are because of the coverage of Boris Johnson's personal life, the campaign itself, or just a reflection of Jeremy Hunt becoming the sole "anti-Boris" candidate, and therefore being seen more positively by those people opposed to Johnson's coronation.
Whatever the reason, it's important to remember that while Hunt may have pulled ahead among the public, it will ultimately be the Conservative members who have the final decision.
That's not to say that the public's attitude towards the candidates will not influence how Conservative party members vote. One of Boris Johnson's attractions to the Conservative Party has always been his reputation as an election winner, as someone who can win votes off people who would not otherwise vote Conservative. This latest poll casts some doubt even on that.
Last week we ran a test asking how people would vote in four different scenarios, based on whether Boris Johnson or Jeremy Hunt were leader and whether the Government had managed to deliver Brexit or not. The results suggested that while Boris Johnson did outperform Jeremy Hunt, how well the Conservatives did was far more dependent upon whether they delivered Brexit.
Even that small Johnson advantage has now vanished. Asked the same hypothetical question - if Brexit is delivered, then Johnson and Hunt would deliver identical 10 point Conservative leads, both on 33%. If the government has failed to deliver Brexit then either leader would lose to the Brexit party, with Hunt on 21%, Johnson on 20%.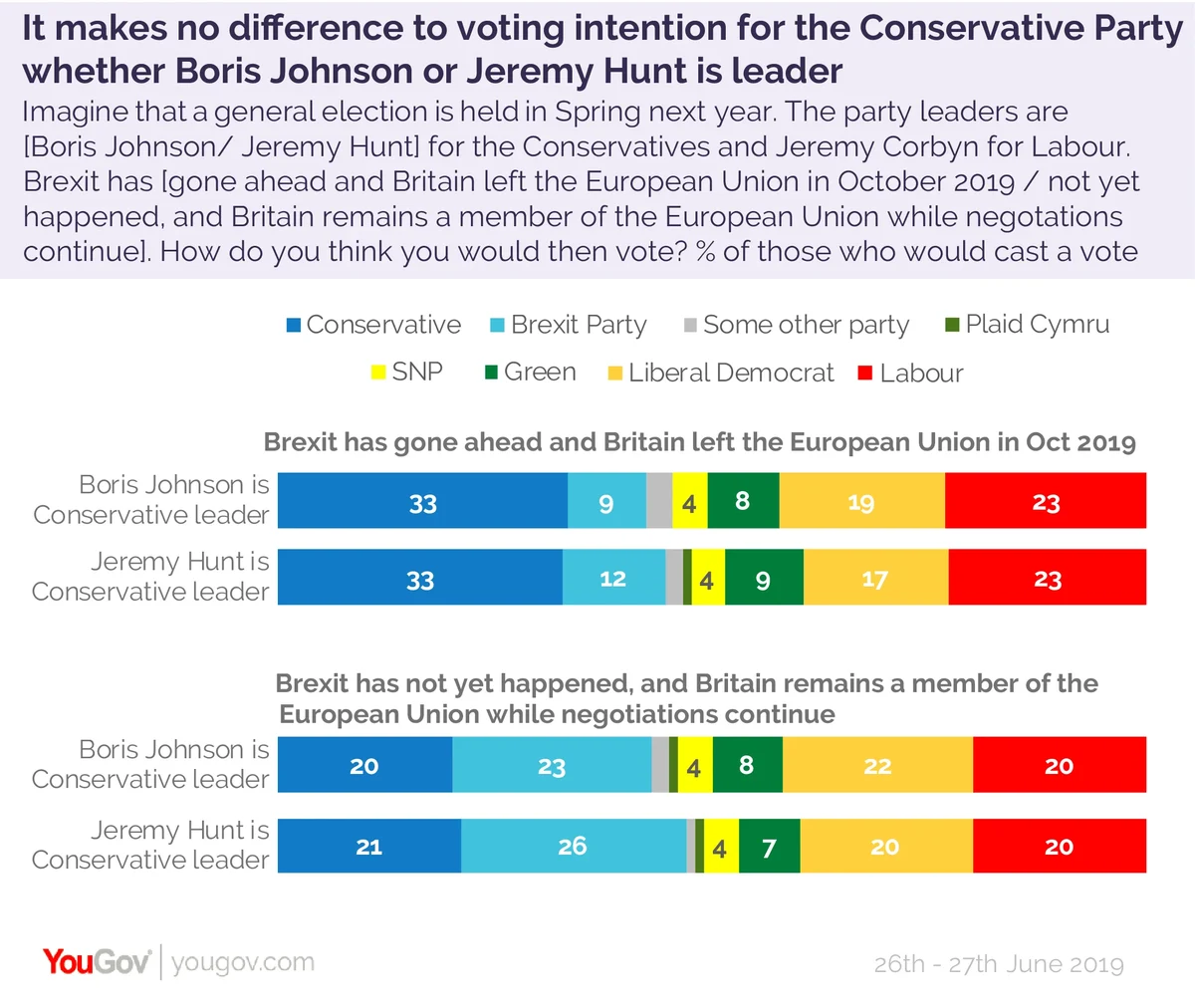 If the Conservatives are looking towards Boris Johnson as a magic election winner, the evidence is simply no longer there. A decade ago he had a reputation as the Tory who could reach voters other Tories could not, and significantly outperformed his party in the 2012 mayoral election. However our latest polling does not suggest he offers any innate electoral advantage over Jeremy Hunt.