Cannibalistic murderer chosen as Britons' scariest character from books or films, poll finds
Over one in ten British people have chosen Hannibal Lecter as the scariest of scary characters from books and films, beating the likes of Freddy Krueger (from Nightmare on Elm Street), Pennywise the Clown (from IT) and Chucky (from Child's Play). Other scariest characters from our poll include John Kramer, or 'Jigsaw', from the Saw films, Norman Bates from Psycho, and the Alien from the film of the same name.
13% of British adults choose Hannibal Lecter as the scariest character from films or books
8% pick Freddy Krueger as the most terrifying villain
6% say they are most scared by Pennywise the Clown from the film IT, with sinister doll Chucky also netting 6%
Just 2% say that a character not on our list most gives them a fright
But over a quarter (27%) seem remarkably unafraid and say that they 'don't have' a 'scariest character' from books or films
Hannibal: a history
Fictional murderer Hannibal Lecter, who kills his victims in gruesomely creative ways before eating their body parts including the brain, first appeared in Thomas Harris's 1981 novel Red Dragon as a psychiatrist and serial killer, and also featured in later books of the series, including The Silence of the Lambs (1988) and Hannibal (1999).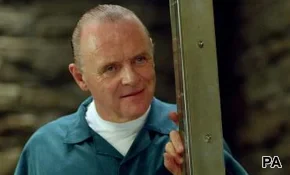 The character is also a notorious movie villain, with the first silver screen adaptation of the novels coming under the 1986 guise of Manhunter, based on the book Red Dragon. This version featured featuring Brian Cox as 'Lecktor'.
However, the 1991 film The Silence of the Lambs saw actor Anthony Hopkins take on his now infamous portrayal as the hauntingly terrifying murderer, for which he won an Academy Award. Hopkins reprised the role in 2001's Hannibal and 2002's Red Dragon – the second adaptation of the original book. The script to final film Hannibal Rising, which explained Hannibal's past and also featured Hopkins in the titular role, was subsequently adapted into novel form in 2006.