YouGov takes a detailed look at voting groups ahead of the EU Parliament elections
YouGov's latest European Parliament voting intention poll shows support for both the Labour and Conservative parties falling away as the electorate intends to cast protest votes on both sides of the Brexit debate.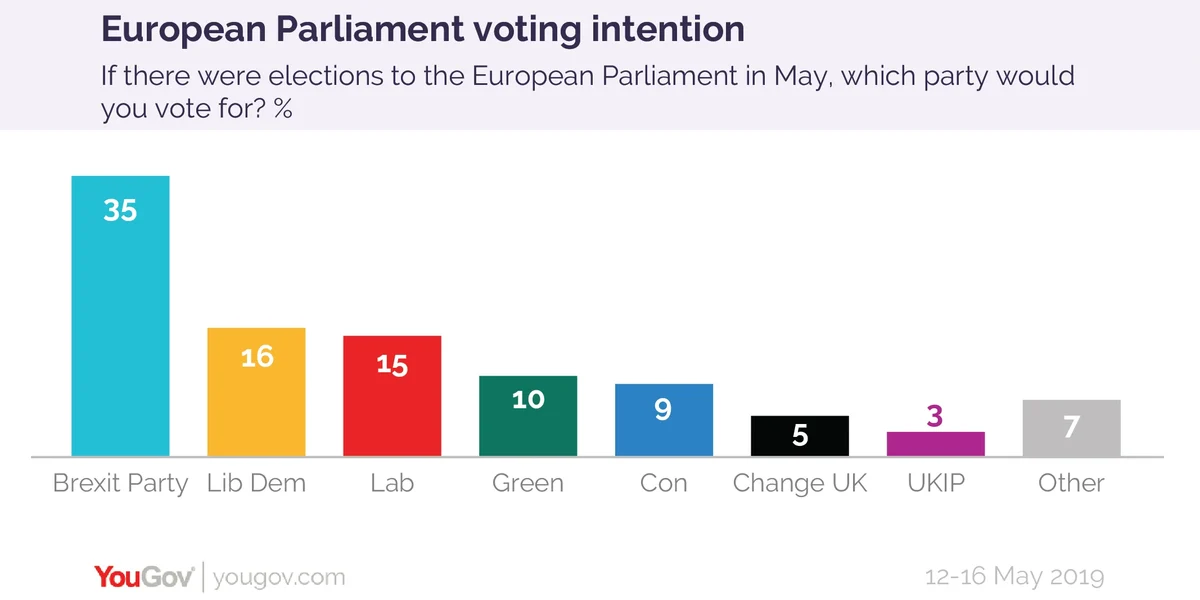 The Brexit Party remains well ahead of the pack with 35% of the vote, while the pro-EU Liberal Democrats move into second place on 16%, just ahead of Labour on 15%. The Greens and Conservatives make up the top five on 10% and 9% respectively.
These latest results are taken from a representative sample of over 7,000 British adults conducted between 12th and 16th May. This larger than usual sample allows us to look closely at how different groups are likely to vote next week.
Labour and Conservatives failing to keep hold of their own voters
Both the Conservatives and Labour look set to lose a majority of those who voted for them in the 2017 General Election. Only one in five (20%) of those who voted Conservative just under two years ago are sticking with the party for next week's European Parliament vote, with 62% instead planning to back the Brexit Party. Labour is also losing a large proportion of their voters, mainly to Remain parties (Lib Dem 21%, Green 16%, Change UK 6%).
The Liberal Democrats and Greens, on the other hand, retain around six in ten of their 2017 voters, but both are losing 12% to the Brexit Party. UKIP has seen its 2017 vote share collapse, with 73% shifting to support the Brexit party.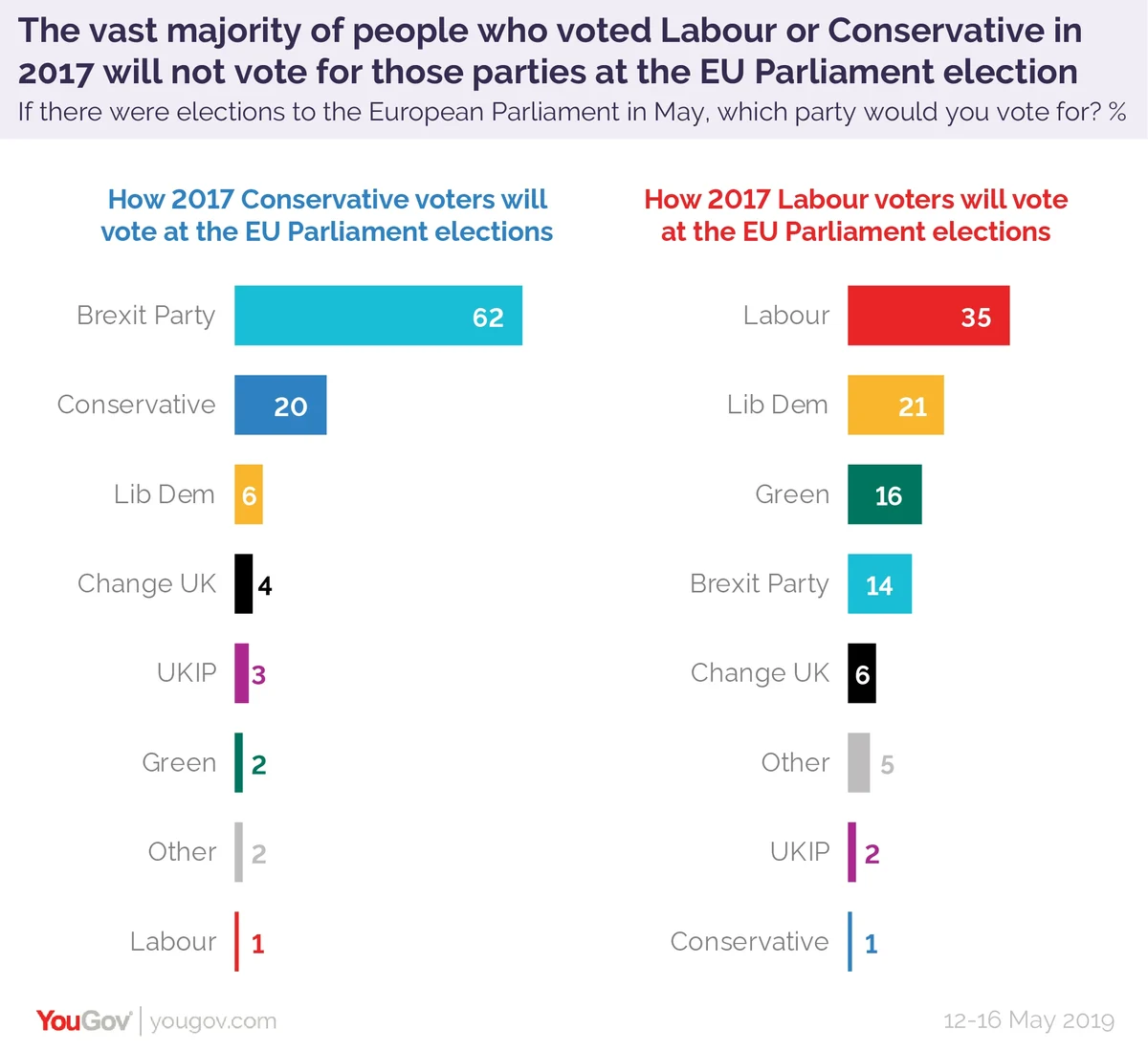 Some 2017 Labour and Conservative voters have moved away from their respective parties completely: our latest Westminster Voting Intention has both parties significantly down on their performance at the last General Election. Some voters, however, are temporarily lending their vote to other parties for the European Parliament vote.
Amongst those who would vote for the Conservatives if there was a General Election, only half (44%) plan to also vote Tory in next week's elections, while almost as many (42%) intend to vote Brexit Party for this election. Current Westminster Labour voters are much more likely to keep voting Labour for the European Parliament elections: 25% are lending their vote to parties campaigning for a second referendum, with the Lib Dems and Greens the main benefactors (10% each), but 70% are staying put.
Referendum vote underlying factor for shifts away from main parties
The vast majority of 2017 Conservative voters who voted Leave in 2016 now plan to vote for the Brexit party in the EU elections (78%), with only 12% staying loyal. Theresa May is doing a relatively better job of holding on to those Conservatives who voted Remain (42%), though a quarter (25%) are moving to the Lib Dems.
Labour is also struggling when it comes to previous backers who supported Leave, with around half (47%) planning to vote for the Brexit party. Like the Conservatives, they are more successful at holding onto their supporters who backed Remain - 37% are sticking with Labour, while a quarter (27%) are going to Lib Dems and 20% to Green.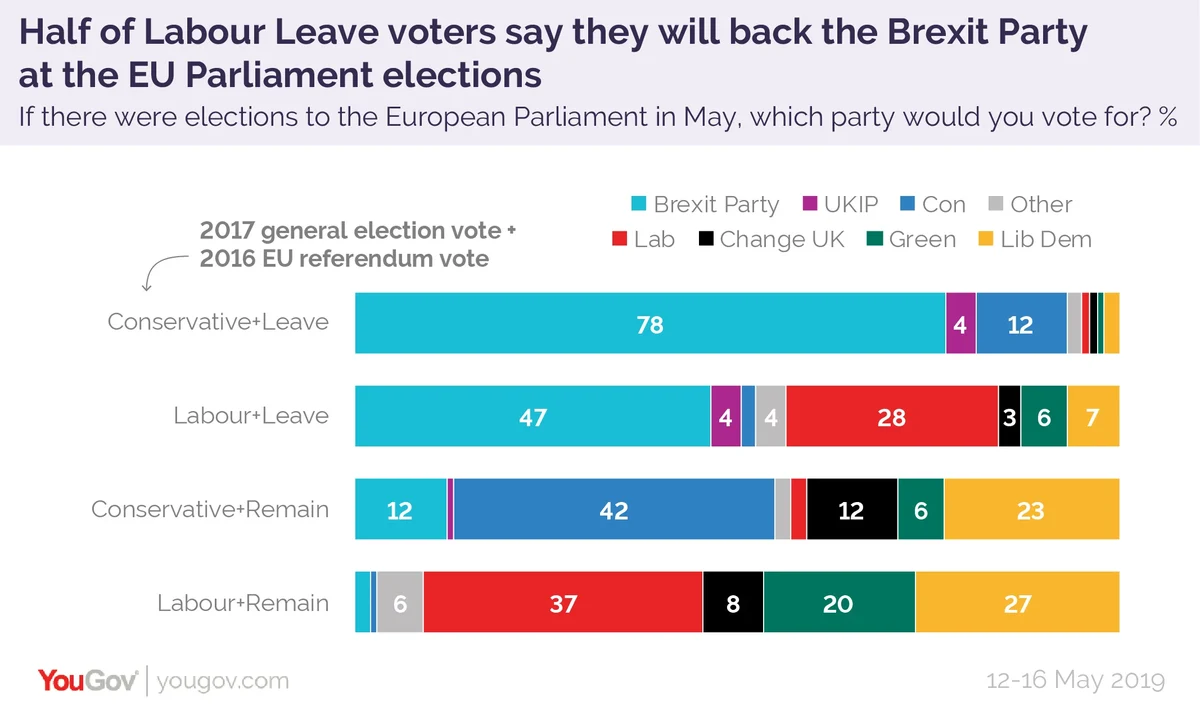 Brexit preferences have big impact on European Parliament vote
MPs will get one more vote on a Brexit deal at the start of June, and like we've seen in the chamber, the public are also divided when it comes to the best solution. Opinions on which outcome people want make a significant difference to how they intend to vote in European Parliament elections.
Those who favour a No Deal Brexit are overwhelmingly planning to back the Brexit Party (80%). The Conservatives come a distant second with just 7%. Possibly more worryingly for Theresa May though is that even amongst the small group of the general public who see accepting the current Brexit deal as the best outcome, more people back the Brexit Party (34%) than the Conservatives (26%). Half of those who want an alternative deal (48%) say they plan to vote for Nigel Farage's party, with the remainder of this group split across the other parties.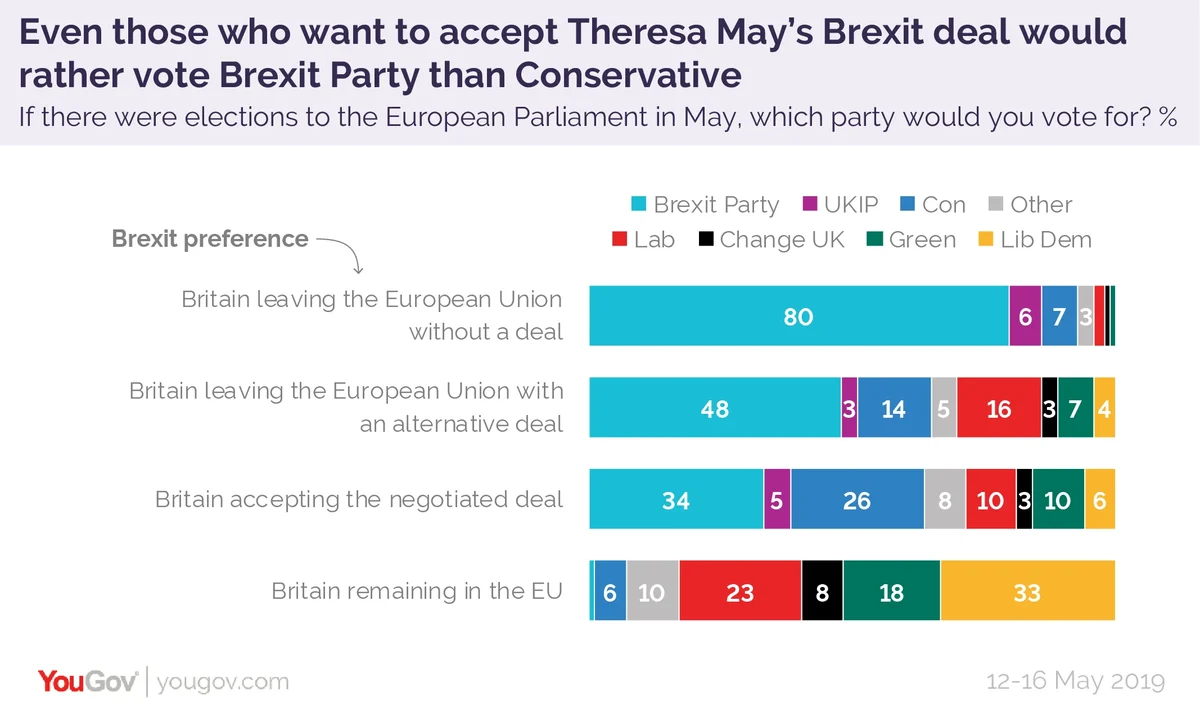 Amongst those who think remaining in the EU after all is the best eventual outcome, Lib Dems come top with 33%, while 23% favour Labour and 18% the Greens. Change UK rests in fourth place on 8%.
Voting by demographics
Age is also a big factor; the older you are, the more likely you are to vote for the Brexit Party.
The party comes top amongst voters over the age of 40, with more than half of over 65s (53%) lending their support. But just one in ten under 25s intend to vote for them.
The reverse is true of Labour and the anti-Brexit parties. Labour gets 29% amongst under 25s, whereas the combined vote share for the Lib Dems, Greens and Change UK is 42%. For over 65s these vote shares drop to 7% and 20% respectively.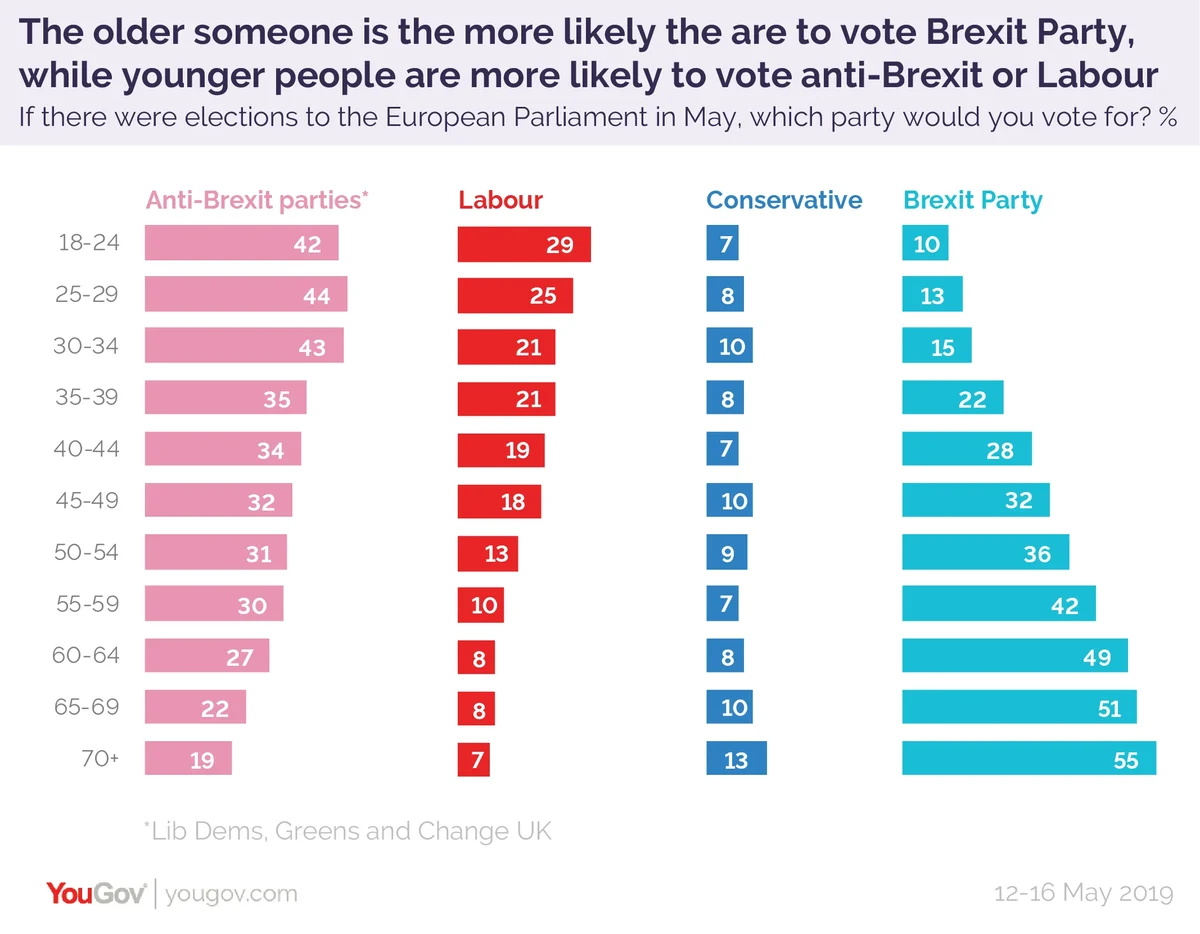 The Liberal Democrats perform well amongst those who have a degree or higher education, receiving 25% of the vote. In the 2017 General Election only 11% of this group voted for the Lib Dems. The Brexit Party has 22% of this group, while Labour and Greens both have 16%.
Looking at those who have low educational qualifications (defined as GCSEs or below), 46% plan to vote for the Brexit Party, 14% for Labour and 12% for the Conservatives.
There are also differences when looking at how engaged people are in politics. The Conservatives and Labour perform best amongst those who are not paying attention to politics, with a combined vote share of 40% (28% Labour, 12% Conservatives).
For those who pay a great deal of attention to the political situation, the two main parties have a combined share of just 17% (11% Labour, 6% Conservatives). The opposite is true for the Liberal Democrats and the Brexit Party who both perform best amongst those who are politically engaged. Some 40% of those paying a lot of attention to politics plan to vote for the Brexit party, while 21% intend to back the Lib Dems.
Photo: Getty