The Brexit Party is the only national party where a majority say their policies are clear
The EU Parliament elections are just over a week away and with Brexit the top issue on the agenda, new YouGov research looks at how clear the public feel each party's polices on this issue are.
The results are not great reading for either Labour or the Conservatives with only 13% and 17% respectively saying each party has clear polices on Brexit. Around two thirds of the public (63-67%) say the policies that have been adopted by the two major parties are unclear or confusing.
This perhaps goes someway to explain the fall in vote share both parties have experience in our EU Parliament voting intention polling. Our latest figures see Labour clinging on to second place with 16% of the vote share, and the Conservatives in a distant fifth place with 10%.
Things don't get much better when looking at their own voters. Only a fifth (21%) of 2017 Labour voters think their party has clear policies, with just a quarter of Conservatives (26%) saying the same for their own party.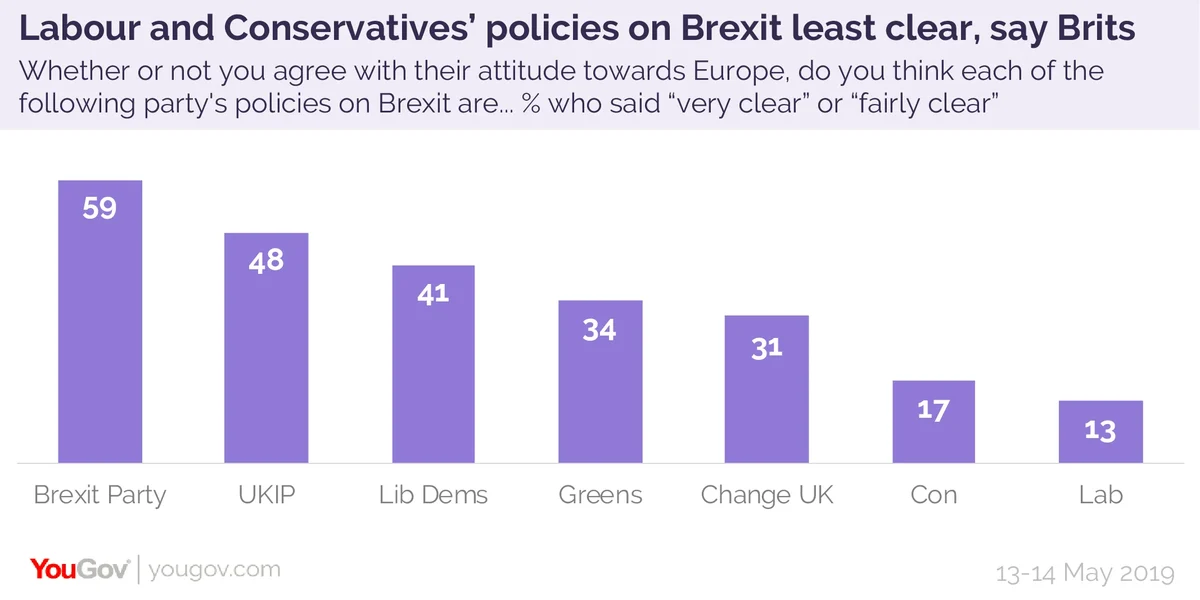 Conversely, Nigel Farage's newly formed Brexit Party, who look set to top the ballot at next week's election, are seen to have clear policies on Britain's exit from the EU amongst a majority of the public. Six in ten Brits (59%) say they have adopted an understandable strategy for Brexit while only 18% think their policies are unclear. Farage's previous party – UKIP – also fares well, with half of Brits (48%) believing them to have clearly set out their stall on Brexit.
On the other side of the Brexit spectrum, the Liberal Democrats do best out of the anti-Brexit parties with 41% thinking they have a good understanding of their position. A possible comfort for Vince Cable's party, who have adopted a "bollocks to Brexit" slogan for the upcoming EU parliament elections, is that a majority (55%) of 2016 Remain voters, think the party have been clear on this issue.
The results will be more disappointing for the Greens and Change UK – both also campaigning for a second referendum on Britain's relationship with the EU – as only around a third of people (34% and 31% respectively) believe the parties have made it clear what their plan is.
Photo: Getty