Almost a third of the British public choose bouncy tiger Tigger as their favourite character from the much-loved A.A. Milne stories, our poll has found. Friendly bear Winnie-the-Pooh comes in second favourite, with pensive donkey Eeyore, Pooh's favourite friend Piglet and Christopher Robin himself coming next in the list respectively. The results come as the classic books celebrate the 85th year since their first publication.
Nearly a third (32%) of Brits say impulsive Tigger is their favourite character from the stories
Compared to 17% who say the silly old bear himself, Winnie-the-Pooh, is their favourite
15% say donkey Eeyore, placing him third favourite
Followed by the humble Piglet (6%) and human pal Christopher Robin (2%)
Owl, Rabbit, Roo and Kanga all come in joint next place with 1% apiece
5% chose none of those on our list, while 6% said they didn't know
More men (38%) than women (26%) say Tigger is their favourite
While half as many men (10%) than women (20%) chose the sad-eyed Eeyore as their top character
Over one in ten (13%), however, said they are not familiar with Winnie the Pooh, and despite the books' first publication date, 27% of those aged 60 and over say they are not familiar with the stories, compared to just 2% of those aged 18 to 24
Teddy bear games
Lauded as all-time classics of British children's literature, the One Hundred Acre Wood characters experience everything from a flood to an attempted trip to the South Pole, while regularly filching from angry bees to satisfy the honey-loving Pooh and solemnly contemplating the true meaning of friendship.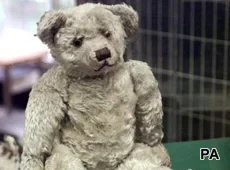 The mohair toy bear of Milne's son – the real Christopher Robin – was reportedly the inspiration for Pooh, and when, in 1925, the Milne family acquired a holiday home in Ashdown Forest, Milne was so inspired by the games Christopher played with his teddy bear that hebegan writing about the Enchanted Place, the Heffalump Trap, Owl's Tree and Poohsticks Bridge, so bringing to life his own woodland world.
Drawings and Disney
The first Pooh book appeared in 1926, with Ernest H. Shepard's delicate illustrations providing the original look of Milne's manuscripts.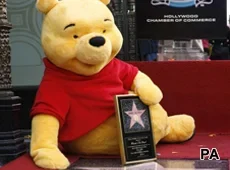 The final book, The House at Pooh Corner, came out in 1928, but featured Christopher Robin preparing for boarding school and kicking his bear away. That could have been it for Pooh and all his friends, were Disney not to acquire the television rights to the stories in 1961, catapulting them to adoration and fame from children across the world.
Today, 85 years after his first outing, Winnie-the-Pooh's name is worth an estimated $500 million a year, and he even has his own star on Hollywood's Walk of Fame.