Latest YouGov Scottish voting intention
With the SNP spring conference taking place this weekend party members will no doubt be pleased to hear that a new YouGov/Times poll finds support for Scottish independence at its highest point since February 2015, with the two sides virtually neck and neck on 49% for Yes and 51% for No.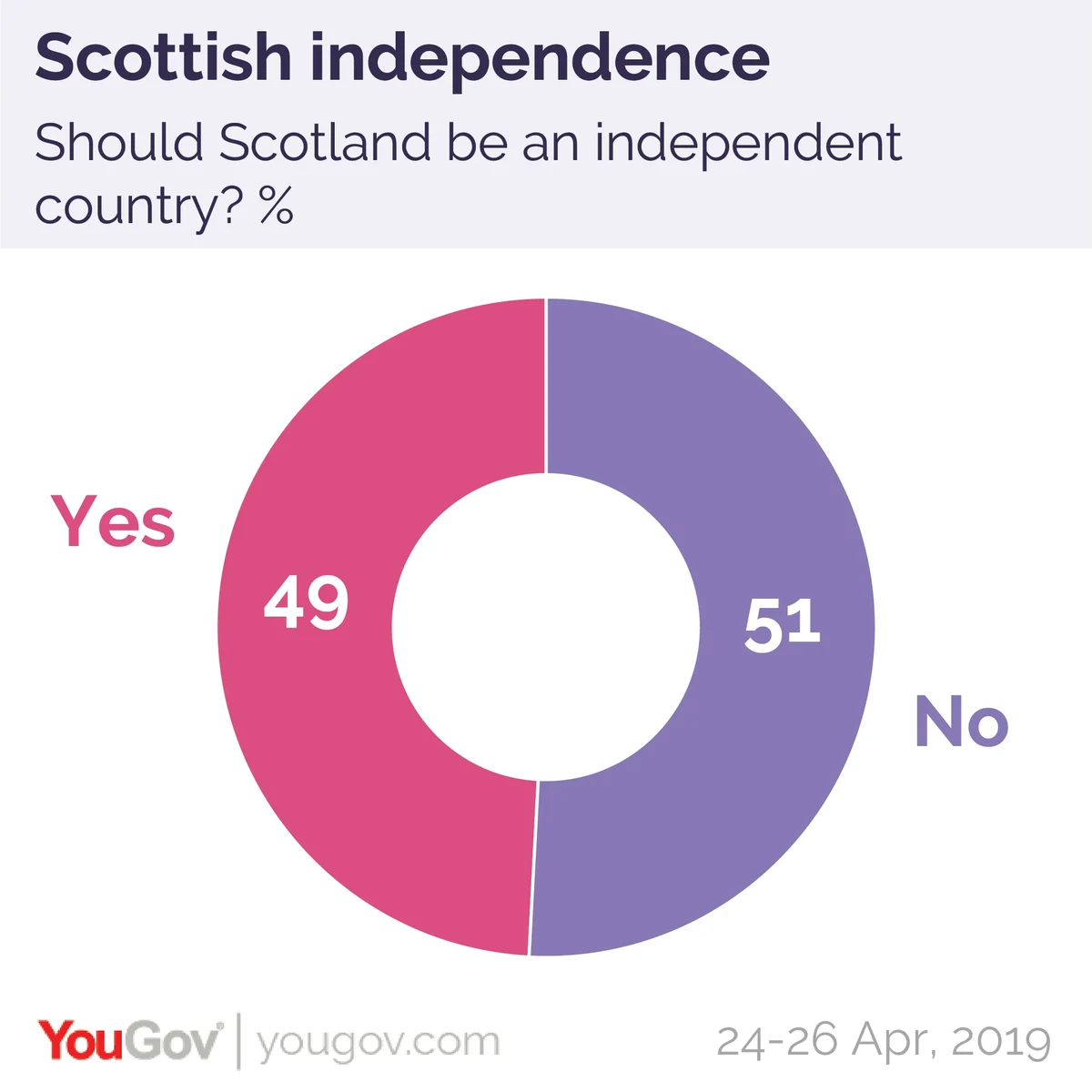 YouGov's last indy poll, conducted in June 2018, had Yes on 45% and No on 55%.
The change seems to be largely driven by Remain voters, with attitudes having flipped from 53%/47% against independence in 2018 to 54%/46% in favour now. By contrast, Leave voters still oppose independence by 68% to 32% - only one point different to the previous poll.
Whether or not another referendum will take place is another matter. While Nicola Sturgeon has said previously that she wants a new vote by 2021, just this Thursday cabinet office minister David Lidington, Theresa May's deputy, said that the government would not give consent for another plebiscite to be held.
As it is, Scots tend to oppose #indyref2 – currently 48% say there should not be another referendum in the next five years, compared to 42% who think there should be.
Westminster voting intention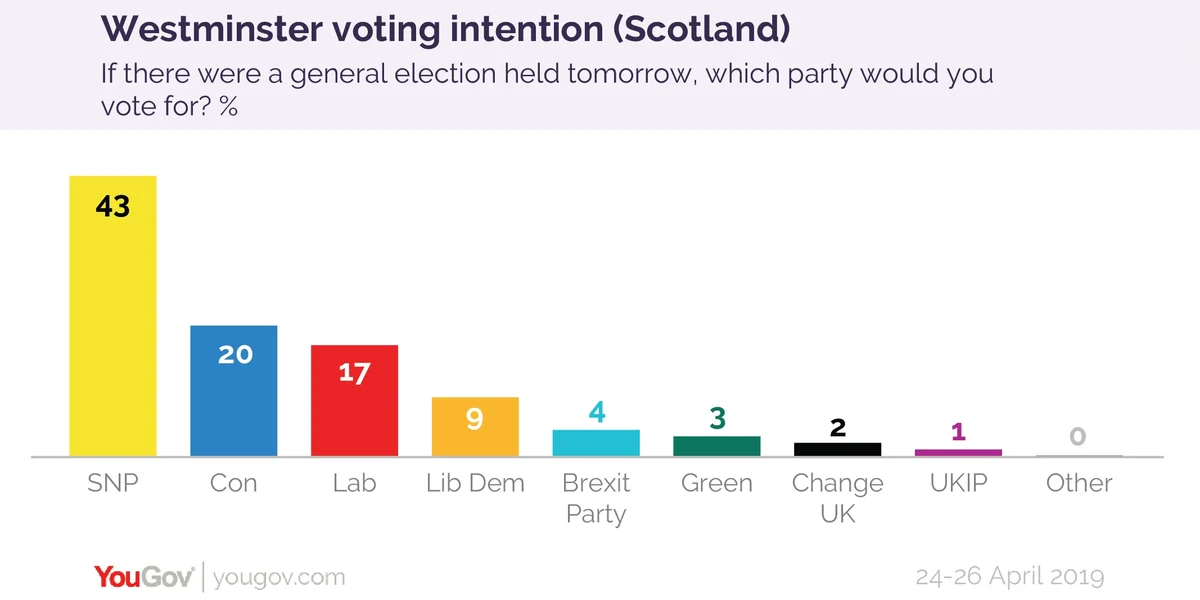 Elsewhere in the survey, results show that the heavy SNP lead in the polls continues, with the party taking 43% of the vote in the event of a House of Commons election. The Conservatives are still in second place on 20% and Labour in third on 17%. One in eleven (9%) say they would vote for the Lib Dems, while the Brexit Party fails to duplicate the same success they've had elsewhere in the UK, gaining just 4% of the vote. The Greens receive 3% of the vote, 2% back Change UK and 1% UKIP.
Holyrood voting intention
In the event of a Scottish Parliamentary election, the SNP would top both the constituency and regional vote, picking up 46% and 37% in each column respectively.
The Tories would take 22% of the constituency vote and 20% of the regional vote. Labour likewise would garner 16% and 15% respectively. The Lib Dems receive 7% of the vote in both cases, while the Greens take 3% of the constituency vote but 10% of the regional vote.
The Brexit Party newcomers would take 4% in constituencies and 5% in regions, while Change UK comparatively only manages 1% and 2%, respectively
EU Parliament voting intention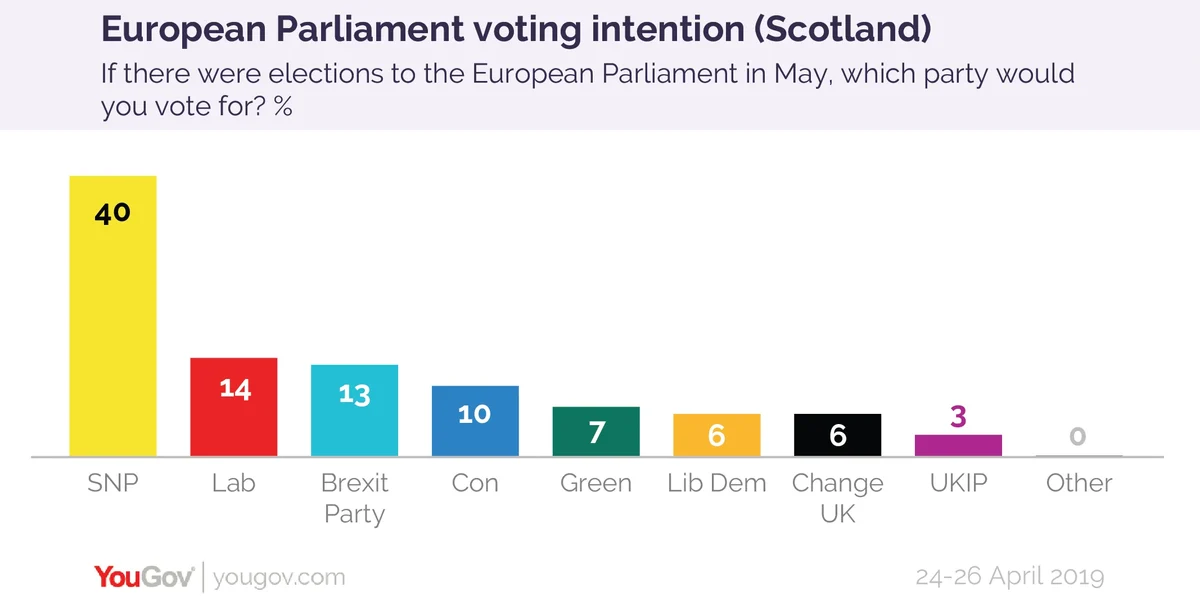 The SNP also dominate our EU Parliament poll, with 40% of voters saying they intend to back the nationalists. In distant second and third are Labour (14%) and the Brexit Party (13%), with the Tories trailing in fifth place on 10%.
The Greens are picking up 7% of the vote, while the Lib Dems and Change UK are taking 6% apiece. UKIP have 3% of the vote.
Party leaders
Approaching half of Scots (47%) think that Nicola Sturgeon is doing well as first minister, although these are matched by the 46% who think she is doing a bad job, giving her a net score of +1. These figures almost exactly match those from our 2018 survey.
By contrast, although slightly fewer Scots think that Ruth Davidson is doing a good job (42%), fewer still think she is doing a bad one (32%), meaning that the Scottish Conservatives leader has a higher net score than Sturgeon at +10.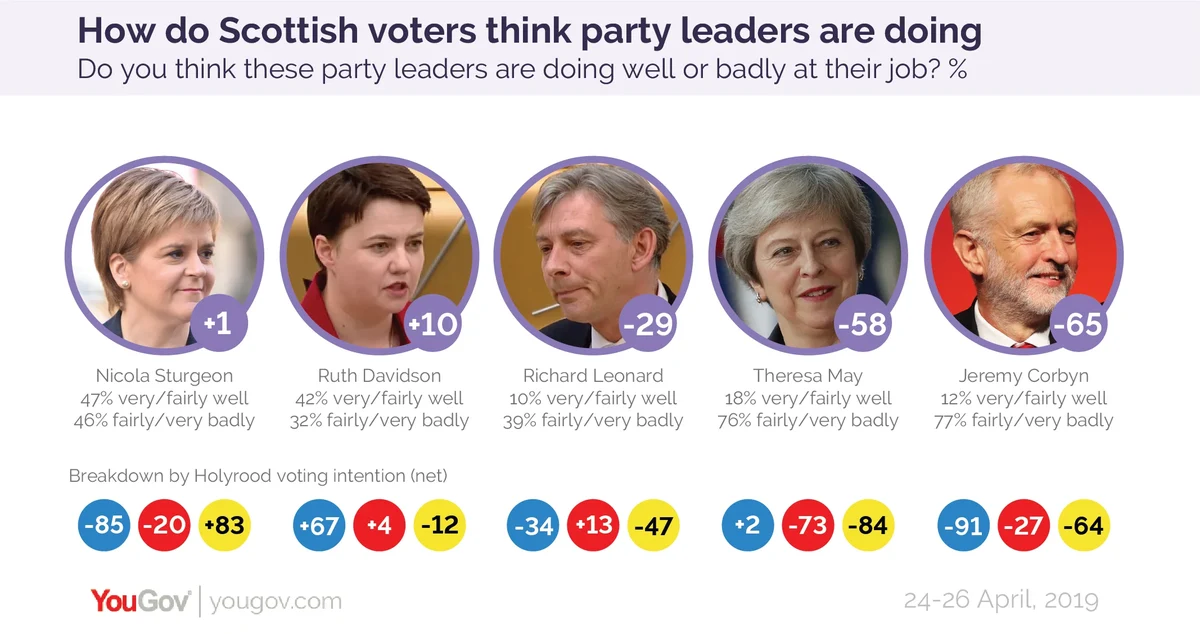 Scottish Labour Leader Richard Leonard fares far less favourably. Only 10% believe him to be doing a good job, compared to 39% who think he's doing a bad one (for a net score of -29). He is, however, far less well known than the other two Scottish politicians – fully 51% answered "don't know" for Leonard, compared to 26% for Davidson and just 8% for Sturgeon.
Turning to the British politicians surveyed – Theresa May and Jeremy Corbyn – both are performing abysmally in Scotland. Around three quarters (76-77%) think each are doing a bad job, with only 18% thinking Theresa May is doing a good job (for a net score of -58) and a mere 12% thinking the same of Corbyn (net -65%). These represent significant slumps since 2018, especially for Corbyn whose previous net score had been an already poor -30.
Photo: Getty