According to YouGov's Household Economic Activity Tracker, 55% of UK consumers are more price conscious than they were a month ago, compared to only 2% who are less price conscious than in September.
With the uncertainty about the economy continuing and people keen to make sure they are not overspending, winning the value battle is becoming even more important for retailers.
Looking at BrandIndex, if we focus on the key group of women aged 18-34, the high street fashion sector is reinforcing this message of increasing numbers of cautious consumers.
BrandIndex shows that the level of Buzz has shifted since the first weekend of October last year, with the negative gap between the Buzz Index score in 2010 and in 2011 consistently between 1.5 and 2 points for fashionable chains operating on the UK's high streets.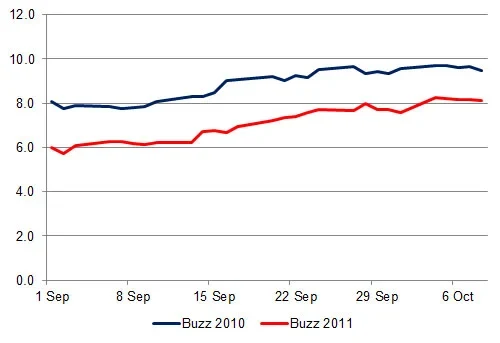 Retailers try to prove value
But how has the consistent depreciation of Buzz affected high street fashion brands' value perceptions? At the extremes, brands such as Marks & Spencer and Primark have maintained a consistent impression of value in the eye of this target group year on year.
In the first weekend of October, M&S scored 38 in 2010 compared to 39.7 in 2011. Primark may have a substantially lower Value score than M&S in 2011 at 16, but that is exactly where it was a year ago.
Topshop and H&M, on the other hand, are struggling to maintain their 'value' status amongst women aged 18-34. Topshop has lost nearly 8 points and H&M nearly 11 points of their Value scores since 2010, and both are continuing on a downward path.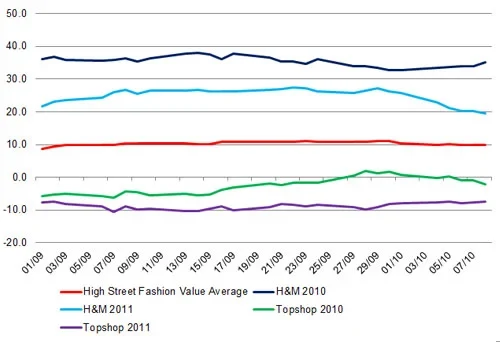 When consumers are tightening their belts, retailers appear to need to go ever further to prove their value to this target group. At the moment it seems that the top end and the bottom end are managing to do that, but for those in the middle, it is becoming more of a struggle.