YouGov tests the public's knowledge of Conservative leadership hopefuls
There's been no shortage of polling conducted since Theresa May fired the starting gun on the next Tory leadership - not just to test the popularity of the various contenders, but also to test public awareness of them.
The standard way of measuring public awareness is to present people with a politician's name and simply ask if they've heard of them. This presents two problems. Firstly, people don't want to come across as ill-informed, so will sometimes claim to know about things that they don't.
Secondly, by providing a name you can jog some distant memory, some vague recollection of having heard the name, or a similar one, and get a positive response - which is some way short of actual awareness. This can be exacerbated with common names, as you get a certain amount of confusion - for example, imagine we tried to test awareness of Conservative backbencher Fiona Bruce, whose namesake is a famous journalist.
In our recent poll we got around this problem by instead showing people photographs of the eight favourites (based on betting odds) to be next Conservative leader, and then asked respondents to name that person.
As you'd expect, our results show that 93% of the public can correctly identify Boris Johnson - although a significant chunk of the public did respond with the rather colloquial "Boris".
But further down the list we start to see how little the public are aware of some of the key contenders. There are only two other candidates who more than half of the public can identify: environment secretary Michael Gove (56%) and chair of the ERG Jacob Rees-Mogg (59%).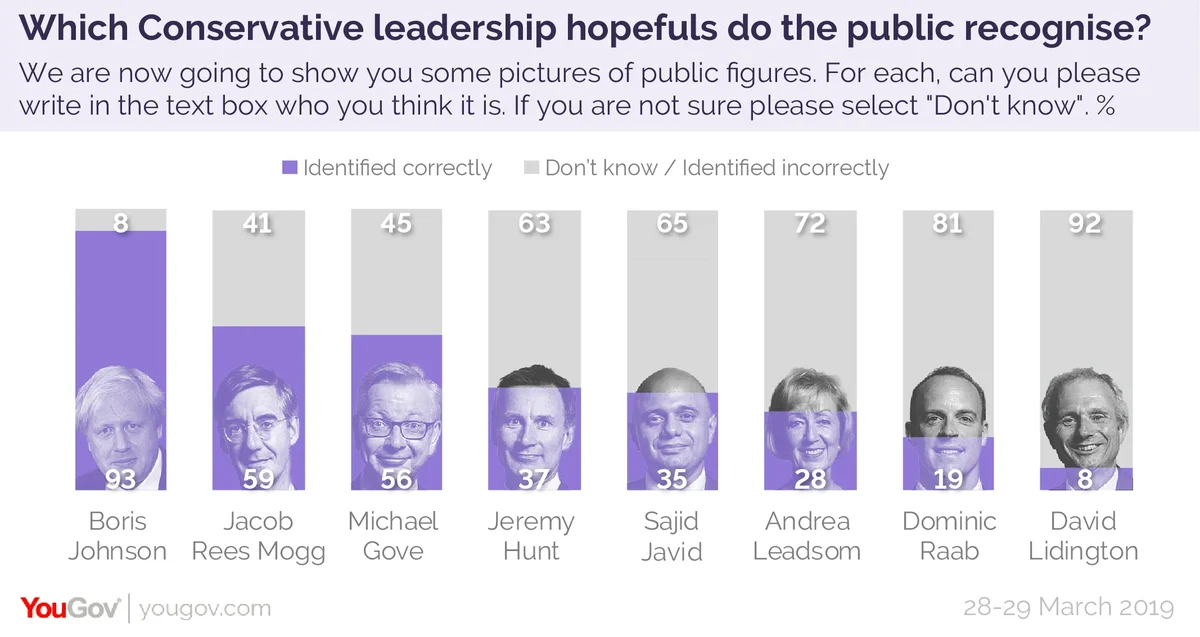 Just over a third of the public can identify the holders of two of the great offices of state, Foreign Secretary Jeremy Hunt (37%) and Home Secretary Sajid Javid (35%). Javid was also the politician who most people misidentified (as opposed to selecting "don't know") with 16% writing in an answer that was not correct - the Home Secretary was most often mistaken for Sadiq Khan, the Labour Mayor of London.
Just 28% of the public can identify leader of the House of Commons Andrea Leadsom, despite her previously running for Conservative leader against Theresa May in 2016. Previous Brexit secretary Dominic Raab can be identified by less than one in five (19%) members of the public.
And at the bottom of the list, just 8% can identify de facto Prime Minister David Lidington, who last weekend was rumoured to be a possible stand-in temporary leader if Theresa May stepped down.
Photo: Getty