But the public prefer a shorter delay over a longer one
Following votes this week that rejected first Theresa May's deal and second a No Deal exit, MPs tonight will participate in a further vote on whether or not to ask the EU to extend the Brexit deadline.
The results of a snap YouGov poll, conducted today, find that by 43% to 38% Britons want MPs to vote against a delay.
This is a notable turnaround in opinion since the end of last week, when half (49%) of Britons backed a deadline extension and only a third (34%) were against it.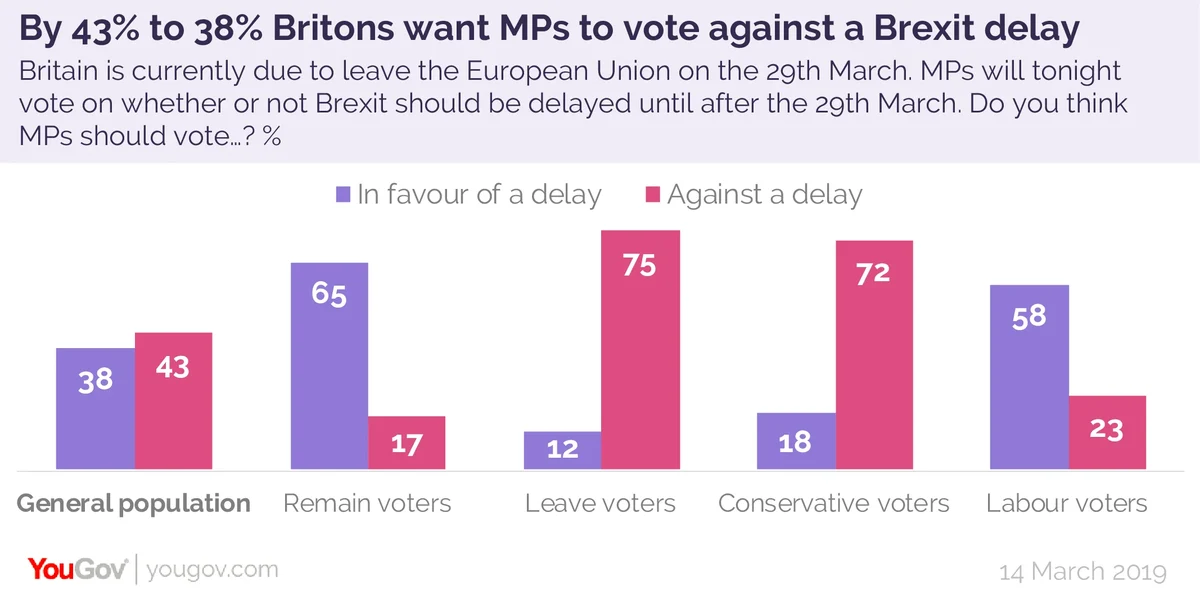 The survey follows two snap polls conducted ahead of the earlier votes on Tuesday and Wednesday which found that the public are opposed to Theresa May's deal and also opposed to leaving the EU without a deal.
As with just about everything related to Brexit, Remain and Leave voters are split. In the minds of both sides is doubtless the idea that a delay makes it possible that Brexit might not come to pass. Overwhelmingly, Remain voters want MPs to delay our departure date (65% vs 17%), whereas Leave voters want to stick to the current schedule by 75% to 12%.
Should the Commons vote in favour of a delay, the next question becomes how long that delay should be. The EU holds the power on this front, as the Brexit deadline can only be extended with their consent.
While the general expectation has been that the EU would not permit an extension so long that it would require the UK's participation in this May's European Parliament election, the president of the European Council, Donald Tusk, has announced that he will lobby for "a long extension" should Britain require one.
That being said, there is limited appetite in the UK for a lengthy delay. When asked whether or not Britons preferred "a short delay, of a few weeks or months" or "a significantly longer delay, of many months or a year", Britons prefer the former over the latter by 47% to 33%.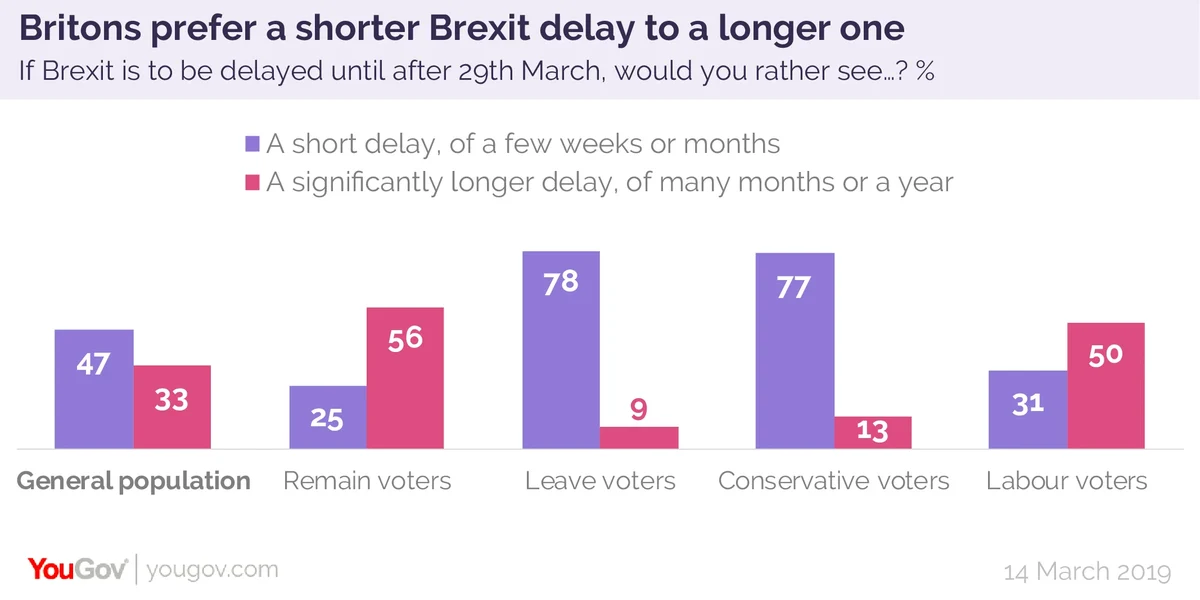 Unsurprisingly, Leave voters are the most anxious to keep the delay short, with 78% preferring a cursory postponement and only 9% wanting a longer-term deferment.
On the other hand, the majority of Remain voters (56%) would rather keep things going for as long as possible. There are, however, a sizeable minority (25%) who would prefer a shorter extension.
Photo: Getty